There is a lot of news regarding the coronavirus in Arizona.
In an effort to track the changes, 12 News has started a daily live blog.
Here is the live blog for Wednesday, April 8.
There are now 2,726 confirmed cases of coronavirus in Arizona as of Wednesday morning.
80 people have died from the virus or complications related to the virus in Arizona, as of Tuesday morning.
The state health department is not tracking the number of recovered cases.
Navajo Nation cases jump to 426.
Gov. Ducey announces nearly $10 million for meals for low-income Arizonans
There are now 2,726 confirmed cases of coronavirus in Arizona, 80 deaths
There are now 2,726 confirmed cases of coronavirus in Arizona, with 80 coronavirus-related deaths, according to the state's latest numbers.
Cases are up from 2,575 confirmed cases on Tuesday with 73 deaths.
One week ago, the state had 1,413 cases and 29 deaths.
Here's a county breakdown:
Maricopa: 1,559
Pima: 464
Pinal: 124
Coconino: 186
Navajo: 240
Apache: 34
Mohave: 23
La Paz: 3
Yuma: 14
Graham: 2
Cochise: 9
Santa Cruz: 4
Yavapai: 58
Gila: 3
Greenlee: 1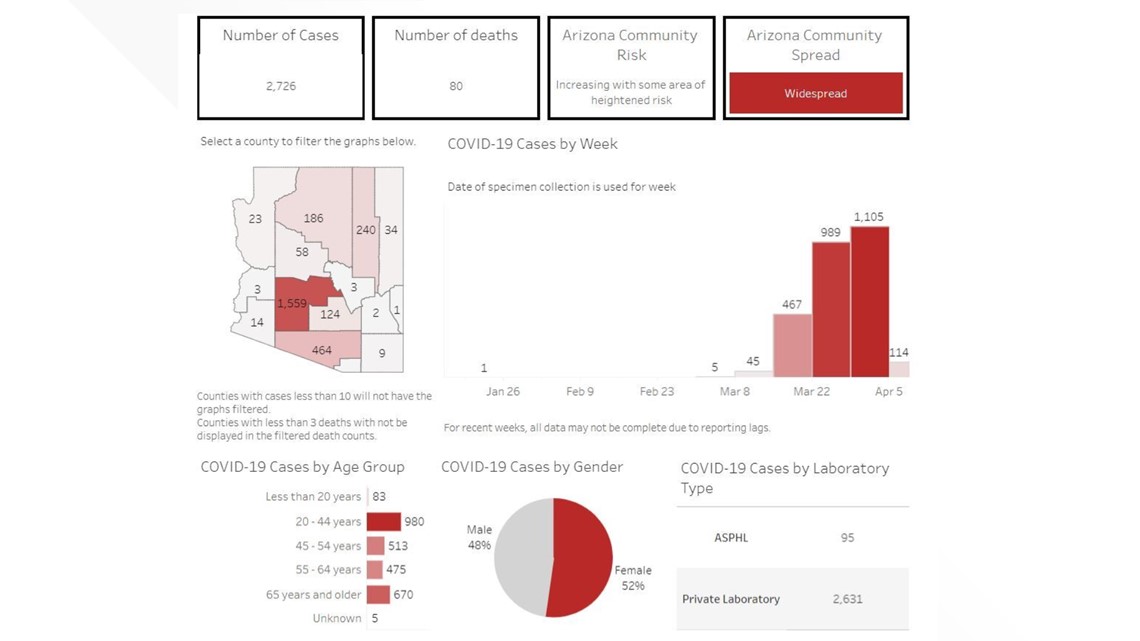 Maricopa County's official numbers on their website show 1,556 cases of coronavirus in the county as of Wednesday morning.
According to the county, 20.4% of those cases have been admitted to the hospital, 6.6% have been admitted to the intensive care unit and 2.4% of cases in county have resulted in death.
In Maricopa County, there are 38 cases in ages 0-19.
The 20-44 age group has 39% of cases, 36% cases fall between 45 and 64 years old and 23% of cases are 65 years and older, as of Tuesday morning.
Among Maricopa County cases, 318 were hospitalized and 103 were in the intensive care unit and 37 people have died.
Mohave County confirms second death, 28 positive cases
The Mohave County Department of Public Health has confirmed the county's second COVID-19 related death. The patient was an elderly person with underlying chronic health conditions at the Havasu Regional Medical Center.
The department also confirmed the county now has 28 coronavirus cases. There are 14 positive confirmed cases in the Lake Havasu City area, eleven in Kingman, and three in Bullhead City.
Mesa Public Schools and Scottsdale Unified's Schools changing their free meal programs
The two school districts both announced changes on Tuesday to their free meal programs amid the pandemic.
Mesa Public will be reducing its meal distribution to Monday, Wednesday, and Friday and will be changing times of pickup to 9:00 a.m. to 11:00 a.m. Additionally, the district will be consolidating many of its meal pickup locations, which can be found on their site here.
Scottsdale Unified will only be distributing meals on Wednesday from 9:00 a.m. until 11:00 a.m., instead of its previous plan of distributing meals every weekday. Parents will still be able to pick up five breakfasts and lunches for each of their children on that Wednesday, the district said. More information can be found on their site here.
Social distancing on public transit
Starting on Monday, April 13, seating on all bus routes will be limited to support social distancing measures.
A regular 40-foot bus will hold a maximum of 10 passengers, and a 60-foot "bendy-type" bus will hold a maximum of 15. Smaller neighborhood circulator vehicles will only hold five passengers.
The driver will not let more people board if the capacity is reached. So passengers may need to wait for the next bus. If you're using the bus for a necessary trip, plan accordingly.
You must also board using the rear doors, visually show fare to the driver, stay at least six feet apart at bus stops and wear a cloth mask covering your nose and mouth.
For more information on how COVID-19 is affecting public transit in the Valley, visit valleymetro.org.
ADOT donates N95 masks to veterans, miners in assisted living facilities
The Arizona Department of Transportation reallocated more than 2,600 N95 masks to assisted care facilities to address the need for protective gear.
The department gave 1,440 masks to the Arizona State Veteran Home in Phoenix and 1,200 to the Arizona Pioneers' Home in Prescott, which cares for pioneers and retired miners.
Pinal County announces two COVID-19 deaths
The Pinal County Public Health Department reported two deaths in the county as a result of COVID-19.
They were the first deaths resulting from the virus in Pinal County.
Both patients suffered from underlying health conditions.
The first was a man in his 70s and the second was a man in his 80s.
Mohave County has 24 cases, 1 death
The Mohave County Department of Public Health announced a positive COVID-19 case in the Bullhead City service area.
The individual is an adult in the 65 and older age range and is currently hospitalized.
It has not been determined if the case is travel-related, epidemiologically-linked to another identified case, or the result of community spread.
There are now 14 positive confirmed cases in the Lake Havasu City area, seven in Kingman, and three in Bullhead City.
One of the 24 passed away and became the first COVID-19-related death in the county. This person was over the age of 65 and had other underlying health conditions and had been hospitalized at Havasu Regional Medical Center.
Valley Metro to adjust schedules starting Saturday
Valley Metro Rail is temporarily adjusting schedules starting Saturday due to the coronavirus outbreak.
The light rail schedules will adjust as follows:
Monday through Saturday, trains arrive every 15 minutes between 4 a.m. and 6 p.m.
No late night service on Friday and Saturday
Sunday schedule remains the same
Service days are 4:00 a.m. to 1:30 a.m. every day; last complete trip begins at 11:00 p.m.
Flagstaff closes park spaces and amenities at city parks
The City of Flagstaff announced that park spaces and amenities at city parks will be closed until further notice due to the COVID-19 pandemic.
The following parks and City amenities will be closed until further notice:
• Dog parks – two in total located at Thorpe Park and Bushmaster Park
• Tennis Courts – 17 courts in total
• Skate Parks – two in total located at Bushmaster Park and Foxglenn Park
• BMX Park – one in total located in Sunnyside along Izabel Street
Disc golf courses and baseball and softball fields will remain open.
Trails and grass areas remain open for walking, hiking, biking and other outdoor recreation that can be done with responsible social and physical distancing.
Gov. Ducey announces nearly $10 million for meals for low-income Arizonans
The Arizona Department of Economic Security (DES) was awarded $9.8M in funding from the federal government for the Emergency Food Assistance Program (TEFAP).
TEFAP is a federally funded program that provides emergency food and nutrition assistance at no cost to low-income individuals, including seniors.
Of the funding, $7.34 million will be dedicated to purchasing food, and $2.5 million will be used to help maximize the coordination and ability of regional food banks to store and distribute the food to TEFAP distribution sites.
Those who are income eligible will access the food at the distribution sites and will need to bring photo identification and proof of address.
Tucson mayor authorizes Tucson restaurants to sell more goods
Mayor Regina Romero has temporarily authorized Tucson restaurants to sell packaged food, fresh produce, paper goods and cleaning supplies to customers without changes to current Certificates of Occupancy or Business Licenses.
"Our restaurant community is at the heart of Tucson's cultural, social, and economic fabric," Mayor Romero said in a statement. "I encourage all Tucsonans to continue rallying around our restaurants by ordering takeout, purchasing gift cards, and now, by visiting them for their grocery needs."
Restaurants will be required to collect sales tax on the packaged foods. All prepackaged foods should be labeled in accordance with the most recent U.S. Food and Drug Administration (FDA) guidance.
Navajo Nation cases jump to 426, with 17 COVID-19 related deaths
The total number of confirmed coronavirus cases in Navajo Nation reached 426 as of Tuesday, an increase of 42 positive cases since Monday.
There are 17 confirmed deaths related to COVID-19.
The 426 confirmed positive cases are in the following counties:
Navajo County, AZ: 164
Apache County, AZ: 44
Coconino County, AZ: 102
McKinley County, NM: 32
San Juan County, NM: 66
Cibola County, NM: 8
San Juan County, UT: 7
Socorro County, NM: 2
Bernalillo County, NM: 1
Arizona Cardinals, State Farms donating one million meals to food banks
The Arizona Cardinals and State Farm have teamed up to donate one million meals to Arizona food banks.
The five groups involved in this "Million Meal" donation are:
St. Mary's Food Bank
St. Vincent DePaul
United Food Bank
Phoenix Rescue Mission
Midwest Food Bank
On March 24, the Cardinals made a $1 million donation to the Arizona Coronavirus Relief Fund.
The team also organized three major blood drives at State Farm Stadium to meet critical need.
Wide receiver DeAndre Hopkins made a donation of $150,000 to the state's Coronavirus Relief Fund and linebacker Chandler Jones who is providing 150,000 meals to food banks in Arizona as well as his hometown in upstate New York.
Arizona Legislature extends recess
The Arizona Legislature has informed members and staff that it will extend its recess and assess the coronavirus situation again at the end of the month.
Lawmakers adjourned on March 23 after passing a bare-bones emergency state budget and hoped to reconvene on April 13 to finish the yearly session.
House Speaker Rusty Bowers said Tuesday in an email to members and staff that it will not yet be safe to reconvene.
Bowers said he and Senate President Karen Fann would give members ample notice before they are called back into session.
At-home orders helping Arizona air quality
Motorists in Arizona who are following the stay-at-home orders appear to be improving the air quality and decreasing the effects vehicle emissions have on the environment.
Arizona and Nevada released their reports Monday after at least a week under the states' respective stay-at-home orders.
U.S. Environmental Protection Agency officials say particulate matter and nitrogen dioxide are pollutants that contribute to smog and poor air quality and are emitted from the transportation sector, including cars, trucks, commercial aircraft and railroads.
Environmental officials say more study is required.
The Associated Press contributed to this report.
COVID-19 is believed to be primarily spread through coughs or sneezes.
It may be possible for the virus to spread by touching a surface or object with the virus and then a person touching their mouth, nose or eyes, but this is not thought to be the main method of spread, the CDC says.
You should consult your doctor if you traveled to an area currently affected by COVID-19 and feel sick with fever, cough or difficulty breathing.
There is no vaccine for the coronavirus, so the best way to prevent COVID-19 and other respiratory diseases is to:
Avoid close contact with people who are sick.
Avoid touching your eyes, nose, and mouth.
Stay home when you are sick.
Cover your cough or sneeze with a tissue, then throw the tissue in the trash.
Clean and disinfect frequently-touched objects and surfaces using a regular household cleaning spray or wipe.
Wash your hands often with soap and water for at least 20 seconds. If soap and water are not readily available, use an alcohol-based hand sanitizer.
You can text FACTS to 602-444-1212 to receive more information on the coronavirus and to ask questions.
Coronavirus facts you should know