There is a lot of news regarding the coronavirus in Arizona.
In an effort to track the changes, 12 News has started a daily live blog.
Here is the live blog for Thursday, April 9.
There are now 3,018 confirmed cases of coronavirus in Arizona as of Thursday morning.
89 people have died from the virus or complications related to the virus in Arizona, as of Thursday morning.
The state health department is not tracking the number of recovered cases.
There are now 3,018 confirmed cases of coronavirus in Arizona, 89 deaths
There are now 3,018 confirmed cases of coronavirus in Arizona, with 89 coronavirus-related deaths, according to the state's latest numbers.
Cases are up from 2,726 confirmed cases on Wednesday with 80 deaths.
One week ago, the state had 1,598 cases and 32 deaths.
Here's a county breakdown:
Maricopa: 1,689
Pima: 512
Pinal: 137
Coconino: 210
Navajo: 286
Apache: 52
Mohave: 27
La Paz: 4
Yuma: 15
Graham: 2
Cochise: 11
Santa Cruz: 7
Yavapai: 62
Gila: 3
Greenlee: 1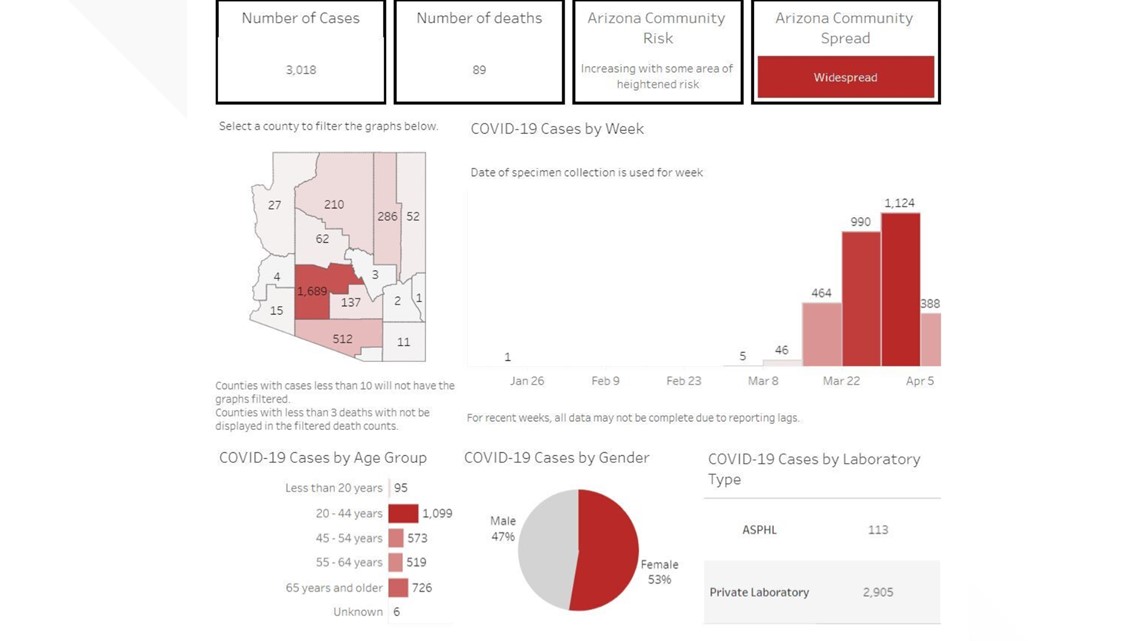 Maricopa County's official numbers on their website show 1,687 cases of coronavirus in the county as of Thursday morning.
According to the county, 19.3% of those cases have been admitted to the hospital, 6.3% have been admitted to the intensive care unit and 2.3% of cases in county have resulted in death.
In Maricopa County, there are 41 cases in ages 0-19.
The 20-44 age group has 40% of cases, 35% cases fall between 45 and 64 years old and 23% of cases are 65 years and older, as of Thursday morning.
Among Maricopa County cases, 326 were hospitalized and 106 were in the intensive care unit and 39 people have died.
Another inmate tests positive for COVID-19
An inmate in the Florence state prison has tested positive for coronavirus, Arizona Department of Corrections officials announced Thursday.
This makes three confirmed COVID-19 cases in Arizona prisons.
The department said 68 inmates have been tested out of the 42,000 ADC inmates. Seven tests are pending, and 58 tested negative.
Of the roughly 173,000 people living on the Navajo Nation, at least 30% of the homes don't have running water.
To complicate matters, residents of the Nation who do not have running water must travel long distances to get to grocery stores or sites where they can haul water.
This increases the likelihood of them being exposed to people who have coronavirus or being a carrier of the virus and exposing themselves to others without knowing it.
This is especially concerning in an area that has become one of the nation's hotspots for COVID-19. Read the full story here.
With a stay-at-home order in place in Arizona, some people are in potentially deadly situations as they find themselves isolated with their abusers.
Faced with the frustration of the pandemic, abusers might become more violent and feel more justified in their isolation tactics, according to Myriah Mhoon, the CEO of the largest domestic violence shelter in the state.
Mhoon said child abuse is especially concerning, as the children no longer have access to lifelines like school, social workers and after-school programs.
St. Luke's Medical Center reopening
St. Luke's Medical Center will temporarily reopen during the coronavirus outbreak. Gov. Doug Ducey said Thursday that the recently closed hospital will be used to increase hospital bed capacity across the state.
When renovations are completed by the end of the month, 339 ICU beds will be available. The medical center was closed late last year after operating for over 100 years.
Navajo Nation president, vice president self-quarantining due to possible exposure
Navajo Nation President Jonathan Nez and Vice President Myron Lyzer are self-quarantining after they were in close proximity with a first responder who tested positive for COVID-19.
Both are feeling fine, but will continue to monitor their symptoms.
The possible exposure happened Tuesday.
Nez said there were 488 cases of coronavirus as of Wednesday evening. Twenty people have died.
Those stats were up from 426 cases and 17 deaths on Tuesday.
There are 2,221 tests that came back negative, Nez said.
Nez said the recovery numbers are being "tabulated."
He added that the peak cases are expected in early May.
Phoenix homeless shelter receives large donation from salad company
The pallet will serve over 700 meals to people who are experiencing homelessness.
Every week, UMOM serves over 5,500 meals to families and single women at two shelter locations.
Dr. Fauci: Don't expect virus to fade during warm weather
Dr. Anthony Fauci, the top U.S. infectious disease expert, said people should not assume the coronavirus will fade during warm weather.
Fauci told ABC's "Good Morning America" that there's precedent with other infections like influenza that "when the virus gets warmer that the virus goes down in its ability to replicate, to spread."
"Having said that, one should not assume that we are going to be rescued by a change in the weather," he continued.
"You must assume that the virus will continue to do its thing. If we get some help from the weather, so be it, fine. But I don't think we need to assume that."
Arizonans receiving food assistance can use benefits online
Arizonans who are currently receiving food assistance through the Supplemental Nutrition Assistance Program will be able to use benefits for online food purchases with Walmart and Amazon.
Gov. Doug Ducey made the announcement Thursday.
The change will help limit social interaction for Arizona's most vulnerable while ensuring SNAP recipients receive needed food assistance.
La Paz County announces 1st COVID-19 death
The La Paz County Health Department was notified Tuesday of the fourth positive case in the county.
This individual was from the Quartzsite service district area and was admitted to a local hospital, where they later died. This person was over the age of 65 and had other underlying health conditions.
The four positive confirmed cases in La Paz County have resulted in two fully recovered, one currently being hospitalized outside of the county and the death of the fourth individual.
White Mountain Apache Tribe issues stay-at-home order
The White Mountain Apache Tribal Council issued a stay-at-home orderr.
The order was issued as a means to protect the health and safety of the Tribe and its members.
The following temporary emergency measures were implemented, effective immediately:
1. Sunrise Liquor Store shall be closed indefinitely.
2. All stores, including the convenience stores and Basha's, shall close daily at 7:00 P.M.
3. No children under the age of 14 shall be permitted inside any store.
4. All convenience stores shall limit the number of people inside (including employees and customers) to no more than 10 individuals at any given time. Additionally, Basha's shall follow the CDC guidelines for the store limit based upon its square footage, and shall implement social distancing protocols and protective measures.
5. At all times, masks must be worn in public.
6. Loitering in any public (non-residential) place, at any time, shall be strictly prohibited.
7. Visitors from outside of the Fort Apache Indian Reservation ("FAIR") are strictly prohibited from sheltering on the FAIR. ("Visitors" is defined by anyone that does not currently live on the FAIR.)
8. A curfew is imposed between the hours of 8:00 P.M. and 5:00 A.M., beginning Friday. People traveling to and from work during the restricted hours must carry their work badge and/or a letter from their employer indicating their schedule.
Arizona AG, US attorney launch COVID-19 fraud task force
United States Attorney Michael Bailey and Arizona Attorney General Mark Brnovich launched a joint task force to combat coronavirus-related fraud.
The COVID-19 Fraud Task Force will bring together a dozen partners from across the state in an effort to combine resources and information to investigate and prosecute those who seek to profit from the coronavirus crisis.
"In times of crisis, the best of humanity is often evident as people support one another and unite together to fight a common enemy. We see that in today's stories about our health care workers, our first responders, and our communities sacrificing safety and comfort to protect one another," United States Attorney Michael Bailey said in a statement.
"Unfortunately crisis can also be a time when the worst parts of humanity surface. This task force will seek out and punish scam artists who prey on the fear and uncertainty of our citizens during this public health crisis."
COVID-19 is believed to be primarily spread through coughs or sneezes.
It may be possible for the virus to spread by touching a surface or object with the virus and then a person touching their mouth, nose or eyes, but this is not thought to be the main method of spread, the CDC says.
You should consult your doctor if you traveled to an area currently affected by COVID-19 and feel sick with fever, cough or difficulty breathing.
There is no vaccine for the coronavirus, so the best way to prevent COVID-19 and other respiratory diseases is to:
Avoid close contact with people who are sick.
Avoid touching your eyes, nose, and mouth.
Stay home when you are sick.
Cover your cough or sneeze with a tissue, then throw the tissue in the trash.
Clean and disinfect frequently-touched objects and surfaces using a regular household cleaning spray or wipe.
Wash your hands often with soap and water for at least 20 seconds. If soap and water are not readily available, use an alcohol-based hand sanitizer.
You can text FACTS to 602-444-1212 to receive more information on the coronavirus and to ask questions.