PHOENIX — Hope you have enjoyed our first real taste of fall weather in Arizona because it will soon come to an end.
As a heat bubble of high pressure pushes into the Western U.S., temperatures statewide will climb to above normal. In fact, triple-digit heat returns to the Valley as early as Thursday.
A trifecta of triple digits will be possible for the Valley, with the peak of the heat forecast for Friday.
Expect breezy conditions over the weekend with a low chance of showers, mainly over the high country. This weekend's weather change will bring in slight cooling, but not quite as dramatic as we've seen in recent days.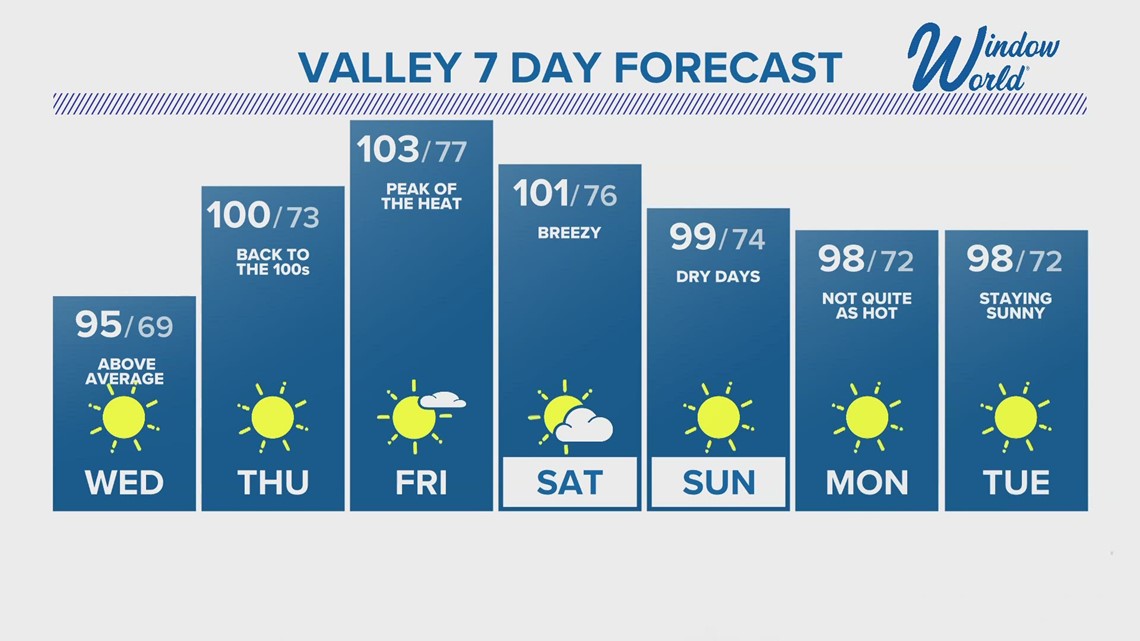 WEDNESDAY: 69/95 Sunny, near normal temps
THURSDAY: 73/100 Sunny, back to the triple digits
FRIDAY: 73/103 Mostly sunny, peak of the heat
SATURDAY: 77/101 Partly cloudy, breezy
SUNDAY: 76/99 Scattered clouds, but staying dry
MONDAY: 74/98 Sunny, not quite as hot
TUESDAY: 72/98 Sunny, above average
Arizona Weather
Arizona has seen its fair share of severe weather throughout the state. Watch a compilation of videos from various thunderstorms, floods, and fires from across the Grand Canyon State on our 12 News YouTube channel here.
Be sure to subscribe and see the latest in Arizona weather news and breaking weather emergencies throughout the Valley!
If you see storms, dust, beautiful sunsets, and more and you can safely do so, please share your photos and videos with us in the 12 News app, at pictures@12news.com, or on social media using the hashtag #BeOn12.