ARIZONA, USA — A winter weather system is stopping by the state to start the workweek.
The set-up will stir up breezy winds and showers around Arizona on Monday with shower chances continuing Tuesday too.
The snow level could go as low as 4,000 but a winter weather advisory is in effect for elevations at 5,000 feet and up through Tuesday. Snowfall totals are predicted to range from 3 to 8 inches.
Light rainfall amounts are expected in the Valley too.
A wind advisory is also in effect through Tuesday for northwestern Arizona for northerly gusts up to 50 mph.
Below-average temperatures will accompany the unsettled weather.
A drying and warming trend will lead the way starting Wednesday. By Friday, the Valley could be back to enjoying the 70s!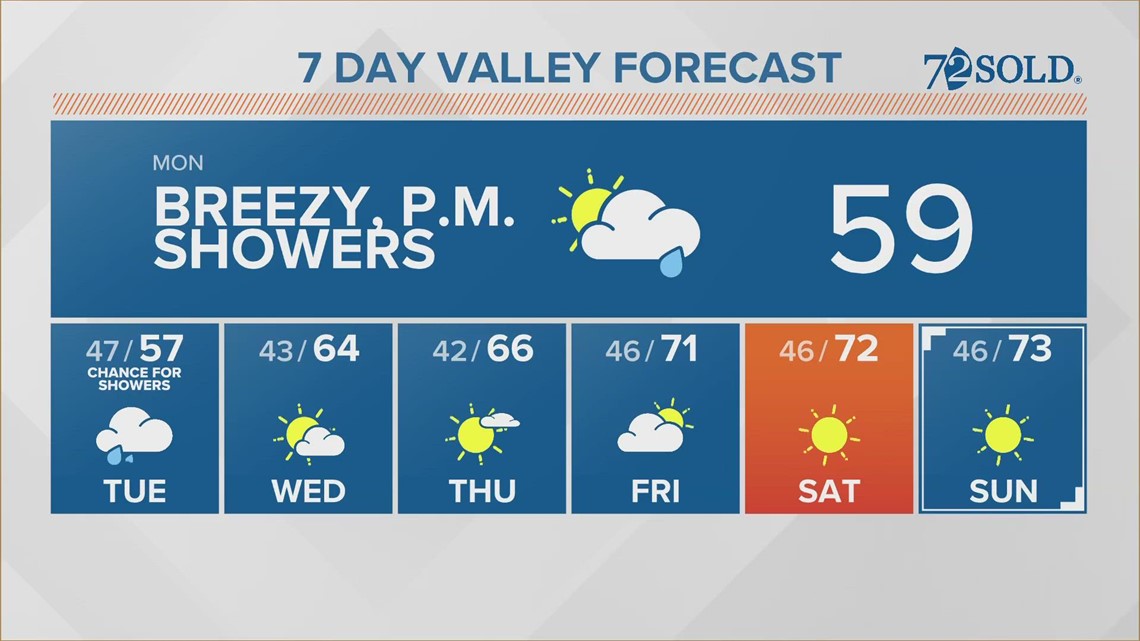 MONDAY: 48/59 Isolated showers, much cooler
TUESDAY: 46/58 Showers, cold
WEDNESDAY: 41/64 Mostly sunny, cool
THURSDAY: 40/66 Sunny, below average
FRIDAY: 45/69 Mostly sunny, pleasant
SATURDAY: 46/72 Mostly sunny, pleasant
SUNDAY: 46/74 Sunny, pleasant
PHOTOS: 2021 Weather and Landscape shots from the 12 News Weather Watchers
Arizona Weather
Arizona has seen its fair share of severe weather throughout the state. Watch a compilation of videos from various thunderstorms, floods, and fires from across the Grand Canyon State on our 12 News YouTube channel here.
Be sure to subscribe and see the latest in Arizona weather news and breaking weather emergencies throughout the Valley!
If you see storms, dust, beautiful sunsets, and more and you can safely do so, please share your photos and videos with us in the 12 News app, at pictures@12news.com, or on social media using the hashtag #BeOn12.