ARIZONA, USA — Storm chances will get an upgrade on Wednesday with more monsoon moisture being pulled up from the south along with more energy in our atmosphere triggering the storms.
Watch out for gusty outflow winds from the storms, blowing dust, lightning and heavy rainfall. There's a raised risk for flash flooding in Northern Arizona which will especially be a threat to burn scar areas.
Temperatures will also be right on theme with Hump Day, hitting their highest marks of the week during the afternoon hours. The hottest spots will come close to 110 degrees.
Drier air will start invading from the west on Thursday, lowering storm chances through the weekend and keeping them fairly limited to Arizona's higher terrain.
Afternoon breeziness will also be more noticeable over the weekend with temperatures near seasonal standards.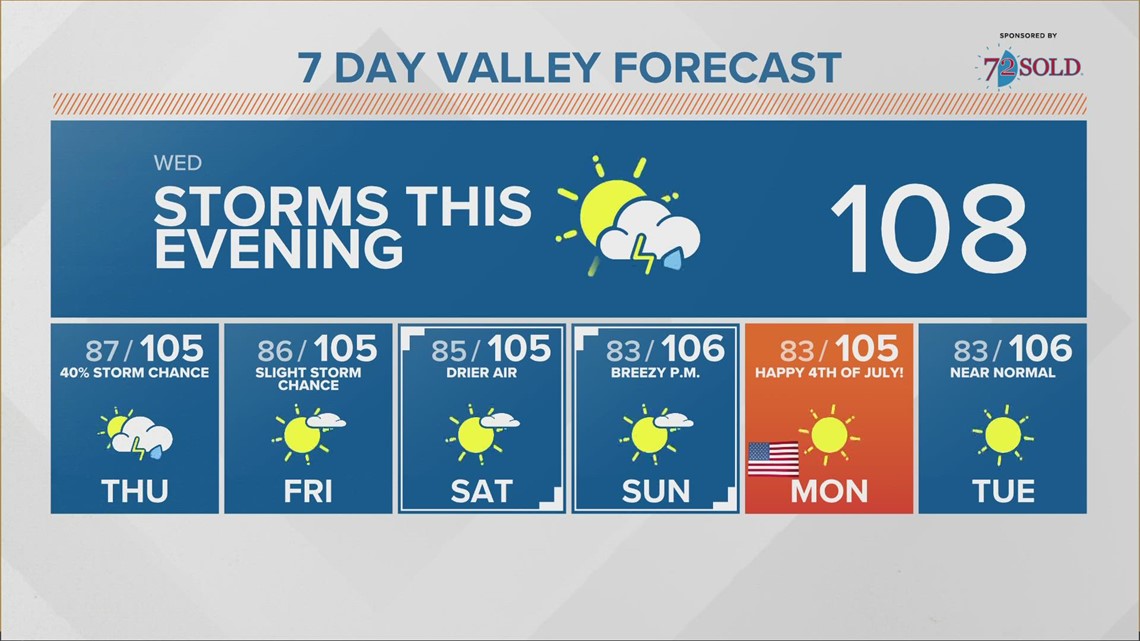 WEDNESDAY: 89/108 Chance of Storms
THURSDAY: 88/105 Slight Chance of Storms
FRIDAY: 87/105 Slight Chance of Storms
SATURDAY: 86/105 Partly Sunny
SUNDAY: 85/106 Partly Sunny
MONDAY: 85/105 Chance of Storms
TUESDAY: 84/106 Mostly Sunny
PHOTOS: 2021 Weather and Landscape shots from the 12 News Weather Watchers
Arizona Weather
Arizona has seen its fair share of severe weather throughout the state. Watch a compilation of videos from various thunderstorms, floods, and fires from across the Grand Canyon State on our 12 News YouTube channel here.
Be sure to subscribe and see the latest in Arizona weather news and breaking weather emergencies throughout the Valley!
If you see storms, dust, beautiful sunsets, and more and you can safely do so, please share your photos and videos with us in the 12 News app, at pictures@12news.com, or on social media using the hashtag #BeOn12.