PHOENIX — A number of hospitals and health care companies across Arizona are banning most visitors in an effort to slow the spread of the coronavirus.
Here are the hospitals that have implemented new policies amid the crisis:
BANNER HEALTH
Banner Health will implement new visitor restrictions at all of its locations in response to the growing coronavirus crisis.
The company announced Wednesday that visitors will no longer be allowed in Banner hospitals starting at 7 a.m. on Thursday.
The announcement expanded to all locations on Friday. This includes outpatient and ambulatory locations, such as: clinics, urgent cares, imaging centers, surgery centers and occupational health services locations.
The move would aim to "create a safe and secure environment" for patients and workers during the COVID-19 outbreak.
"We understand this will be challenging, but we're committed to take the necessary precautions to protect our patients, health care workers and the community," part of the statement read.
The two exceptions to the restriction at hospitals are that patients under the age of 18 may have one adult visitor with them and expecting mothers may have one support person with them.
The restrictions at all other locations are that patients under the age of 18 may have one adult visitor with them and individuals with physical or cognitive limitations or disabilities who require support may have one adult visitor with them.
"Because we understand the importance of engaging with loved ones, we highly encourage phone calls, FaceTime or video chats to stay in touch during this time."
You can find Banner Health locations here.
PHOENIX CHILDREN'S HOSPITAL
Phoenix Children's Hospital announced this week it would ban visitors, including siblings under the age of 18.
Only two caregivers would be allowed to accompany a patient at a time, and those caregivers would also have to undergo visitor screenings.
HONOR HEALTH
No visitors will be allowed in the emergency department, inpatient hospital rooms or Antepartum.
NICU/Pediatric areas will be restricted to one parent, who will be screened and badged. Labor and Delivery will be restricted to one visitor, who will be screened and badged.
ABRAZO HEALTH
Visitors will not be allowed in Abrazo Health hospitals across the Valley starting at 7 a.m. March 20.
Exceptions may be made for certain patients, such as patients in labor, end-of-life and certain exceptions for discharge support.
Entrances to all Abrazo hospitals will also be limited. At each entry point, all entering the facility will be screened and have their temperature checked. This is an enhancement to measures already in place.
Phoenix-based Cancer Treatment Centers of America announced it is taking in any cancer patient from local community hospitals to help the hospitals focus on treating COVID-19 cases and to mitigate the risk for cancer patients undergoing treatment there.
There are currently 44 reported cases of coronavirus in Arizona.
COVID-19 is believed to be primarily spread through coughs or sneezes.
It may be possible for the virus to spread by touching a surface or object with the virus and then a person touching their mouth, nose or eyes, but this is not thought to be the main method of spread, the CDC says.
You should consult your doctor if you traveled to an area currently affected by COVID-19 and feel sick with fever, cough or difficulty breathing.
There is no vaccine for the coronavirus, so the best way to prevent COVID-19 and other respiratory diseases is to:
Avoid close contact with people who are sick.
Avoid touching your eyes, nose, and mouth.
Stay home when you are sick.
Cover your cough or sneeze with a tissue, then throw the tissue in the trash.
Clean and disinfect frequently-touched objects and surfaces using a regular household cleaning spray or wipe.
Wash your hands often with soap and water for at least 20 seconds. If soap and water are not readily available, use an alcohol-based hand sanitizer.
Coronavirus facts you should know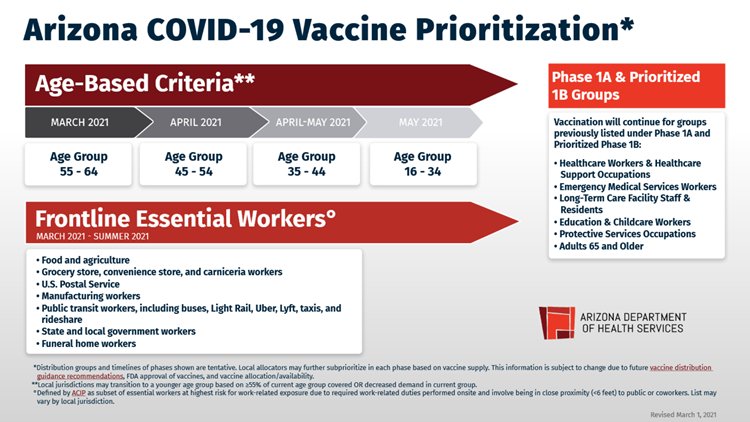 You can text FACTS to 602-444-1212 to receive more information on the coronavirus and to ask questions.