PHOENIX — Tuesday night's storms brought flooding, damage, and power outages to swaths of the Valley, but we're not out of the woods yet.
With lots of humidity still in the air, storm chances are going to carry over into Wednesday. Keep an eye out for storm threats such as heavy rainfall, lightning, gusty winds and hail.
The storms even forced the closure of Zaharis Elementary School in Mesa on Wednesday. Officials said the campus won't reopen until Tuesday, Sept. 19 due to roof damage. The school may reopen sooner depending how soon the repairs can be completed.
Residents from Goodyear to Mesa were also feeling the weather last night, with several homes suffering from storm damage and downed trees.
Falcon Field airport in Mesa was severely damaged, with multiple hangars shredded by the storm. Several planes at the airport were damaged as well, but there's no estimated cost of damages at this time.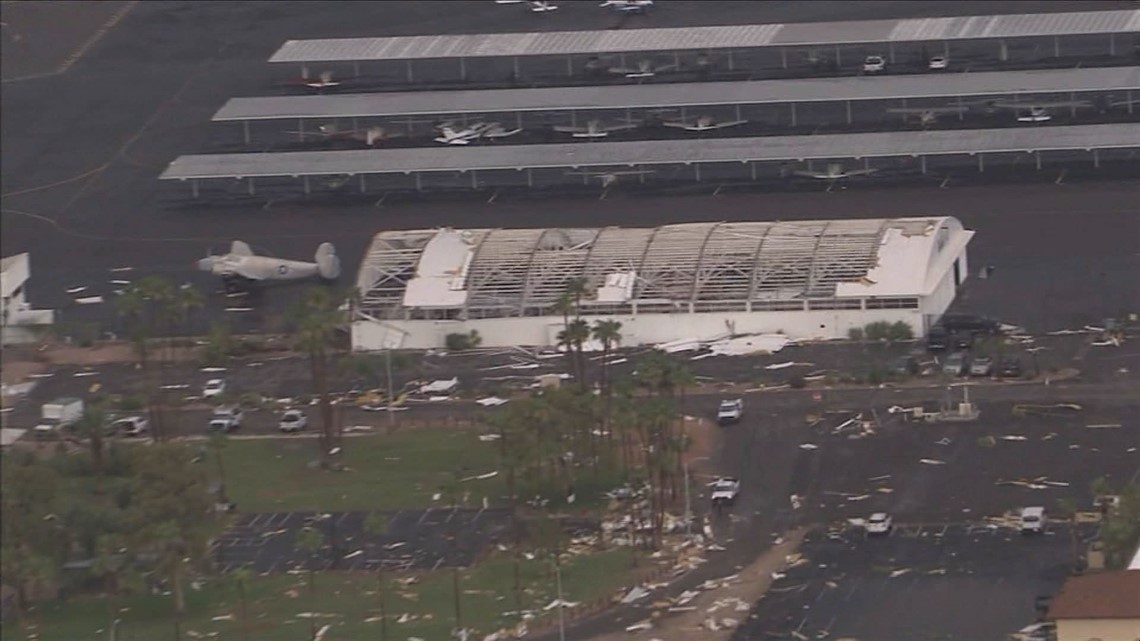 Looking back at the rainfall totals from overnight, the numbers varied across the Valley. Here's a breakdown of where the rain fell.
Rainfall
Central Phoenix: 0.35"
Uptown Phoenix: 0.71"
North Phoenix: 0.08"
Phoenix Zoo: 0.24"
Phoenix Mountains Preserve: 0.20"
Tempe: 0.24"
Scottsdale: 0.59"
Glendale: 0.24"
Paradise Valley: 0.08"
Mesa: 0.12"
Falcon Field Airport: 1.5"
Holden Ranch: 0.94"
Apache Junction: 0.24"
Litchfield Park: 0.39"
Goodyear: 0.12"
Chandler: 0.04"
We'll continue to track the storm chances Wednesday. Stay tuned to 12News for updates.
>> Download the 12News app for the latest local breaking news straight to your phone.
Arizona Weather
Drought, wildfires, heat and monsoon storms: Arizona has seen its fair share of severe weather. Learn everything you need to know about the Grand Canyon State's ever-changing forecasts here.
Watch 12News+ for free
You can now watch 12News content anytime, anywhere thanks to the 12News+ app!
The free 12News+ app from 12News lets users stream live events — including daily newscasts like "Today in AZ" and "12 News" and our daily lifestyle program, "Arizona Midday"—on Roku and Amazon Fire TV.
12News+ showcases live video throughout the day for breaking news, local news, weather and even an occasional moment of Zen showcasing breathtaking sights from across Arizona.
Users can also watch on-demand videos of top stories, local politics, I-Team investigations, Arizona-specific features and vintage videos from the 12News archives.