PHOENIX — Autumn? Who's she? This feels like the summer that never ends, and recent weather data backs it up. As of Thursday, the Valley is firmly in severe drought conditions.
Moisture from Hurricane Hilary and a string of monsoon storms brought some relief to Arizona's chronic dehydration, but rising temperatures put us right back where we started. Much of Maricopa County was elevated to severe drought conditions, according to the U.S. Drought Monitor.
An excessive heat warning is in place for the Valley and other lower desert locations for Saturday and Sunday. Temperatures are expected to get above 110 degrees on those days.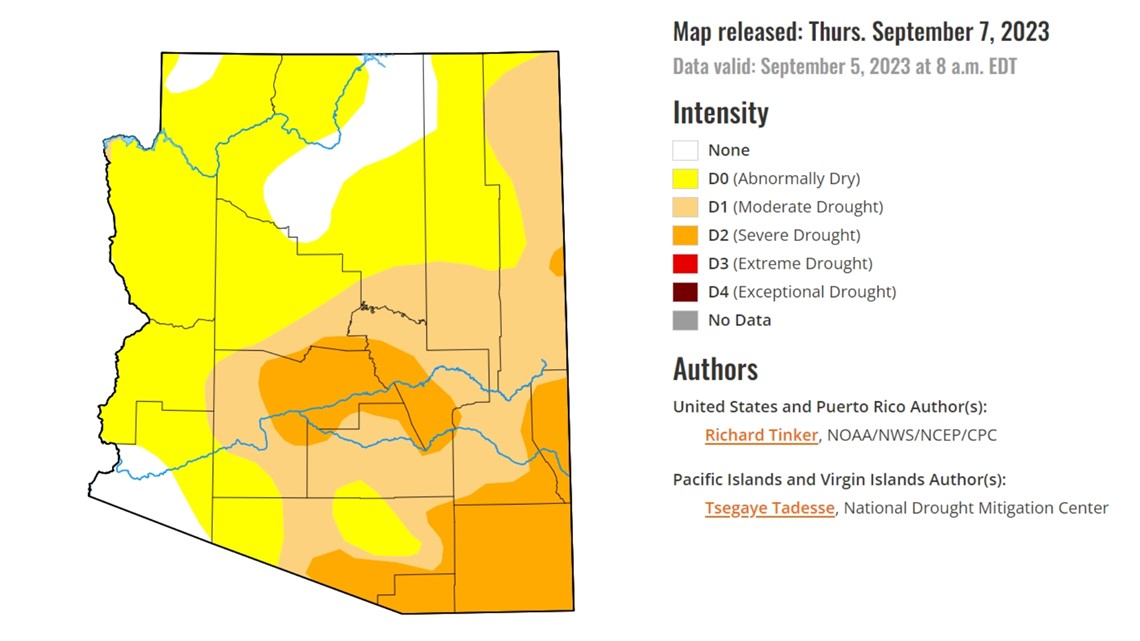 Parts of southeastern Arizona are also in severe drought, while much of the state remains in moderate drought conditions.
These conditions pose a high risk for fire, and can be dangerous for both people and animals outside. Fortunately, temperatures are expected to dip after the weekend, with a chance for storms to bring relief on Tuesday.
>> Download the 12News app for the latest local breaking news straight to your phone.
Wildfire Go-Kit:
Residents in wildfire-prone areas are urged to have an emergency supplies kit to bring with them of they are evacuated from their homes, especially as Arizona residents are beginning to see early widespread fire activity throughout the state.
An emergency supply kit should be put together long before a wildfire or another disaster occurs. Make sure to keep it easily accessible so you can take it with you when you have to evacuate.
The National Fire Protection Association (NFPA) recommends that residents near a disaster store emergency supplies in a plastic tub, small suitcase, trash can, backpack, or other containers.
Residents should make sure they have the necessities, such as three gallons of water per person and a three-day supply of ready-to-eat food, the NFPA said. A first-aid kit, prescription medications, contact lenses, and non-prescription drugs should also be taken into account.
Copies of any important family documents, including insurance policies, identification, bank account records, and emergency contact numbers should also be taken and put into a waterproof, portable container in your kit, the NFPA said.
The association lists other items that would help in a disaster, including:
Sleeping bag or warm blanket for each person

Battery-powered or hand-cranked radio and a NOAA weather radio to receive up-to-date information

Dust mask or cotton T-shirt to filter the air

Matches in a waterproof container

Complete change of clothing including long pants, long sleeve shirts, and sturdy shoes stored in a waterproof container

Signal flare
Arizona Weather
Drought, wildfires, heat and monsoon storms: Arizona has seen its fair share of severe weather. Learn everything you need to know about the Grand Canyon State's ever-changing forecasts here.