PHOENIX — The box was lifted off the ground, built on top of a utility trailer and made of plywood and pallets the family found throughout the city.
Inside sat a large water tank with a shower hose, a table and even an electric air conditioning unit to help stay cool during the endless days over 100 degrees in Phoenix.
The makeshift shelter was the last sanctuary for Jane, her partner, and their two young daughters.
The 12News I-Team first met Jane in November 2022, when she and her partner were living in their SUV. We have changed her name due to her circumstances.
Jane was pregnant during that first meeting. She wanted to share her story to shine a light on the many obstacles facing pregnant, homeless women - and the lack of resources to help.
Now, her youngest child is 8 months old.
On Aug. 22, Jane told the 12News I-Team she and her family were out of options.
They would be forced to sleep overnight in the box trailer.
Since her youngest daughter was born, Jane, her partner and their 5-year-old daughter had been able to make things work.
Sometimes that meant sleeping in their car. Other times, they shared an apartment with a relative.
Then, this summer, their car was towed. They didn't have registration and police said it was inoperable. Phoenix police told the I-Team the car could not be parked on a public street, and the family had multiple warnings to move it.
They just didn't have a place to go.
Jane's family had also been staying with relatives in a nearby apartment - until the relatives got evicted.
The paperwork showed they were evicted for having "unauthorized occupants" living with them.
"It has come to our attention that you are allowing homeless people to reside in your car on the property and in the parking lot. These are unauthorized occupants, and they are disturbing other residents" the eviction paperwork said.
Jane and her partner were never on that lease, and had no right to re-enter once the constable locked the doors.
"It's been very challenging. It's like every time we think we're going to come up - something comes and knocks us back down but even harder," Jane said. "It could always be worse."
All the while, she said she had been on a waitlist for family shelter - but had no idea when her turn would come.
With her 5-year-old daughter in tow, Jane pushed her stroller towards a makeshift shelter that her partner built to help protect them. Her next step: come up with a new plan and wait for help to come along.
The waitlist
UMOM New Day Centers is the largest provider of family shelters in Maricopa County.
UMOM manages the "Family Housing Hub" which runs the waitlist for adults with dependent children who need emergency housing and shelter services.
The shelter said that as of Aug. 20, nearly 300 families in Maricopa County were on the waitlist for shelter.
In all, those families included 687 children, currently homeless throughout the county.
That waitlist is more than five weeks long.
It reflects what is likely an undercount of the true number of homeless families and children across the county. The shelter services providers understand that not everyone who needs help gets the kind of access to make it on the waitlist in the first place.
"I will tell you right now at 280; that is an emergency number in my head when I see that," said Jackson Fonder, the CEO of UMOM. "It's sort of like all hands on deck, you gotta do what you can to move people out as fast as possible."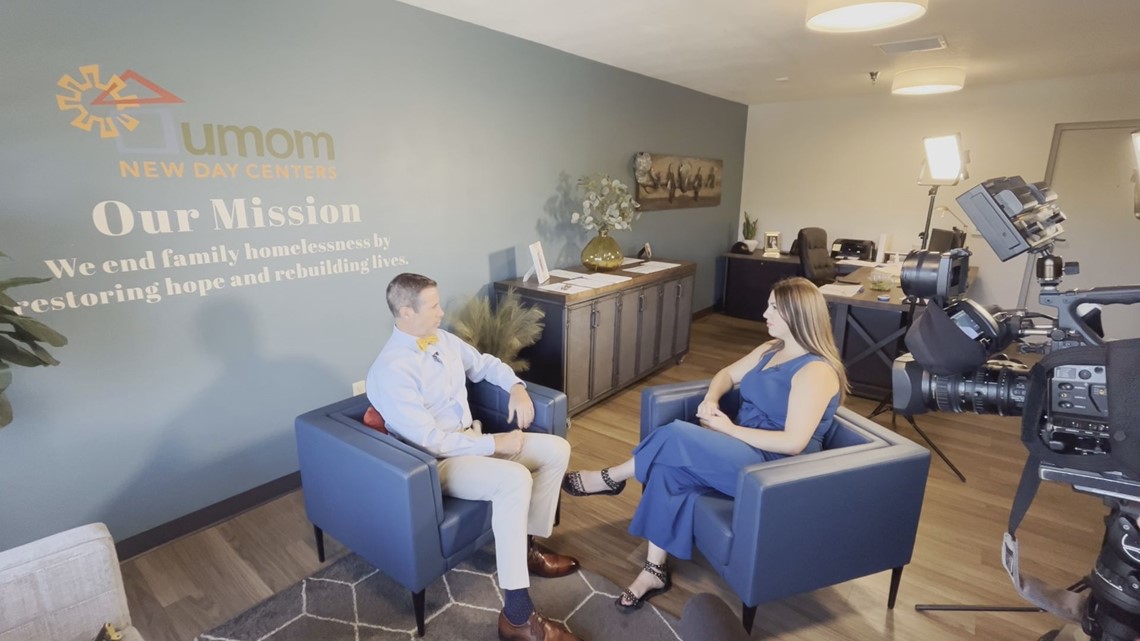 By "move people out," Fonder means getting those families who are receiving services in the shelter into a more permanent residence.
The average stay at UMOM is 95-100 days. During that time, a case manager helps families coordinate many services, including housing and job placement, and things like healthcare and childcare.
The goal is to set families up for success. UMOM is under pressure to do this quickly and efficiently in order to help the next family on the list.
UMOM currently has 150 rooms for families that can accommodate close to 700 people. The waitlist alone requires space for nearly twice as many as they currently serve.
"That's tough to have a family check in with us and do the intake and then send them on their way," Fonder said. "A lot of times they go back to their automobile, their car. They have nowhere else to go."
Jobs, affordable housing and cash
While the reasons families find themselves on a homeless service waitlist vary dramatically, for Fonder, it comes down to the lack of affordable housing and well-paying jobs.
"The idea of trying to find a very affordable, modest, two bedroom, two bath apartment, Oh - it's gonna cost you," Fonder said. "That's gone up $300, $400, even $600 a month, in the last three years."
Federal data shows that throughout Phoenix, those kinds of rent jumps are true. From 2022 - 2023, the average price of a two-bedroom rental jumped about $300, and is now more than $1,700 in the Phoenix metro, though some areas are far more expensive.
"Jobs and housing are what end family homelessness, this whole organization is designed around that simple formula," Fonder said.
Still, in Maricopa County, evictions are reaching 20-year record highs.
According to county court data, there were more than 67,000 evictions last year. This year is on pace to surpass that, as more than 7,000 evictions were filed last month alone.
However, the state, county and city are moving more money to tackle the housing crisis.
It's just not enough to keep up.
A temporary shelter
When the I-Team saw Jane and her family's box, we called Phoenix's Office of Homeless Solutions to check whether the city knew of this situation and try to find out more about what could be available to help.
We sent a pin of their location to the contact with Jane's permission. Within hours, an outreach team arrived.
By that evening, a car was helping Jane, the girls and her partner load up their essentials, and was taking them to a hotel room and then to an emergency shelter space at UMOM.
"I'm ready to go and get my life started again, get working. Get everything back in place where it used to be," Jane said.
Most families can be on the waitlist for several weeks, as Jane's was, and don't have a news crew able to bring more attention to their plight.
And even once on the waitlist, families and providers face challenges. Unsheltered adults may not stay in the same location, keep their phones, or may otherwise lose contact with UMOM or other providers.
But Jane and her family did get into a UMOM room.
The rooms have space to sleep five people. Each room has a table and bathroom, including a shower with plumbing - a far cry from the plastic water tank in Jane's box trailer.
"It's a roof over their head and that's all that matters," Jane said of her daughters. "We get to keep looking forward on the positive and not look back on the negative."
2-1-1 Coordinated Services
For most families, the best way to get access to the resources they need is to call 211.
Service providers want families to know to reach out for help before they're on the streets, or in desperate need.
211 helps connect Arizonans to things like utility assistance, food, financial services and help avoiding eviction.
Operators also can help families get on a housing or shelter waitlist.
>> Download the 12News app for the latest local breaking news straight to your phone.
12News on YouTube