PHOENIX — Can you imagine it? A tiny town on the river, surrounded by mountains and farmland and not much else. It seems farfetched compared to how much Phoenix has grown, but the city really did start off small.
This lithograph, a special kind of printed image, gives us a bird's-eye view of Phoenix as it was in 1885, nearly 140 years ago.
Official Phoenix historian Steve Schumacher mapped out some of the locations that this lithograph shows us. You can see the first proper school house built in Phoenix, as well as the city cemetery.
Tucked away just beside the river is the city's Catholic church. Although it's not the same building, the St. Mary's Roman Catholic Basilica now stands on that land -- continuing over a century of religious use of the property.
Back then, each north-south street was named after a different Native American tribe, but that was changed in the early 1890s to the numbers that we use today.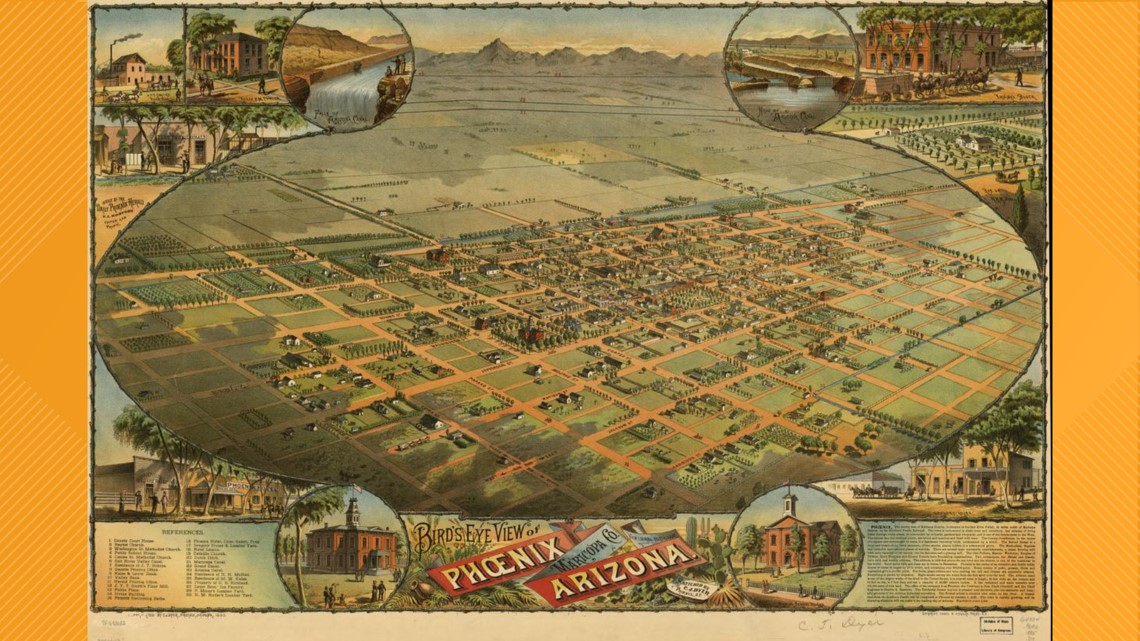 You can find an interactive view of the lithograph on the Library of Congress website. Check out the references in the bottom left corner of the lithograph to see if there are any places you still recognize!
>> Download the 12News app for the latest local breaking news straight to your phone.
WE ❤ ARIZONA
Explore amAZing people, places and things across our state on our 12News YouTube playlist here.
What is the Valley?:
"The Valley" is what locals call the Phoenix Metropolitan Area. It is considered the largest metropolitan area in the Southwest.
The Valley is made up of various major cities other than Phoenix, including:
Mesa

Chandler

Scottsdale

Tempe

Glendale

Surprise

Peoria

Gilbert

El Mirage

Avondale

Litchfield Park

Goodyear

Buckeye
Whether a city is in the "East Valley" or "West Valley" depends on where it is in relation to Phoenix.
The cities of the Valley have a combined population of 4,845,832 people, according to the 2020 United States Census. This makes it the 11th largest metropolitan area in the country right behind the Boston and Atlanta areas.