PHOENIX — Two Arizona congressmen accused a public safety supply vendor of trying to price gouge the Phoenix fire and police departments during the COVID-19 pandemic and asked for a federal investigation.
A vendor that regularly supplies the departments is charging the city nearly 600% more per N95 mask than it did two weeks ago, Representatives Greg Stanton and Ruben Gallego said in a letter to U.S. Attorney General William Barr on Wednesday.
They said the vendor is also asking for pre-payment, rather than billing upon receipt of the supplies as usual.
Stanton and Gallego said paying for the masks before getting them "leaves our first responders at further risk – and unable to turn to a different vendor – if the equipment is not delivered on time."
The letter does not name the vendor being accused of price gouging, but Gallego's office said the company referred to in the letter is Galls: Uniforms, Equipment and Gear for Police. It is based in Kentucky.
According to the City of Phoenix, Galls was one of multiple companies that quoted their N95 masks at $5.95.
Phoenix has done business with Galls in the past but did not agree to an order at that price. The city has multiple orders pending with other vendors.
In a statement, the city wrote, "The city has received offers from various vendors with the mask prices of $5.95, and we have decided not to go forward with those purchases at this time. However, if the city is unable to receive orders, we will have to consider additional vendors and may have to pay the increased price. The city's goal is make sure we have masks for our first responders."
"The time is not now to maximize your profits, it's illegal and immoral," Rep. Greg Stanton said.
"A 600% mark up is ridiculous. It is ridiculous and in a time of emergency is not what you should try to do," Gallego said.
Galls said in a statement that the company has pledged to offer N95 masks and other protective equipment at no profit for as long as the COVID-19 crisis lasts.
"We are working night and day to secure masks that are in short supply and desperately needed by our first responders. The reality is that we have seen a significant increase in the prices charged by manufacturers and distributors of these products across the world," Galls' CEO said in a statement.
President Donald Trump signed an executive order last week to prevent hoarding and price gouging of critical supplies like medical resources.
The Department of Justice is prioritizing these investigations and working with the Department of Health and Human Services to enforce the order.
"Profiting from the coronavirus pandemic – especially in a manner that places our first responders in harm's way – is morally indefensible, and we commend the President for recently issuing an Executive Order to combat price gouging," Stanton and Gallego said in their letter to Barr.
The rise in prices comes as many cities and states are competing against each other to get needed supplies. The congressmen said some companies are trying to take advantage of the increased demand, to increase their profit margins.
"This is going to go on for a couple more months, and cities budgets, hospital budgets are not going to increase," Gallego said.
"They are only going to decrease more and if the cost keeps on increasing for this type of equipment. These cities these hospitals make very difficult decisions that put people in danger."
Arizona does not have an anti-price-gouging law, so the Attorney General's Mark Brnovich office told 12 News they are not able to pursue those who make be taking advantage of the situation. A statement from Brnovich's office says, in part, "Arizona does not have laws prohibiting price gouging or charging high prices in times of emergency or heightened public health concerns."
The absence of such a law is a source of frustration to many, including Stanton. "It's clear Arizona needs a price gouging law for exactly this type of behavior." In 2005, Arizona lawmakers tried to pass a price gouging law but were unsuccessful.
In a letter to Kentucky's attorney general, Brnovich called the alleged price gouging "unconscionable."
Brnovich requested that the attorney general look into the matter since Kentucky does have an anti-price-gouging law with emergency and medical supplies during a state of emergency.
He also said he referred the matter to the U.S. Attorney General's Office to see if the company violates Trump's executive order pertaining to hoarding or price gouging. And it doesn't stop there. Brnovich's office says they have also referred allegations of price gouging to the Department of Homeland Security.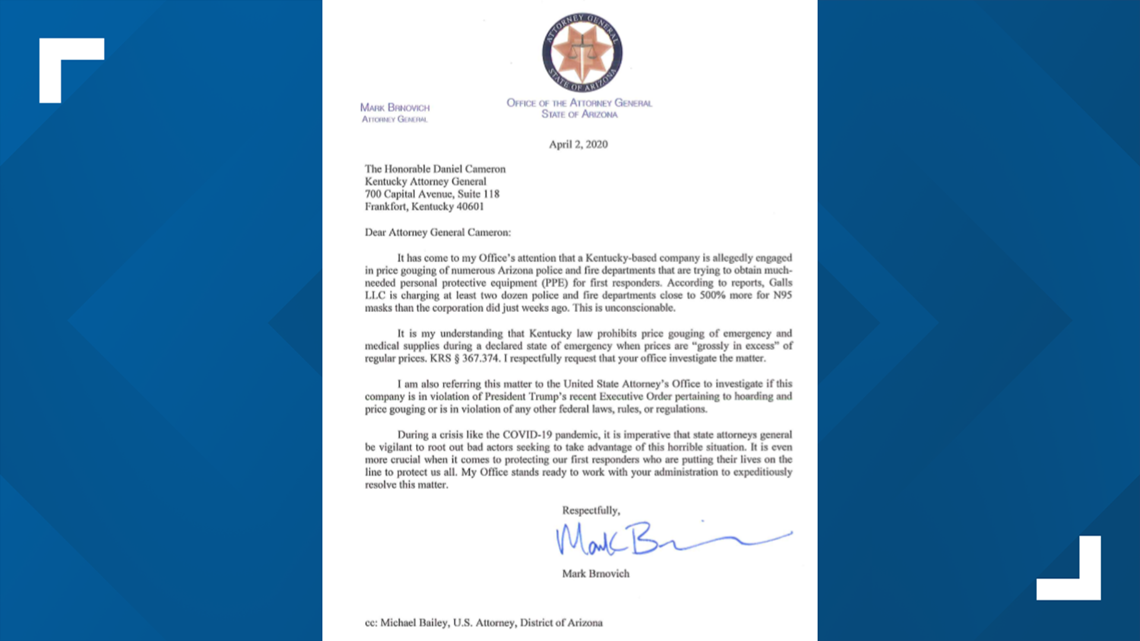 Late Friday afternoon Galls announced it will stop inflating prices, writing, "…we at Galls will not profit from the sale of these protective masks to our… public safety partners. We are making this commitment for as long as it takes to see our country through this crisis, and urge other companies to join us in this pledge."