PHOENIX — Spring is on the way, bringing one of Arizona's best features: Wildflowers.
After a rainy January, the stage is set for a good bloom season. The vibrant wildflower blooms are expected to start in the southeast and work their way north across the state.
That means from late February to early March, you'll be able to find some of the most colorful hikes and vistas our state has to offer!
"The soil conditions are right, and barring a late frost this week or next, we should have great flowers at Picacho Peak, Lost Dutchman, Alamo Lake and Catalina state parks starting in the next week or so," said Michelle Thompson with Arizona State Parks & Trails.
We've got a look at where to expect some of the most vibrant blooms this spring.
>> Download the 12News app for the latest local breaking news straight to your phone.
The Desert Botanical Garden
You don't have to go far for an amazing view. With a meandering wildflower trail built into the Desert Botanical Garden, visitors can see state blooms right here in the Valley.
The Harriet K. Maxwell Desert Wildflower Loop Trail is an easy, meandering hike perfect for afternoon visits. You'll get to see a snippet of the brightly colored wildflower and cactus blooms that make the season so special.

Picacho Peak State Park
Just off Interstate 10 in Pinal County, Picacho Peak is where we can expect some of the first blooms of the season to open up.
Mexican poppies are already starting to bloom in small patches, with brittlebush and Coulter's lupine expected to start soon.
Scarce rainfall during the late fall and earlier winter in this area means that the blooms won't be as intense as some other regions, but they're already a lovely sight.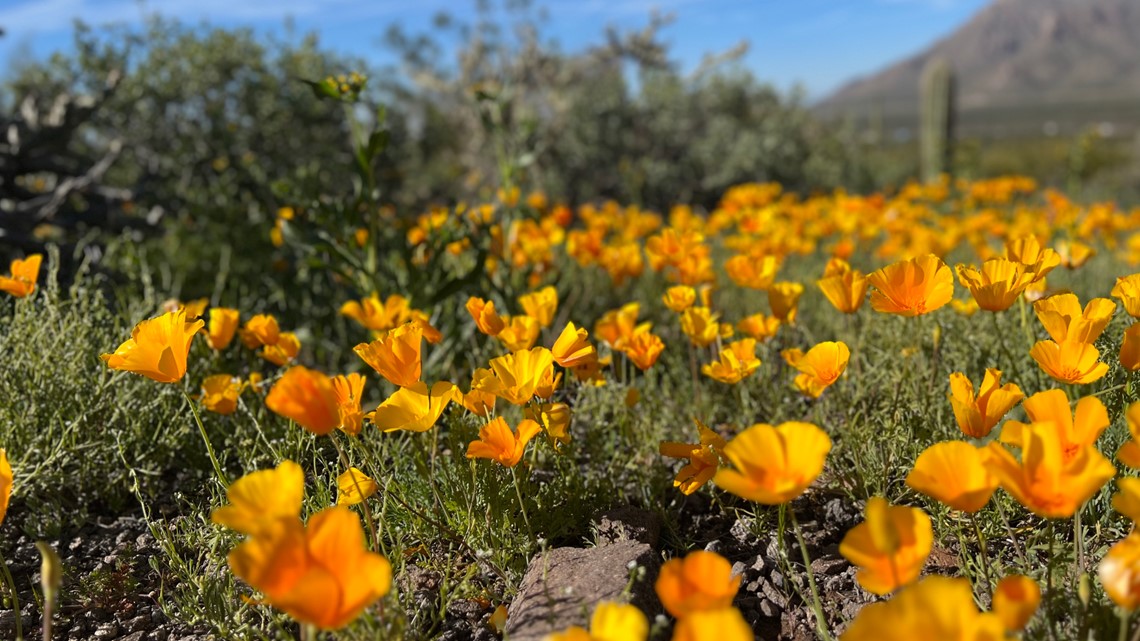 Lost Dutchman State Park
A few weeks after Picacho Peak State Park, the wildflowers will bloom closer to the Valley at the Lost Dutchman State Park.
The base of the Superstition Mountains is expected to bloom with chuparosa, poppies, fiddle necks, globe mallow, brittlebush, desert evening primrose, and so much more.
After a less-active wildflower season in 2022, hikers can expect a better view this time around.
Catalina State Park
If you're over in Tucson, the Catalina State Park is home to blooms that will last much later into the season than other locations. The park is fed by snowmelt that will keep the area cool and the plants watered.
Orange and purple hues are expected to wash across the greenery as flowers bloom and make for a beautiful, aromatic experience.
Visitors to Catalina State Park can hike, take a horseback ride, and bike on the eight trails that the park offers. Just remember to be considerate of others, and stay on the trails so as not to harm the wildflowers.

Alamo Lake State Park
Later in the season, we're going to see beautiful blooms further north. Alamo Lake State Park is one of the best examples you can find of that!
This gateway to the upper Sonoran Desert is full of amazing views for your hike. Between the vibrant yellow starbursts of the brittlebush and the flowering palo verde trees, you're in for a real treat.
At this park, you can reserve a cabin or campsite to extend your visit and take advantage of all the hiking, fishing, biking, and more that Alamo Lake has to offer.
Just check out this shot from 2017:
Red Rock State Park
As we get later in the season and higher in the state, Red Rock State Park is the place to be. Sedona is already a premier destination for beautiful hikes, so just imagine it at the peak of its wildflower season in late May!
We got loads of snowfall in the high country this year (Flagstaff literally broke records in January) so the extra moisture could lead to spring annuals sprouting early.
Barring a sudden heat wave, we'll probably see Red Rock Canyon painted in all shades of purple, yellow, gold, pink, and more.
The area is home to flowering plants like the Mojave aster, yellow primrose, indigo bush, and desert trumpet - just to name a few.



WE ❤ ARIZONA
Explore amAZing people, places and things across our state on our 12News YouTube playlist here.