A huge winter storm has come and gone, and though the feet of snow it dropped prompted some areas to declare a state of emergency, it also provided Arizonans with plenty of ways to entertain themselves.
Flagstaff broke its all-time daily snowfall record of 31 inches set back in 1915. Flagstaff recorded 40.3 inches of snow from the storm from Wednesday night to Friday evening.
And it wasn't just northern Arizona; Cave Creek, Fountain Hills and north Scottsdale got some snow this time.
RELATED: Recap: 'Once in a decade' winter storm moves out tonight, cold temps ahead
Here's how Arizonans have been enjoying the snow left by the historic storm.
Snow angels
75-year-old Donna Wygal of Chino Valley says she hadn't made a snow angel in about 50 years, but that changed during this winter storm a few weeks after a visit from her daughter, Deanna, who lives in Minnesota.
When Deanna returned home to Minnesota, she made a snow angel, sending her mom the video of how glad she was to be home. Deanna also sent a video of a girl diving off her porch into the snow wearing her swimsuit.
So when feet of snow fell in Chino Valley, Donna decided to make a video to send to her daughter. Wearing a swimsuit, she dropped down in the snow and made her first snow angel in decades, and the cold didn't seem to bother her one bit.
"I feel very proud and ready to do it again!" Donna said of making a snow angel after so long.
In Flagstaff, with piles of snow along the streets, it's difficult to resist the temptation to jump on in and make a snow angel, like this guy did as we were shooting a Facebook Live about the weather. (It happens around 8:35 in the video.)
Cross-country skiing on the streets of Flagstaff
With record-breaking snow in Flagstaff, people didn't need to hit the slopes to break out the skis.
And it made for more reliable transportation than driving with the snow and ice on the roads.
Snowmen
As the snow fell throughout Arizona, many went right to work on building snowmen. Some people used the opportunity to get creative with their accessories.
Amanda Wray shared this photo from Fountain Hills of a summer-ready snowlady.
Yes, those fashionable Carefree snowmen seem to be sporting banana belts.
Daryl Edson Perlman
This big snowman is also a big Cardinals fan.
Snow fort
When the snow is measured in feet, it's time to build yourself a snow fort.
Sledding
When it's too dangerous to drive, you might want to try other means of transportation. This woman's dogs were happy to help—until they inevitably got distracted.
Dogs in the snow
Humans weren't the only ones enjoying the snow. Plenty of dogs enjoyed a snow day Thursday and Friday.
When you don't have a tennis ball handy, just toss a snowball.
This dog is a little short for all that snow in Prescott.
Sandy Day
In far north Scottsdale, these doggos were bamboozled by the white stuff falling in their yard.
PHOTOS: Historic winter storm brings snow, rain to Arizona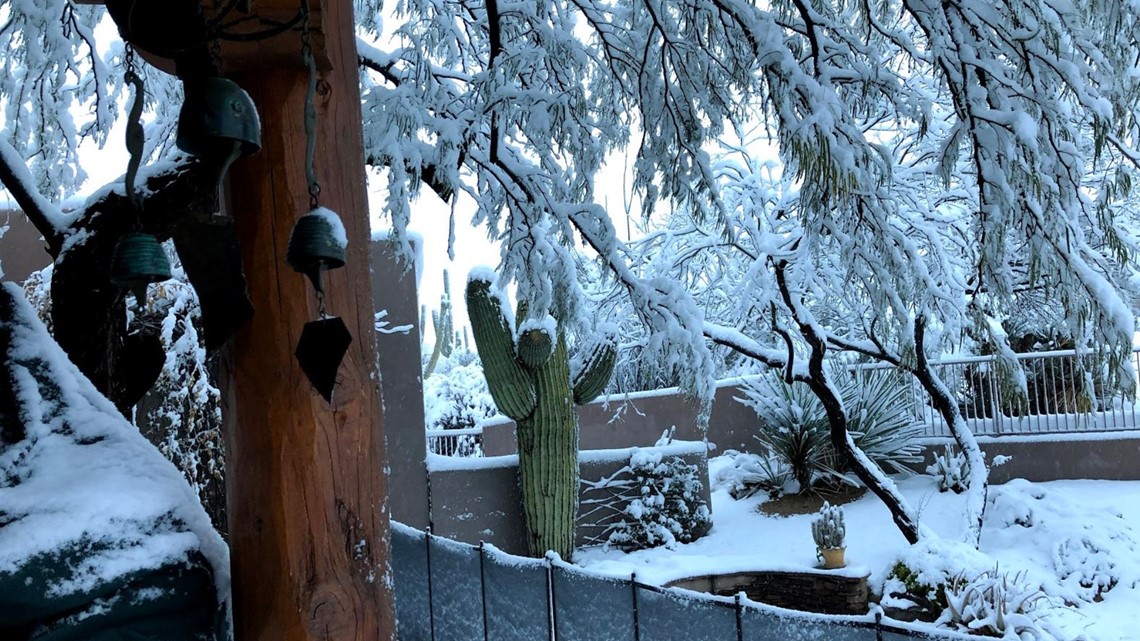 If you're headed north to play in the snow, remember not to park along state highways.
Also, be sure not to leave trash behind once you've had your fill of frozen fun.