ATLANTA — Overnight: A few showers/storms early. Partly cloudy. Patchy fog. Low: 71°.
Thursday: Scattered showers and storms. Rain chance at 50%. High 87°
Friday: Drier air arrives. Isolated showers/storms, mainly south of I-20. High 88°.
Saturday: Partly cloudy and dry. High: 87°.
Sunday: Partly cloudy. Comfortable start. Warm but dry afternoon. High: 86°.
Overnight a few showers and storms linger. They'll fade away as we approach morning but some fog will form in their wake. Temps fall back to the low 70s.
Thursday will bring another chance for scattered showers and thunderstorms as temperatures rise into the mid to upper 80s.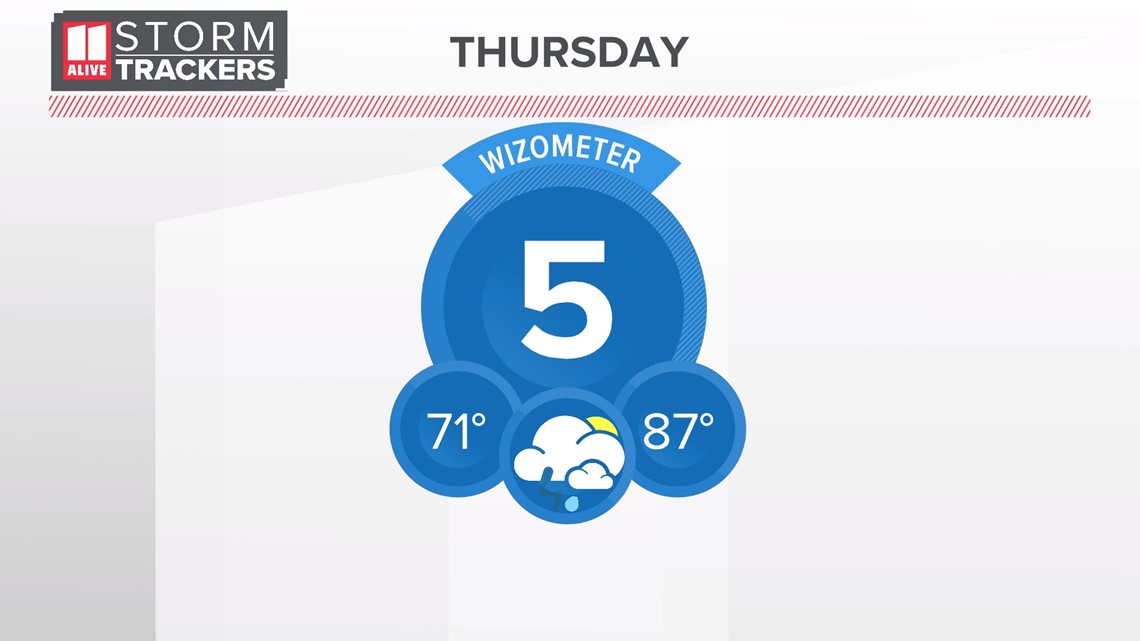 The best chance for showers and storms will be in the afternoon and evening, similar to the last several days. The rain chance is 50%. Although it won't rain all day everywhere, that chance of showers and storms sticks with us through the day. The morning starts with some low clouds and fog possible. For the afternoon, partly sunny skies keeps temps in the mid 80s.
On Friday, a front will bring drier air into north Georgia, which may spark a few isolated showers and storms early in the afternoon. For the evening, rain chances diminish and we set up for a nice weekend. Friday will bring lows in the 70s and highs in the 80s.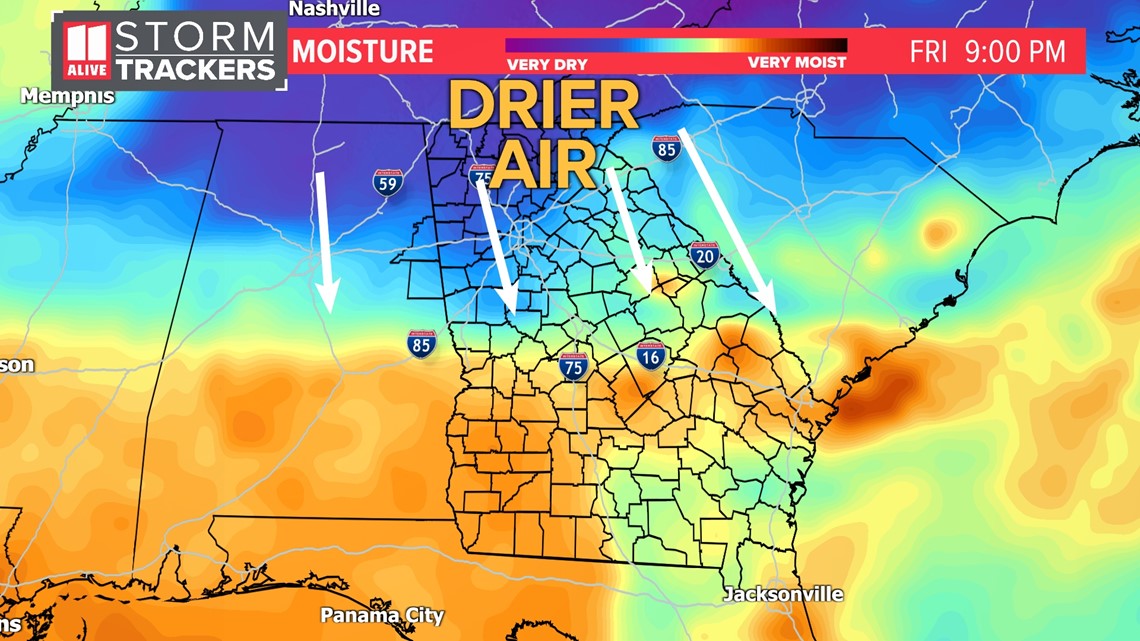 Saturday and Sunday bring the nicest weather we've had in a while with lows in the 60s and highs in the 80s under a mostly sunny to partly cloudy sky.
Monday will introduce isolated showers and storms back to the forecast with lows in the 60s and highs in the 80s under a partly cloudy sky.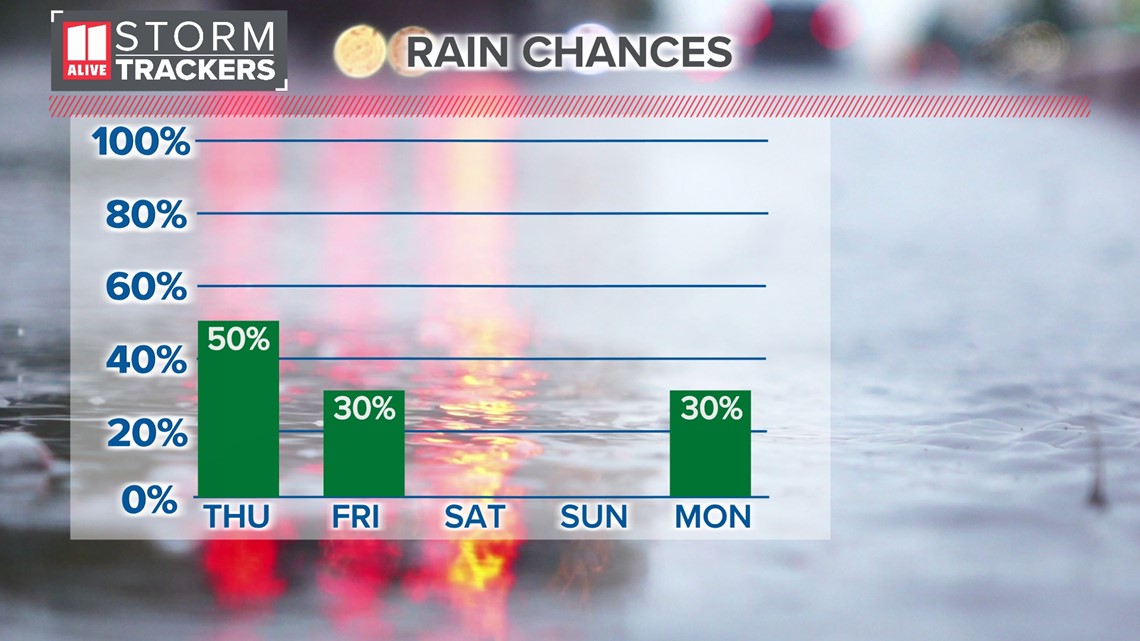 For the middle of next week, we will hold onto slight chances for rain with lows in the 60s to 70s and highs in the 80s under a partly cloudy sky.
Expect a quarter of an inch to half an inch of rain to fall across north Georgia over the next seven days with a majority of that occurring within the next 48 hours.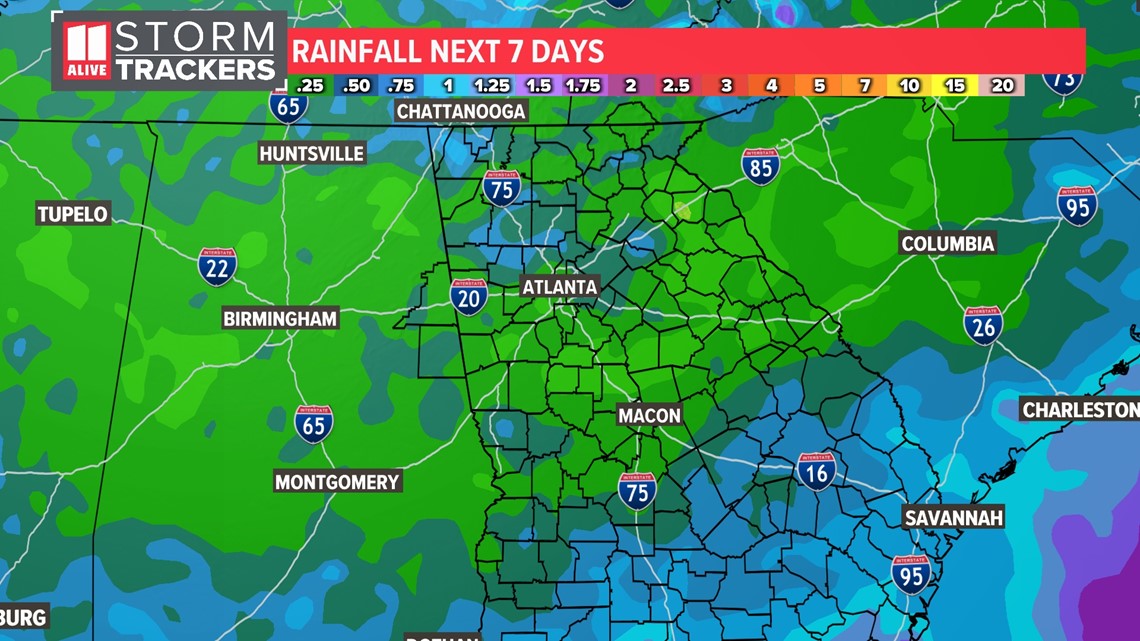 While nothing is threatening the U.S. right now, we are tracking one tropical wave coming off Africa that has a low chance for tropical development over the next five days. Hurricane Season peaks September 10th.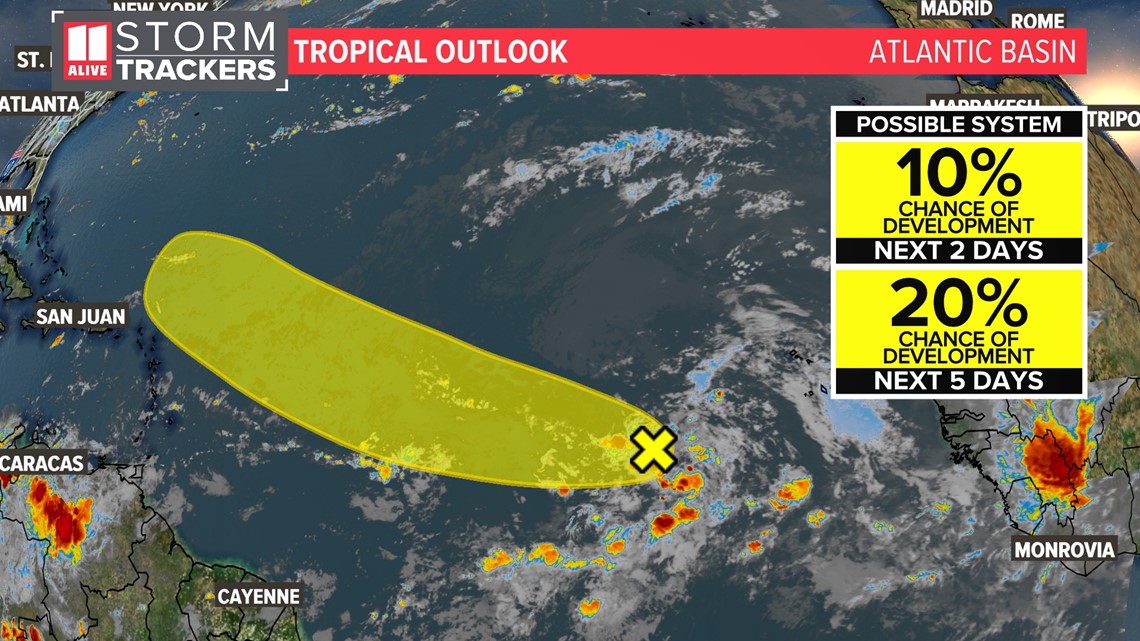 MORE FROM THE 11ALIVE STORMTRACKERS
DOWNLOAD THE 11ALIVE APP:
Set up weather notifications by clicking the Gear icon in the upper right corner of the app. Select Notification -> Notification Settings -> Severe Weather Alerts -> Toggle the Severe Weather Alerts button to the right to turn alerts on.

Send photos and videos through the app by selecting the Near Me feature on the bottom right task bar of the app and entering your information.
TEXT YOUR WEATHER PHOTOS TO US: 404-885-7600
JOIN THE 11ALIVE STORMTRACKERS FACEBOOK GROUP: Nearly 10,000 metro Atlanta and north Georgia weather enthusiasts share their weather photos every day. Click here to join the group!