PHOENIX — While the rain moved northwest through the Valley on Saturday evening, areas still remain impacted by the heavy downpours and winds throughout the day.
Rain is expected to carry over into the early morning hours of Sunday, although rainfall in the Valley is forecasted to be limited.
A few areas received over one inch of rainfall during the day. The most reported near Lake Pleasant and in Mesa at 1.3 inches.
>> Download the 12News app for the latest local breaking news straight to your phone.
Follow live updates below:
10:06 p.m.: Saturday evening forecast
8:53 p.m.: Two rounds of storms hit the Valley today. Take a look at some rainfall totals. More rainfall totals are below.
7:50 p.m.: The swim portion of the Ironman is canceled tomorrow due to the City of Tempe not being able to permit the water in Tempe Town Lake.
6:37 p.m.: Rain and floods in the East Valley.
6:32 p.m.: Various power outages are being reported in Queen Creek this evening.
6:25 p.m.: Storms are arriving in northern Arizona as well. A severe thunderstorm warning is in effect until 7:30 p.m. MST for portion of Gila and Yavapai Counties
6:05 p.m.: We will continue to see lines of storms move into the Valley from the south through the early hours of Sunday.
5:52 p.m.: Some rainfall totals as of 5:50 p.m. on Saturday. More rain and wind are expected throughout the evening into early Sunday morning.
5:50 p.m.: More thunderstorm warnings with heavy rain and winds are expected in the Valley. Be prepared for localized flooding in low-lying areas this evening.
5:40 p.m.: NWS Phoenix update on storms popping up across the Phoenix metro area. The strongest storms currently extend from Queen Creek to eastern Gilbert and Mesa.
5:08 p.m.: Severe thunderstorm warning until 5:45 p.m. for eastern Maricopa and northeastern Pinal counties. Heavy winds up to 70mph are expected.
4:54 p.m.: Next round of rain on the way! Severe storms produce strong winds and downpours to the southeast. Expect storms to hit the Valley through the late night hours.
4:30 p.m.: Meteorologist Jamie Kagol has a look at tonight's threat of severe weather around Arizona.
4:01 p.m.: Severe thunderstorm warning until 4:30 p.m. for Casa Grande, Maricopa and Florence.
3:44 p.m.: Storms in Tucson are projected to travel up toward Phoenix on Saturday evening.
2:59 p.m.: Saturday rain in Mesa
2:58 p.m.: Flash flood warning until 6:15 p.m. in western Arizona near the California border.
2:33 p.m.: Storms will continue moving through the lower deserts and Valley this evening and overnight. The flood threat will continue as well.
1:50 p.m.: Severe thunderstorm warnings are stretching north and northwest until 2:30. Strong wind gusts could lead to damage and poor driving conditions.
1:47 p.m.: Get a load of that storm wall south of Apache Junction! This was taken by Debbie Waldron of the 12News Weather Watchers Facebook group just before the rain rolled in.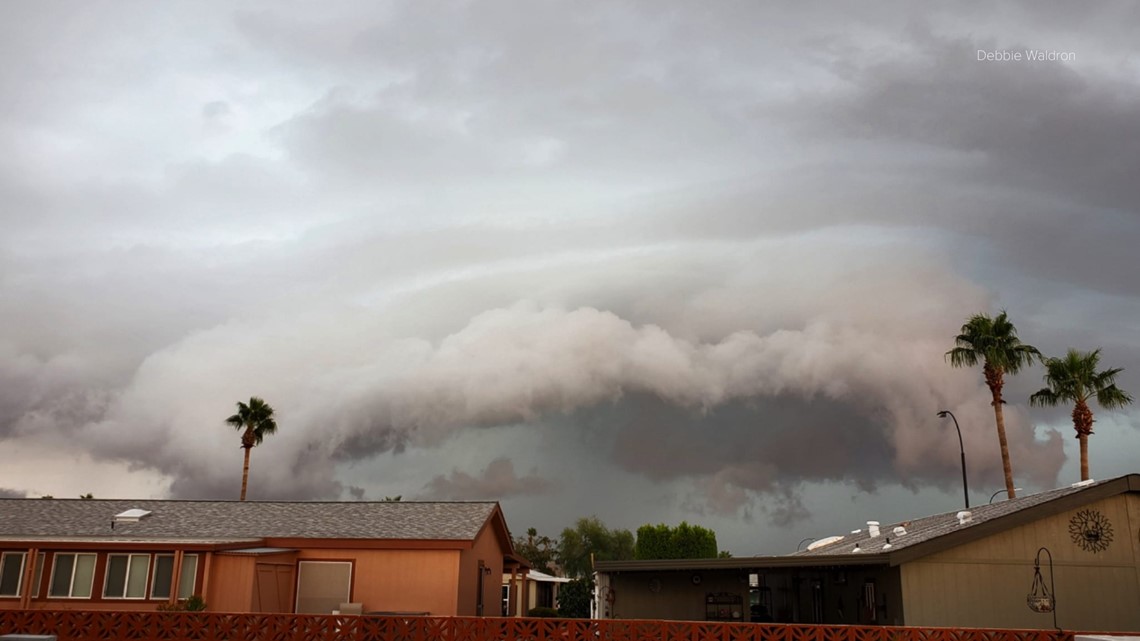 1:33 p.m.: A severe thunderstorm warning is in place for Phoenix, Glendale, and Peoria until 2:30 p.m.
1:13 p.m.: Storms are moving quickly across the Valley, bringing winds up to 60 mph.
1:00 p.m.: There's a severe thunderstorm warning in place for Phoenix, Mesa, and Chandler until roughly 1:45 p.m.
12:56 p.m.: Rain is really coming down in Gilbert! Check out the rainfall on Loop 202.
Remember, wet roads are slippery, so take extra care when driving in rainy conditions.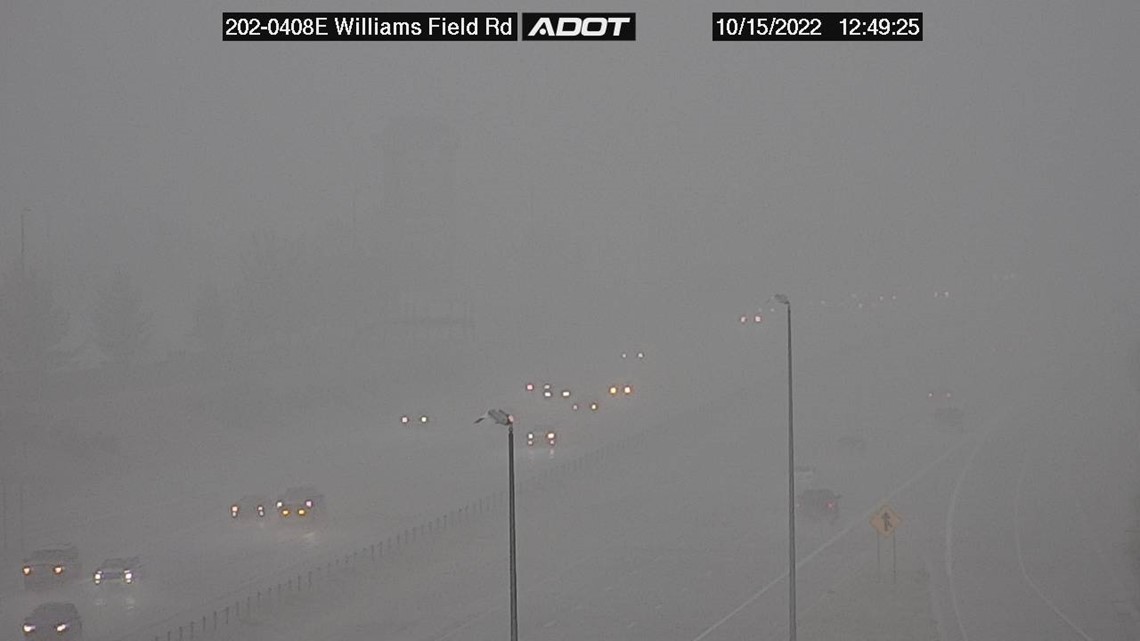 12:52 p.m.: Thunderstorms continue to develop across the area. NWS says that hail is possible with these storms.
12:40 p.m.: There's a Severe Thunderstorm Warning for Apache Junction, Queen Creek, and Florence.
Arizona Weather
Drought, wildfires, heat and monsoon storms: Arizona has seen its fair share of severe weather. Learn everything you need to know about the Grand Canyon State's ever-changing forecasts here: