ARIZONA, USA — Arizona's monsoon season and tropical moisture from Hurricane Nora remnants are predicted to bring rain showers and possible flash flooding to the Valley and much of Arizona Tuesday night and into Wednesday.
The state's highest rain totals will be 1-3 inches and will be confined to eastern and southeastern Arizona. The Valley is expected to get up to 0.6 inches of rainfall and western Arizona will see the lowest rain totals.
Areas near burn scars will have the highest threat of flash flooding, in addition to upslope spots along the rim and in the White Mountains.
9:30 p.m.: Rain clouds are moving across Gila County in the east and Mohave County in the west.
8 p.m.: A small stream flood advisory in southeastern Pinal County and northeastern Pima County has been extended until 9:45 p.m. by the National Weather Service. Some locations that will experience flooding include Tucson, Catalina, Oro Valley, Saddlebrooke, Mount Lemmon, and Saguaro National Park.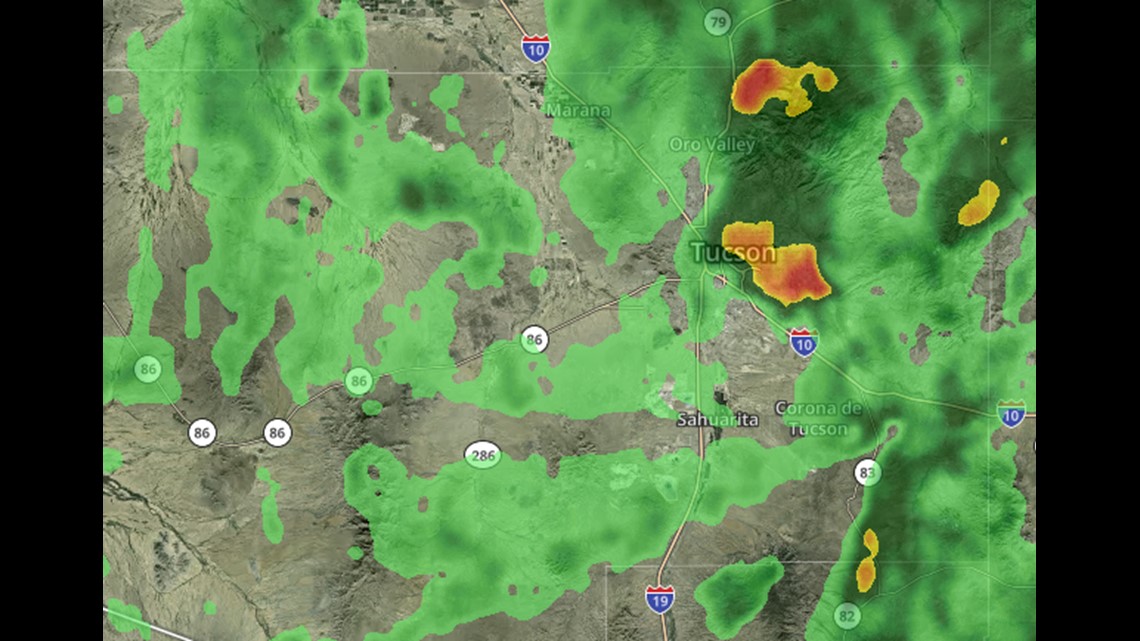 7:30 p.m.: The National Weather Service has lifted a flood advisory that had been in place for Graham and Greenlee counties. The heavy rain in that region of Arizona has ended and some light rains may continue.
7 p.m.: No heavy rain clouds are currently on the Valley's weather radar. Most of the major storms have migrated east toward Show Low.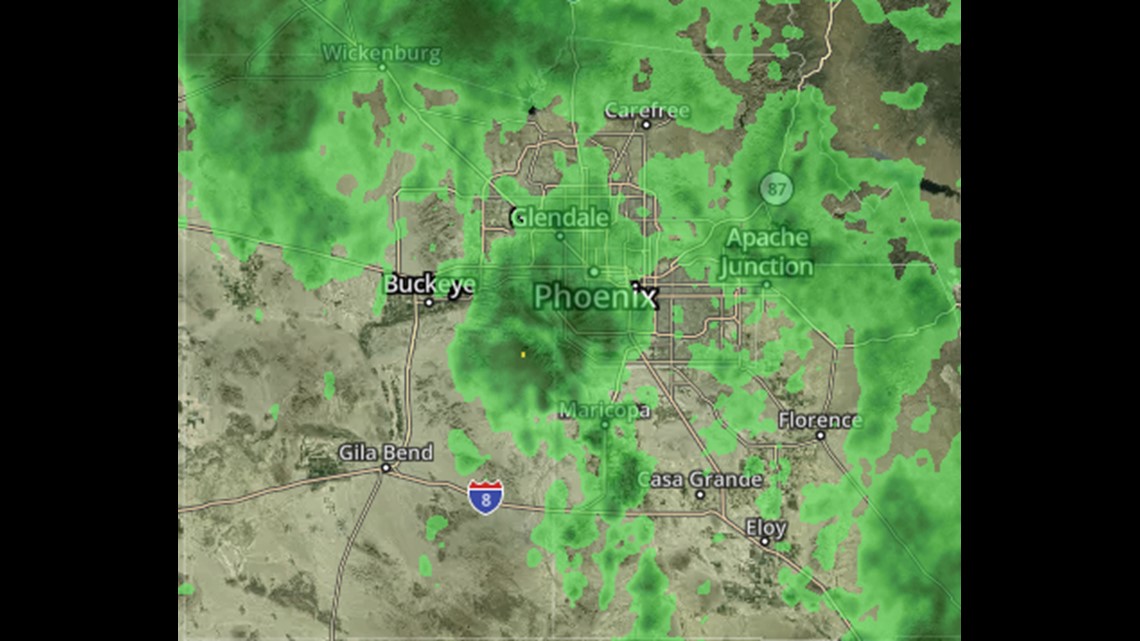 6:30 p.m.: Heavy rain is coming down around Willcox and other parts of Cochise County. A small stream flood advisory has been issued in this region of Arizona until 8:15 p.m.
6 p.m.: It appears most of the rainfall has congregated around the Flagstaff and Payson areas.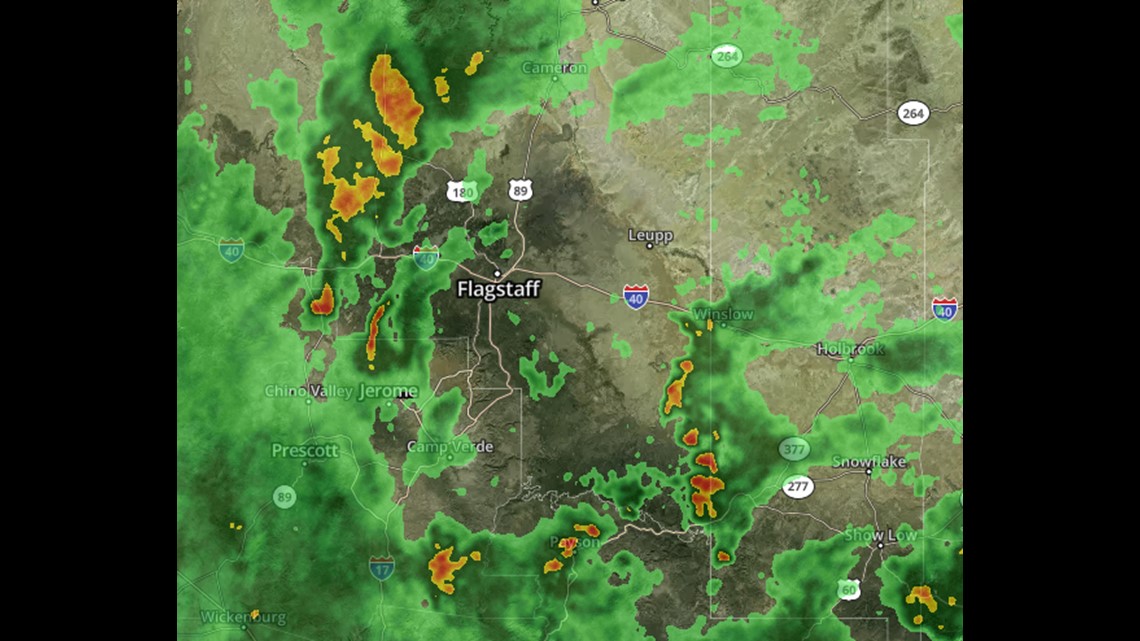 5:30 p.m.: The Mount Lemmon area in northern Pima County has a flash flood warning in place until 7:45 p.m.
5 p.m.: Clusters of thunderstorms are expected to move across the Lower Salt River recreational areas (including Saguaro, Canyon, and Apache) until about 6:30 p.m. Any of these storms could produce winds up to 30 mph and heavy rainfall, according to the Maricopa County Flood Control District.
4:30 p.m.: Parts of eastern Arizona, in Graham and Greenlee counties, have been getting hit by strong winds and thunderstorms.
4 p.m.: It appears rainfall is headed toward the Apache Junction region, near the border of Maricopa and Pinal counties.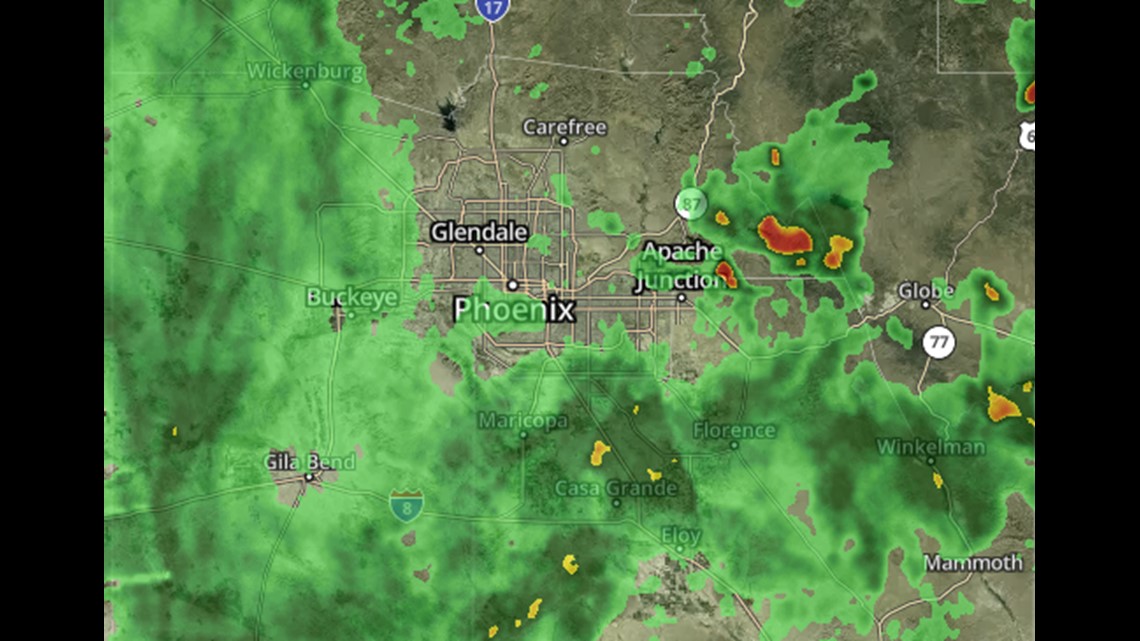 3:30 p.m.: The western portion of Pima County has a flash flood warning in place until 8:15 p.m.
3 p.m.: A flash flood warning has been issued for Yavapai County in west-central Arizona until 6 p.m.
TUESDAY: 80/96 chance of rain
WEDNESDAY: 76/89 storms likely
FRIDAY: 77/97 below average
SATURDAY: 79/100 mostly sunny
SUNDAY: 80/100 isolated storm
MONDAY: 79/96 isolated storm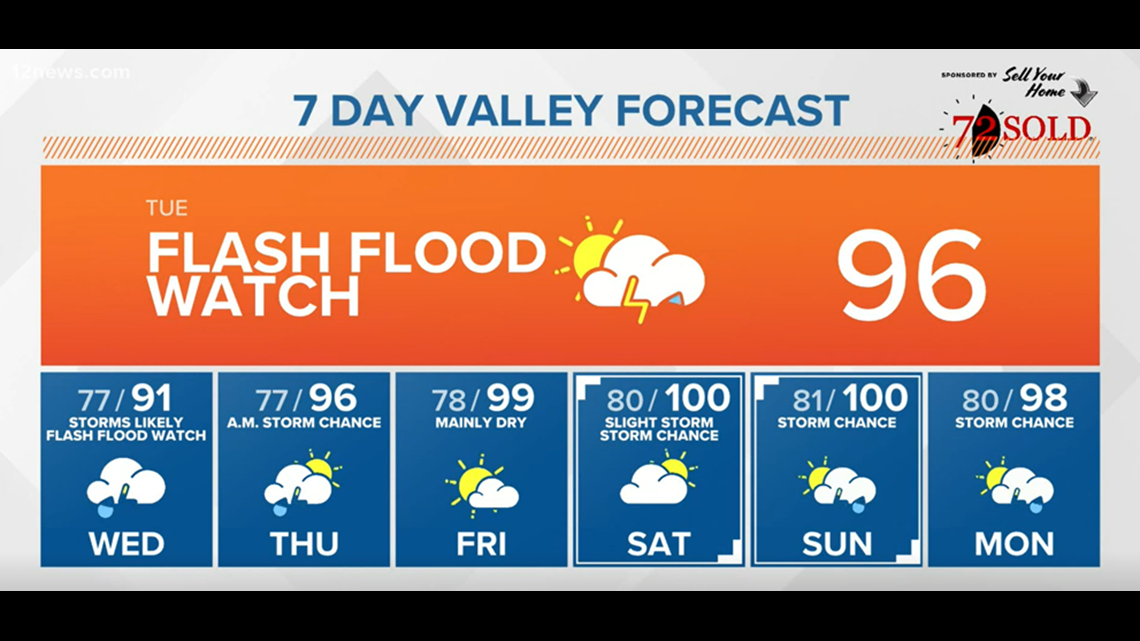 If you see storms, dust, beautiful sunsets, and more and you can safely do so, please share your photos and videos with us in the 12 News app, at pictures@12news.com, or on social media using the hashtag #BeOn12.
12 News on YouTube