PHOENIX — Crews were working Friday morning to clean up the damage caused by monsoon storms in the Valley the night before.
Sky 12 captured footage of an overturned truck in the Valley.
Sky 12 flew over the Valley to check out the storm damage.
Traffic lights were out at Loop 101 and Cave Creek. They were working shortly after.
The National Weather Service in Phoenix says .90" of an inch of rain was measured at Phoenix Sky Harbor Airport on Thursday.
12 News' Jen Wahl was at 32nd Street and Osborn, where a tree was uprooted and fell on a tree. No one was injured.
National Weather Service in Phoenix says about 90,000 lightning flashes were detected across Arizona on Thursday.
A lightning strike sparked a wildfire in McDowell Mountain Regional Park.
The McDowell Fire started around 9 p.m. Thursday after a strong storm system moved through northern Maricopa County.
The fire is estimated at 150-200 acres and is sitting in a remote area of the park.
It has since decreased in activity due to cooler temperatures and increased humidity, but will become active once it heats up, officials said.
There are no structures threatened at this time and no evacuations, but residents should be ready to evacuate.
The park is temporarily closed due to the fire.
As the storm rolled through Phoenix, firefighters say a 100-foot tree fell on a house near 32nd Street and Osborn Avenue, but no one was hurt.

San Tan Valley has sustained storm damage to trees, powerlines and power poles.
Pinal County Sheriff's Office is advising residents to avoid the areas of Combs Road from Kenworthy Road to Schnepf Road and Hunt Highway south of Oasis.
Additional damage is possible so officials ask that unnecessary travel be avoided.
The National Weather Service has issued a flood warning for the Valley until 11:15 p.m.
If floods occur they are expected to be minor in low lying areas.
The "stupid motorist law" is in place which states that anyone who becomes barricaded by flooding on a public street or highway is liable for expenses related to emergency response.
Strong winds, hail and lighting possible in Maricopa and Pinal Counties in place until 8:45 p.m.
A severe thunderstorm warning was issued for Fountain Hills and Scottsdale for high winds and quarter-sized hail until 8:00 p.m. by the National Weather Service.
Team 12 Meteorologist Lindsay Riley says damaging winds are the main threat for the Valley as the storms move in. The thunderstorm moving south into the Valley this evening originated in Payson and it has now made it's way through Black Canyon City, down the I-17 to Anthem, Carefree and Cave Creek.
Up to 50 mph wind gusts and pea-sized hail are both likely with this storm, according to Team 12's Lindsay Riley.
Early in the 7 p.m. hour, the storm was moving south at about 20 miles per hour. Riley says radar projects the storm will hit Phoenix at 7:39 p.m. and Scottsdale at 7:45 p.m.
Wind gusts up to 50 miles per hour are possible for New River, Anthem, Cave Creek and Carefree.
Storms were expected to ignite in the higher terrain of northern and eastern Arizona and advance in the southwest direction.
Storm threats include strong gusty outflow winds, lightning and small hail. The Valley should stay alert for a stray storm, outflow winds and blowing dust.
Stay with 12 News for updates throughout the night on the storms as they make their way to the Valley.
PHOTOS: Storm photos from Aug. 16 and 17
Severe weather in the Valley: August 17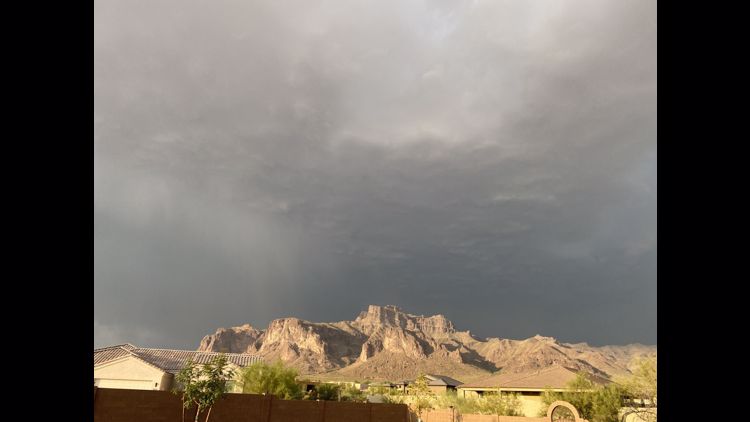 Dust Storm Aug. 16