MOHAVE COUNTY, Ariz. — Deputies with the Mohave County Sheriff's Office Search and Rescue teams rescued a 75-year-old man from a running wash Friday afternoon in Golden Valley.
According to the MCSO, a bystander observed the man around 2 p.m. on the top of a Jeep, sitting on the driver's door in a wash off Estrella Road, just south of Agua Fria Drive.
Due to the location of the Jeep in the wash, crews used a one-skip maneuver with a helicopter to safely rescue the man and bring him to safety.
He was transported to a command post where he was taken home by his family.
As the sheriff's office said in their press release, "he's very lucky to be alive!"
A video of the rescue provided by MCSO shows the helicopter flying just right above the water and pulling the man to safety. The car was on its side mostly underwater.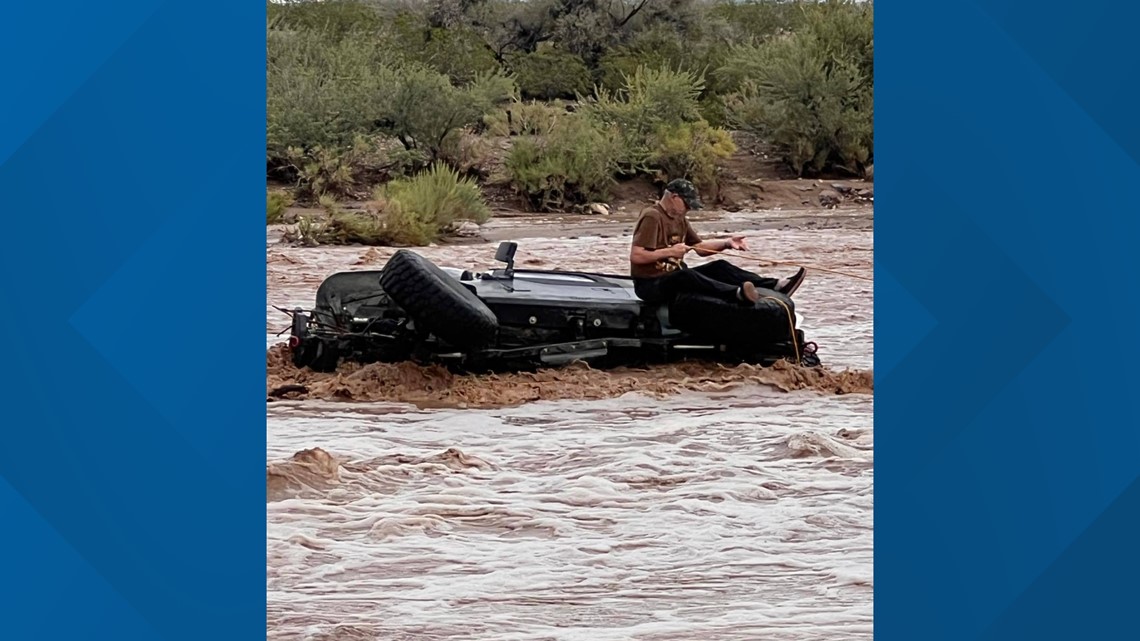 >> Download the 12News app for the latest local breaking news straight to your phone.
Arizona Weather
Arizona has seen its fair share of severe weather. Here is a compilation of videos from various storms across the Grand Canyon state.
Flooding Safety:
The Arizona Fire & Medical Authority has provided the following tips on what hazards to watch out for during and after a flood, including fire, electrical and chemical safety:
Generators and alternative heating devices can create fire hazards during flooding if they aren't used correctly or maintained properly. Pools of water and appliances can become electrically charged and can cause electrical fires.
On electricity, residents in flooded areas should turn off the power to their homes if they can reach the main breaker or fuse box. All wiring in the house may be electrically charged and hazardous. Residents should have a professional technician check their home for damages before turning on the power.
Make sure potentially combustible liquids like paint thinner, lighter fluid or gasoline haven't spilled within or near your home. Keep combustible liquids away from electrical or alternative heat sources as to not start a fire.
All smoke alarms in the home should be tested monthly and batteries should be replaced yearly. Some smoke alarms are dependent on your home's electrical service and may go out when power is turned off.