MARICOPA COUNTY, Ariz. — A Dust Advisory and severe thunderstorm warning were issued Monday afternoon in parts of Maricopa and Pinal County as a storm system rolls through the Valley.
The National Weather Service has issued several storm warnings and severe weather advisories across Arizona.
This is a blog of updates from the storm. This will be updated. Watch 12 News at 10 for the latest information.
9:25 p.m.
- Gusting wind appears to have destroyed the COVID-19 testing area at Mesa Community College.
8:45 p.m.
8:31 p.m.
8:10 p.m.
A significant weather advisory in Maricopa County is in effect until 9:15 p.m.
8 p.m.
7:45 p.m.
7:36 p.m.
7:33 p.m.
A Dust Advisory is in effect until 8:30 p.m. between Phoenix and Buckeye.
7:20 p.m.
- A small storm system is nearing the North Valley, but NWS says the strongest rain and wind are impacting the eastern part of the Valley.
7:15 p.m.
- A severe thunderstorm warning is in effect near Mesa, Chandler and Scottsdale.
7:10 p.m.
- Rain is coming down in the Apache Junction area.
7:02 p.m.
- ADOT is reminding drivers to pull off the road if they are caught in a dust storm.
7:01 p.m.
- NWS says the storm is approaching the East Valley, but meteorologists can't say if it will lose strength just yet.
7 p.m
- A significant weather advisory has been issued for Maricopa and Pinal counties.
6:45 p.m.
- Severe weather over the Superstitions is producing strong winds that could create a dust storm, the NWS is warning.
6:10 p.m.
- Dust advisory issued near Apache Junction, Casa Grande, Queen Creek, and more. It expires at 7 p.m.
See photos sent in by 12 News viewers below:
Severe weather in the Valley: August 17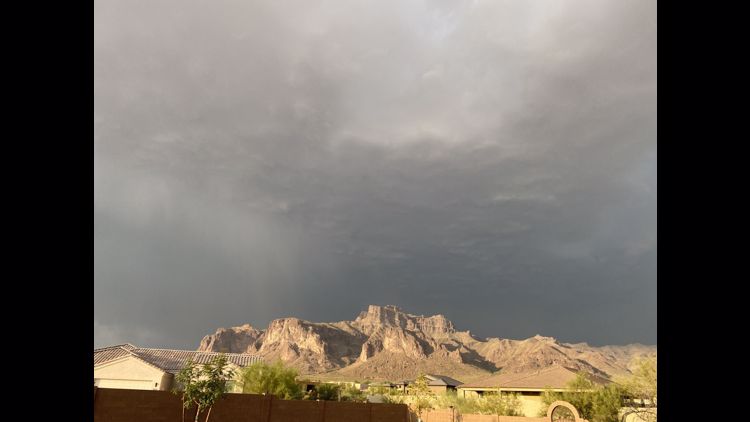 Meteorologist Lindsay Riley has is tracking the storm and will bring you the latest developments.