PHOENIX — Extreme monsoon activity was expected throughout the weekend as storms had the potential to produce heavy rainfall.
Weather hazards included lightning, strong outflow winds, dust storms and heavy rainfall, all of which potentially lead to flash flooding. Wildfire scars were of course the most vulnerable during flash flooding.
Here was a recap of the weather activity.
Sunday, July 25
A flash flood warning has been extended for La Paz and Yuma counties until 9:15 p.m.
Flash flooding has closed Lower Sycamore in the Tonto National Forest.
Avondale fire personnel were dispatched to conduct a rescue south of I-10 and Van Buren Street.
An adult male perched himself in a tree as the water was flowing past. Avondale Fire said they will conduct a helicopter rescue due to the conditions.
The man is reportedly alert and above the water level.
The National Weather Service has extended the flash flood warning for the Telegraph Burn Scar which includes Miami, Globe and Claypool until 4:15 p.m.
The National Weather Service issued a flash flood warning for Glendale Peoria and Surprise. The warning is in effect until 5:15 p.m.
The National Weather Service issued a flash flood warning for the Telegraph Burn Scar which includes Miami, Globe and Claypool.
Over the course of three hours, up to 2.5 inches of rain fell over the West Valley, including Goodyear, Litchfield Park, Surprise and Glendale.
The center and right lanes of the I-10 at 91st Ave. and 75th Ave. are closed due to flooding. The I-10 on ramp at 67th Ave. is also flooded and should be avoided.
A flash flood warning has been issued for Maricopa and Pinal Counties until 2:15 p.m. as"life-threatening" flash flooding is ongoing or expected to begin shortly, the National Weather Service said.
Up to 1.5 inches of rain have fallen across the counties and an additional one to two inches are predicted to fall, the NWS said.
Streets, highways, streams and more are expected to experience flash flooding including I-10 between mile markers 132 and 141, SR 101 between mile markers 10 and 18, and US 60 between mile markers 141 and 150.
Road closures due to weather in Surprise include Cactus Rd. westbound at Reems Rd.; Cactus Rd. eastbound at Greer Ranch Pkwy.; Cotton Ln. between Cactus Rd. and Peoria Ave.; and Auto Show Rd. from Cactus Rd. to the southernmost dealership in both directions.
Flooding is reported in Avondale, closing the area of 4th St. and Lower Buckeye Rd.
Well over 1 inch of rain caused flooding and road closures in Buckeye in the areas of Dean and Broadway Lower Buckeye between Watson and Rainbow Verrado and Broadway Verrado and Yuma Many.
Saturday, July 24
A flood advisory is issued for areas southeast of the Valley. The National Weather Service warns of running washes and flooding of low lying areas.
The L-101 off-ramp on the US 60 westbound near Dobson is closed with backed up traffic due to water on the ramp.
The US 60 westbound off-ramp at Country Club Dr. in Mesa is restricted as ADOT works to reduce water in the road.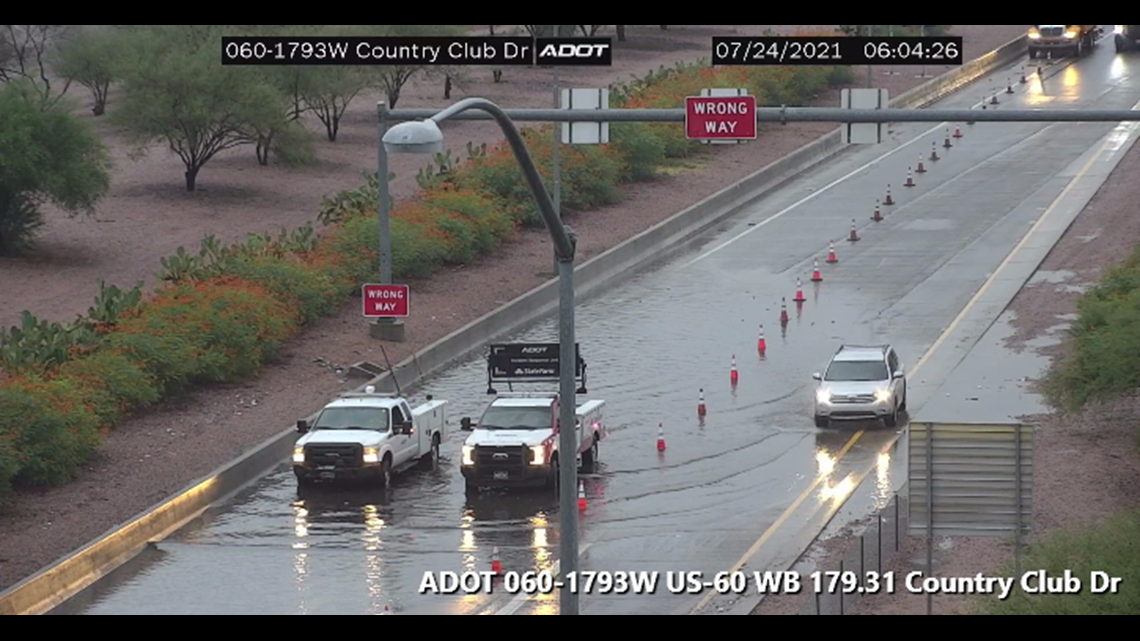 Cloud Rd. from 24th St. to 26th St. is also closed due to debris in the roadway.
A flash flood watch remains in effect through Sunday evening. The strongest storms will be capable of producing heavy rainfall and flash flooding of washes, small streams, and poor drainage areas.
We will continue to track the incoming storms and share all the latest information on our website, mobile app, streaming services and 12 News broadcasts.
Arizona Weather
Arizona has seen its fair share of severe weather. Here is a compilation of videos from various storms across the Grand Canyon state.