PHOENIX — The city of Phoenix has opened a new shelter that's intended to provide relief to citizens who are most vulnerable to the Valley's intense summer heat.
After a record-high number of heat-related deaths last summer, the city's partnering with other agencies to provide another place where citizens can escape Arizona's triple-digit temperatures.
Up to 200 people can be accommodated at the new facility that's opened near 28th and Washington streets in central Phoenix.
Guests must be referred to the shelter by a caseworker and walk-ups will not be permitted in, the city said. Visitors will be given a bed, three meals a day, showers, and a place to store their belongings.
St. Vincent de Paul will be operating the shelter and staff will help guests connect to possible employment or housing opportunities.
The new services come at a time when public health officials are grappling with a rising number of heat-related deaths throughout the Valley.
The summer of 2021 recorded at least 338 heat-related deaths, which is a record-high spike from the 61 deaths recorded in 2014.
"Arizona's summer heat can be deadly. We need to ensure that everyone, especially our most vulnerable residents, has a safe place to stay cool during our hottest months," said Phoenix Mayor Kate Gallego.
The city of Phoenix contributed $2.6 million in pandemic-relief funds to open the shelter. Maricopa County also contributed more than $2 million to the project.
The city's funding will keep the new shelter operational until Oct. 31, 2022, the city said.
A map of other heat-relief services around the Valley can be found here.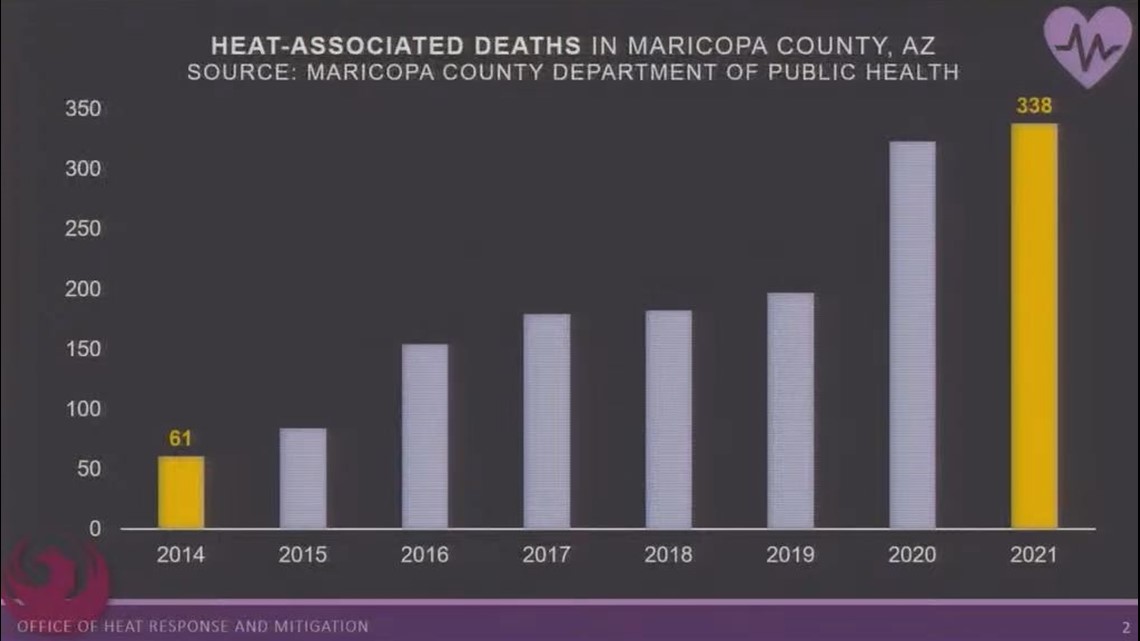 Up to Speed
Catch up on the latest news and stories on the 12 News YouTube channel. Subscribe today.