Temps have dropped across North Texas, as the Arctic Blast begins to take hold. We'll be looking at the coldest air we've seen so far this winter later this week.
Here's a look at what to expect:
Today
The leading surge of colder air has moved into North Texas overnight and this morning. We've also seen some patchy freezing drizzle. Temperatures will struggle to get into out of the 30's later today.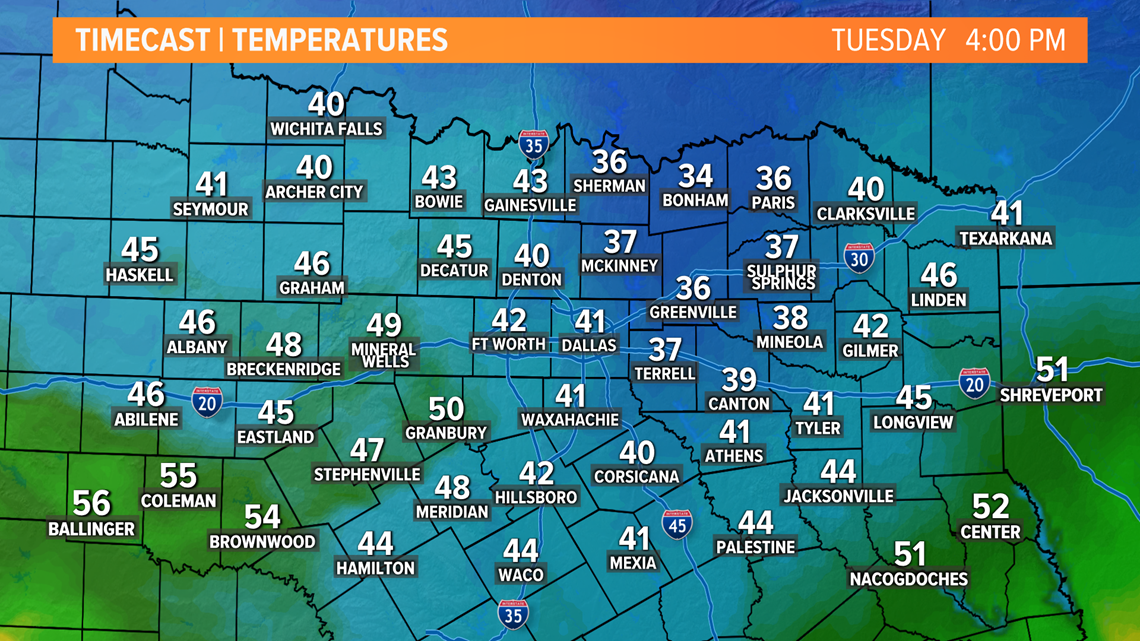 Wednesday - Thursday
The potential for freezing rain looks more likely late by Wednesday evening into Thursday morning. Travel issues are possible, especially on bridges and overpasses.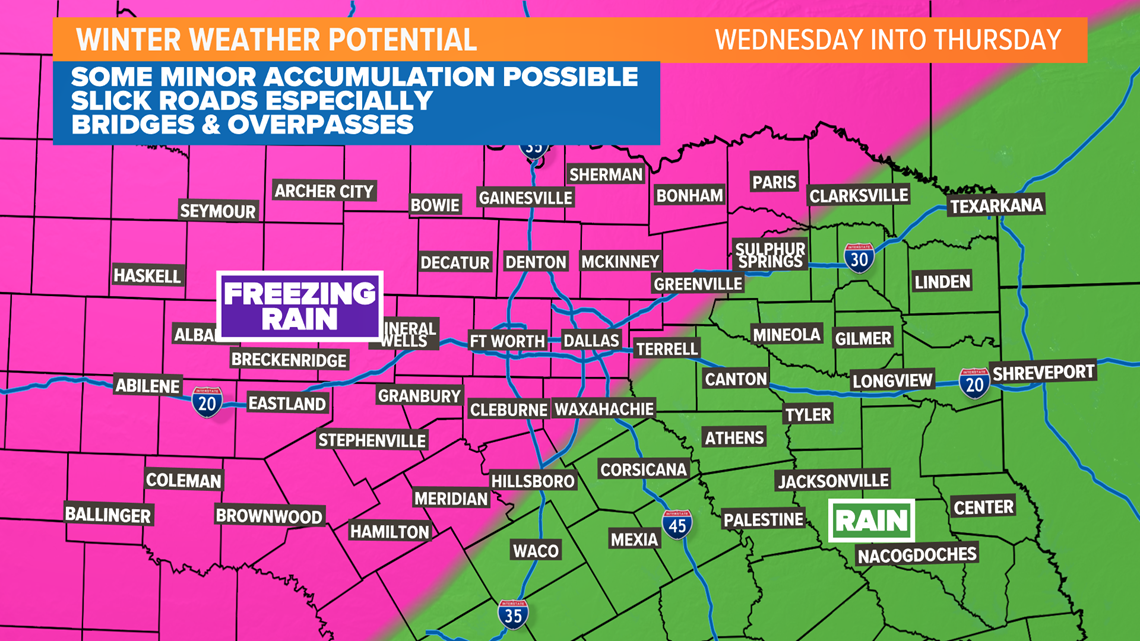 Another reinforcing shot of cold air moves will come through late week to keep high temperatures in the 30s going into Valentine's weekend. Valentine's Day looks to be the coldest day with high temperatures struggling to get out of the lower 20s. The record for coldest high temperature on Valentine's Day is 27 degrees, so we could be looking at breaking that record. We'll also be near a record low Sunday morning as temps dip into the mid-upper teens. We will keep an eye on the changes as we get closer, but either way. Plans to celebrate may need to be cozying up near a fireplace.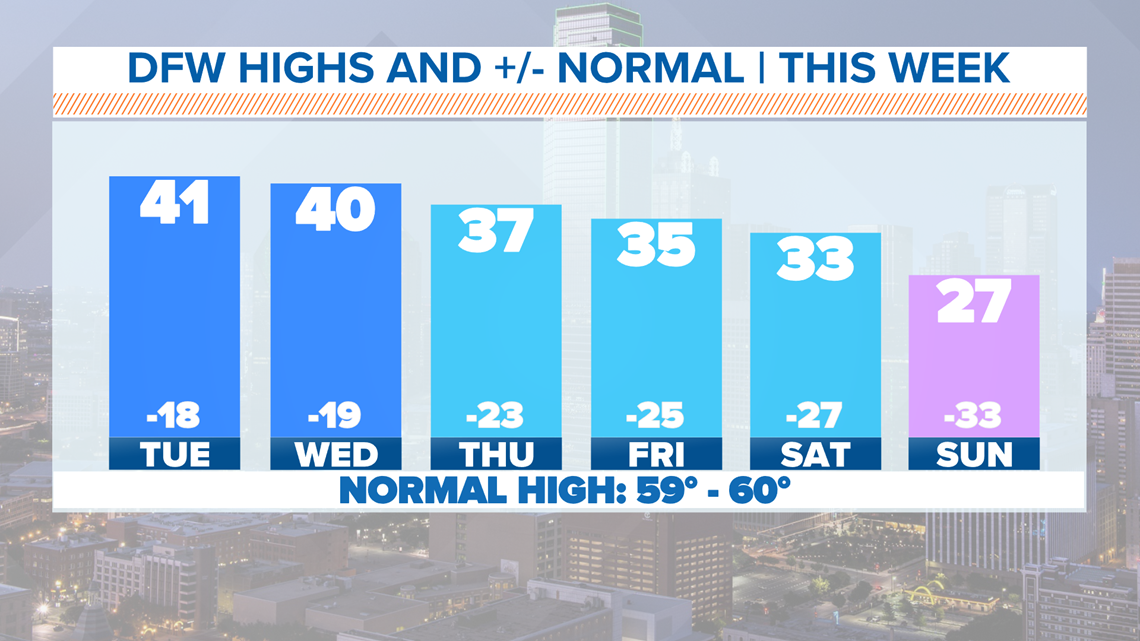 Another big story will be the wind chills as we get into the upcoming weekend. Morning temps will be cold as well with lows well below freezing likely late this week through next weekend. Winds will increase as we go into the weekend, so expect it to feel more like the single digits Saturday and Sunday.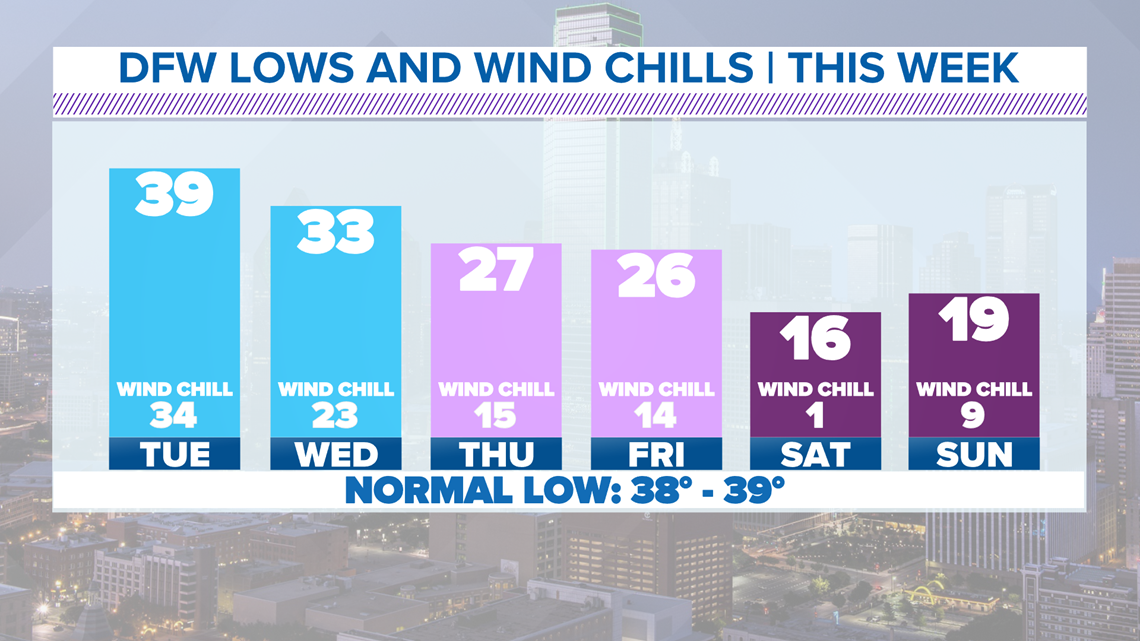 Questions: How cold? Wintry weather?
There are still plenty of questions about what happens this week.
First, how cold will the air be by the time it reaches us?
Below normal temps look likely starting on Tuesday lasting through next weekend, but just how below normal is in question. Will it be the Arctic air that we have been promising? Or will it just be a lingering round of cold air and below normal temps?
Secondly, will there be any wintry weather?
This obviously depends on how cold the air is as mentioned above.
It looks like a disturbance will move overhead Wednesday night into Thursday. That disturbance will bring the chance for some precipitation to the area. However, how cold it is will determine if it is just rain or a wintry mix of some sort.
Details are not set in stone, so keep checking back for updates!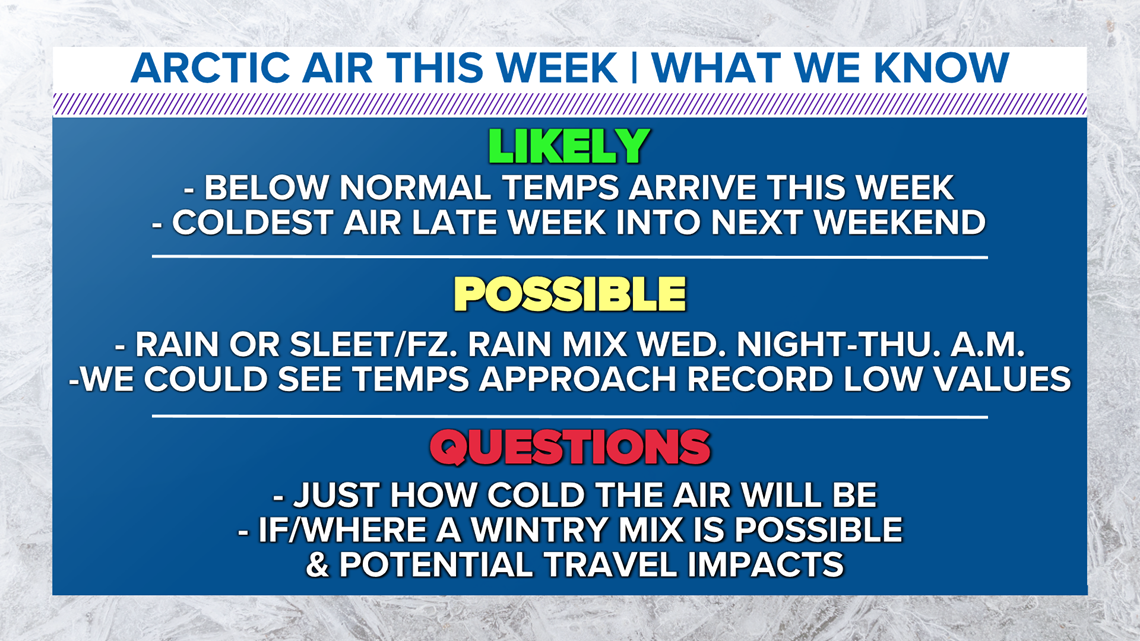 All this talk of arctic air may be making you dream of spring and warmer temperatures.
The first day of spring is March 20, and that is only 41 days away. Between now and then, you will notice our normal high temperature continues to get warmer.
We are gaining daylight now through the summer, and that will give us more sunlight and warm us up. This doesn't mean you won't see a cold spell, and this week is a perfect example of that, but it does mean that spring is on the way for those who are ready!