Manhattan office buildings are shells of the bustling centers they were just a month ago now that the new coronavirus has led to social distancing and isolation to limit the spread of COVID-19. Whether working at home - or not working because of a job loss - more people in the U.S. are in their residences just as higher temperatures are set to kick in. Is the electric grid ready as Americans collectively reach for their air conditioners?
The answer is some combination of yes and we'll see. The fact is, the current situation is a whole new world for energy providers.
"I can't conceive of anything that's comparable in this way," Con Edison spokesperson Michael Clendenin told AccuWeather. "You have major storms ... pass through and you might have outages that last a few days, but this is different. This is a continued thing for a month or more."
Con Edison supplies power to New York City and Westchester County, a suburb just north of New York City -- a region that includes 10 million customers, according to the company, and is smack in the middle of the outbreak's epicenter. "People are working from home, commercial properties are not in full gear, there's a shift in demand [to private residences] - we'll have to see what it means," Clendenin said.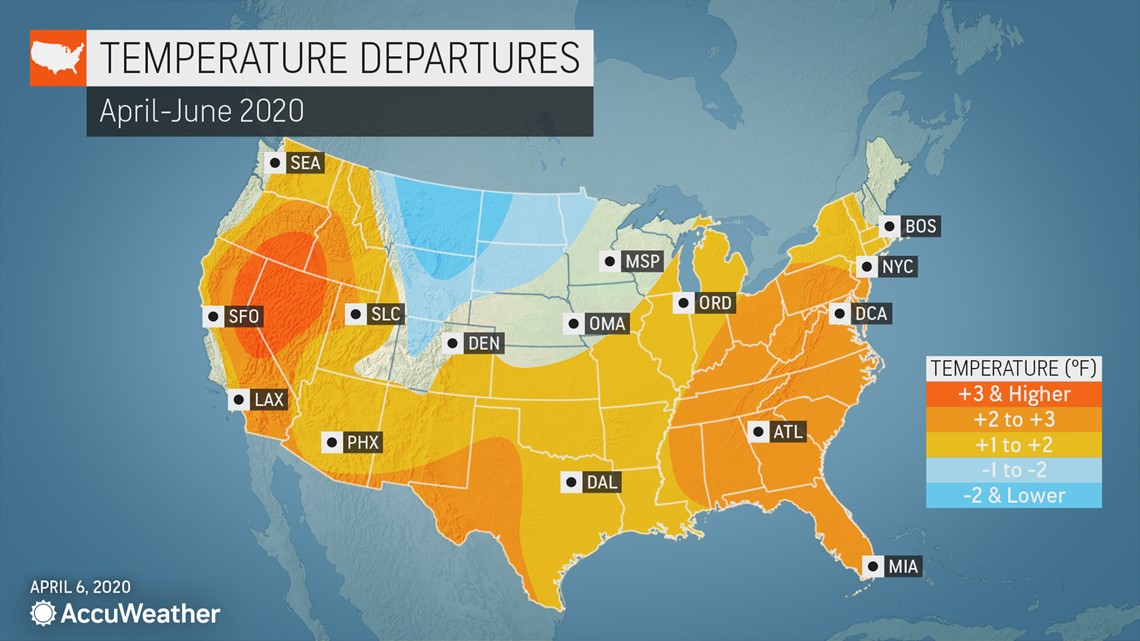 The higher temperature departures -- the actual temperature compared to the average temperature -- do not mean it will be warm all the time; if that were the case, the numbers would be even higher, according to AccuWeather meteorologists. For example, cooler air will be in place through mid-April from the southern Plains to the Southwest, then turning milder. Longer, cooler spells or periods will hold back overall temperatures in parts of the Northeast, northern Plains and northern and central Rockies.
However, the temperature departures will be increased significantly in the Southeast - Florida, in particular - in April and the West, especially California and Nevada, later in April and May.
Electricity providers told AccuWeather they all are prepared for what's happening now and for what's ahead.
"We have robust plans to ensure that we are able to deliver clean, safe, reliable and affordable energy for our customers - today and for the future," PEPCO spokesperson Christina Harper told AccuWeather. PEPCO serves 883,000 customers in Maryland and the District of Columbia. "Our crews are working to address ongoing maintenance and upgrades that are necessary to ensure continued reliable energy service and to address any issues that may arise, which we recognize is of utmost importance as more and more people are at home and essential businesses are relying on us more than ever."
The higher temperatures shouldn't be a problem, either. "We work throughout the year to ensure our system is always prepared," PECO spokesperson Greg Smore told AccuWeather. PECO is Pennsylvania's largest electric and natural gas utility serving more than 1.6 million electric customers. "This includes long-range planning for extreme temperatures we may experience in the summer and winter months. Because of this forecasting and planning, we do not anticipate current weather forecasts to have an impact on our system."
For now, overall electricity usage is largely unchanged, providers tell AccuWeather; the demand, however, has shifted.
"It's important to remember that even though we are seeing greater consumption among residential customers staying at home, especially with warmer temperatures in some of our service areas, we're generally seeing lower usage among many businesses and industry that have temporarily closed or instituted work-from-home practices," Duke Energy spokesperson Neil Nissan told AccuWeather. Duke Energy is one of the largest electric power holding companies in the U.S., providing electricity to 7.7 million customers in Ohio, Indiana, Kentucky, Florida, North Carolina, and South Carolina.
"It's kind of a wash right now," Con Edison's Clendenin said of recent usage in the New York City area. "I've seen reports that put the estimate at 5 to 15 percent higher usage in residential homes, but we are seeing less usage in Manhattan and all of the other boroughs where you have commercial buildings."
One plus for Americans is the substantial drop in the prices of natural gas and crude oil over the last year could lead to savings on electricity costs. "Even though it's going to be a hotter summer, there will probably be lower costs where the electricity costs are brought down in concert with the underlying cost of fuel," AccuWeather Founder and CEO Dr. Joel N. Myers said. Natural gas and oil, among other things, are used in the production of electricity.
Energy providers encourage customers to conserve energy to increase their savings. Suggestions from PEPCO's Harper include:
Set thermostats a few degrees lower when heating and higher when cooling to reduce energy use.
Wash full loads of laundry in cold water.
Switch to LED light bulbs to cut lighting costs by 70 percent or more.
Unplug electronics and turn off lights when not in use.