SCOTTSDALE, Ariz. — Electric cars are becoming more popular, cheaper, and readily available, with many large auto companies unveiling all-electric models.
But will electric cars be the savior to the environment?
Arizona has ties to many electric car companies, both in manufacturing and local sales.
Polestar, a car company funded primarily by Volvo, provided 12 News with a test drive of the Polestar 2, a new all-electric sedan.
The four-door sedan has a range of about 260 miles, depending on the model.
It's Internet-enabled and integrated with Google's smart assistant. It also includes an all-glass roof, a version of self-driving technology, and a lot of other bells and whistles.
The Polestar 2 retails for more than the Tesla 3, arguably the most affordable electric car on the market, but also includes more luxury touches.
Where the Tesla is more radically redesigned, with its gauges moved to a large tablet mounted in the center, the Polestar keeps its gauges in the traditional place. Polestar's Scottsdale sales manager Andrew Caron said it's to bridge the gap between a traditional car that people are familiar with and a newly designed electric model.
"This is definitely a head-turner out on the streets," Caron said.
Polestar sells its cars nationwide but only has showrooms – called "Spaces" – in a few cities, including Scottsdale.
Other electric car companies have also set up shop in Arizona.
In Casa Grande, Lucid Motors recently opened its first factory to produce its own electric sedan, the Lucid Air.
It has a 520-mile range but is also significantly more expensive than the entry model electric cars, with a $77,400 starting price.
Rivian, a company that plans to produce an all-electric truck and SUV, has an office in Arizona. Rivian has yet to start selling its vehicles.
"Electric cars are the future, I think we all can agree on that," Caron said.
But they have a lot of work to do.
"In the near term, it's challenging because of the dependence on rare earth materials, particularly for the batteries," Arizona State University sustainability professor Dr. Steve Polzin said.
Polzin said electric cars cost a lot to produce in terms of carbon-intensive processes. Mining rare-earth materials and shipping them for manufacturing still requires fossil fuels.
"Lots of researchers and engineers are working on ways to offset and mitigate those impacts," Polzin said.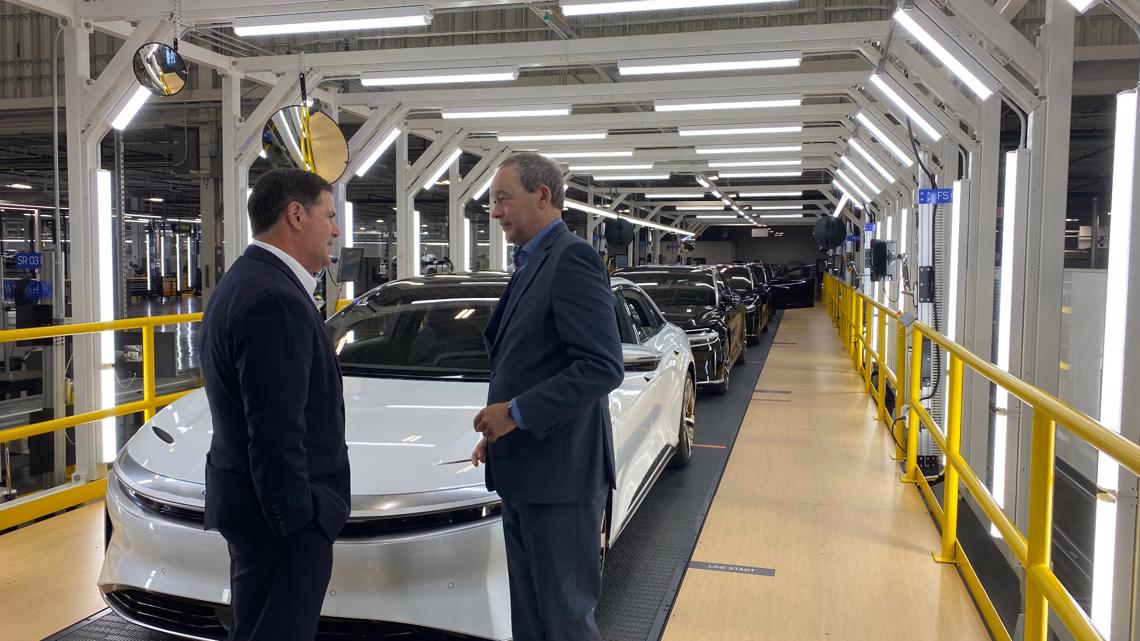 The other issue is where the power comes from to charge electric vehicles. Electric cars only cost a few dollars to charge, but the power still comes from the power grid. And that power grid is primarily fueled by fossil fuels.
And if everyone traded in their internal combustion engine for an electric car, Polzin said it would require a 30% increase in power generation across the country.
He also estimated most people will keep at least one internal combustion engine because they don't need to be kept charged and can continue working in case of a blackout.
So, electric cars are not quite at the point of saving the environment or even being a total replacement for internal combustion engines.
But experts said they're on their way. Besides, the technology involved in electric cars is constantly changing. Experts said there's no telling where the electric car industry could be in the next 10 years.
Up to Speed
Catch up on the latest news and stories on the 12 News YouTube channel. Subscribe today.