PHOENIX — A new organization of environmentalists in the Valley is on a mission to replenish the regions of Arizona's desert landscape that have been scorched by wildfires and invasive species.
The Desert Seed Resource Center aims to meet a growing need for native plant species in Arizona after the state has endured years of natural disasters and urban development.
Jennifer Jenkin and Kara Barron are in the process of forming the nonprofit in order to find more growers who can produce the type of native seeds needed to protect Arizona's unique environment.
They said restoring a complex ecosystem like the Sonoran Desert is not as simple as buying some seed packets from the store and following a list of written instructions.
"That doesn't really exist for a lot of the desert plants we're talking about," Jenkin said.
The state needs a steady supply of plant material suitable for Arizona's many habitats, they said, and a group of local farmers who are willing to help grow it.
"There's so many different habitat types," Barron said. "So it's going to take a village to do something like this."
The production of native seeds is a problem being tackled throughout the country as extreme weather events continue to cause harm to various ecosystems.
According to the Plant Conservation Alliance, an estimated 74% of the native plant species needed for restoration in the U.S. are unavailable to find on the commercial market. If native seeds aren't readily available before a climate crisis hits, then experts say local ecosystems can become less resilient over time.
The Sonoran Desert has been behind in the conservation game compared to other regions, Barron said, so Arizona will need to play catch up to ensure native plants will be protected.
"I feel like we're the red-headed stepchild of restoration," Barron added.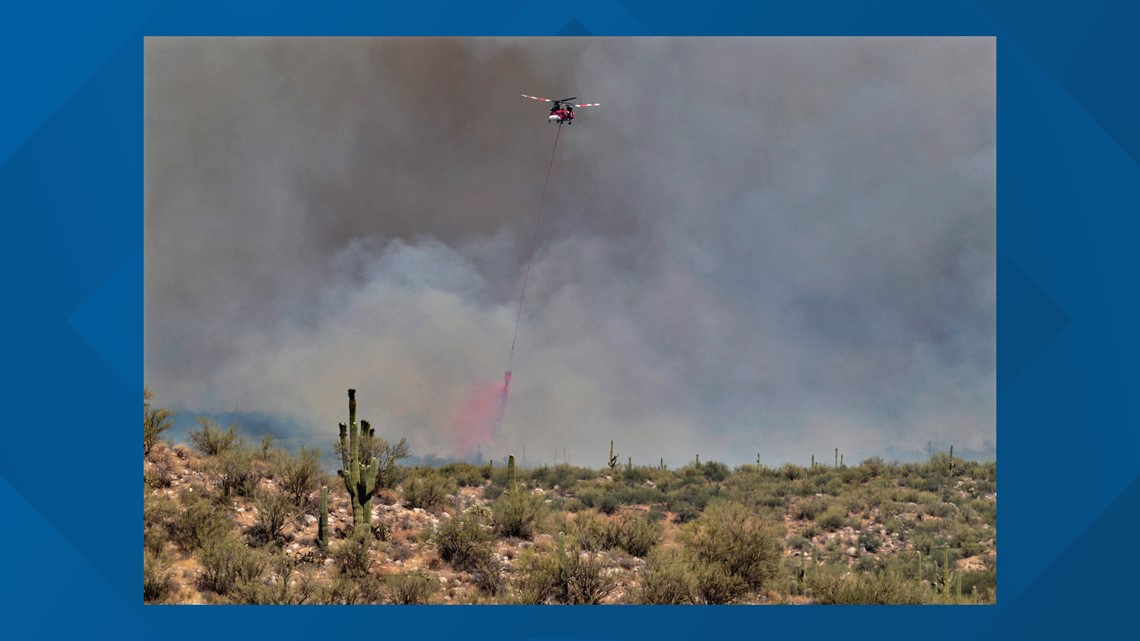 Arizona has been recently ravaged by harmful wildfires, resulting in the loss of nearly 480,000 acres over the summer. 2021 was the most destructive year for wildfires Arizona has seen since 2011, when 1,988 wildfires burned 1,016,428 acres.
After the flames have been extinguished, land conservationists need regionally-specific material that can flourish in the degraded areas.
"When we have wildfires and other forms of habitat loss," Barron said, "if we want to restore an area -- that material has to come from somewhere and it's not always available."
The group's mission began after Barron and Jenkin met while they were previously working at the Desert Botanical Garden. Jenkin's a former teacher with experience navigating the nonprofit sector, while Barron has a background in plant sciences.
Together, the duo hopes to combine their skills to generate more public attention for seed production and desert restoration.
"Nobody really wants to take this on as a project," Jenkin said. "A lot of environmental organizations are kind of hands-off on this, but it seems like such an obvious solution to such a big problem."
Jenkin and Barron are planning to partner with other entities like the Sonoran Seed Collaborative, which is also dedicated to finding ways to propagate native plant species of the Sonoran Desert.
They said the ultimate goal is to provide a reliable supply of plant seeds that is available for government entities and restorationists to use for replenishing Arizona's landscape in the generations to come.
"Ecosystems, in general, have such a fine balance and it's all naturally maintained," Jenkin added.
Up to Speed
Catch up on the latest news and stories on the 12 News YouTube channel. Subscribe today.