It started with a "Merry Christmas," but what followed were words full of wisdom and admiration for a man who "missed six Christmases" as a prisoner of war in Vietnam.
"As we enjoy this special day and celebrate the holidays with friends and family, I'll be thinking about someone who has become very important to me: Arizona Senator John McCain."
They're the words of Larry Fitzgerald.
The Arizona Cardinals wide receiver penned a thoughtful tribute to Arizona's senior senator for MMQB in Sports Illustrated.
Fitzgerald wrote:
As I've gotten older, giving at Christmas has become more significant for me—and more fun—than receiving. When I think about Christmas, and I think about Senator McCain, I think of giving. The sacrifices John McCain has made for our country, and especially the men and women he served with in the military, are incredible.
Fitzgerald, an avid traveler in the offseason, said he's heard many of the stories about McCain's service in Vietnam. But he wanted to know more.
On a trip to Vietnam, Fitzgerald said he rode a bike 700 miles from Hanoi to Ho Chi Minh City to "see how the people lived."
He wrote:
I had some of the greatest meals I've ever had in my life there and the people were so genuine. I saw real mortars that hadn't been detonated. I saw the effects of Agent Orange on so many young people there and how it has impacted their lives. Even in the midst of extreme challenges and difficult circumstances, they've carved out a life for themselves and persevered.
But the NFL star said the "most meaningful part" of his trip to the Southeast Asian country was seeing the places related to McCain's time there as a POW.
Fitzgerald said he saw the lake where McCain's plane was shot down and the prison cell where he was kept, calling the stories he heard there "gut-wrenching."
"I saw the very jail cell where he was held as a POW and I tried to imagine what it must have been like to be him," Fitz wrote. "I took a photo of myself next to his flight suit, the suit he was wearing when he got shot down. So powerful. So meaningful. Those images will never leave my mind."
PHOTOS: Sen. John McCain through the years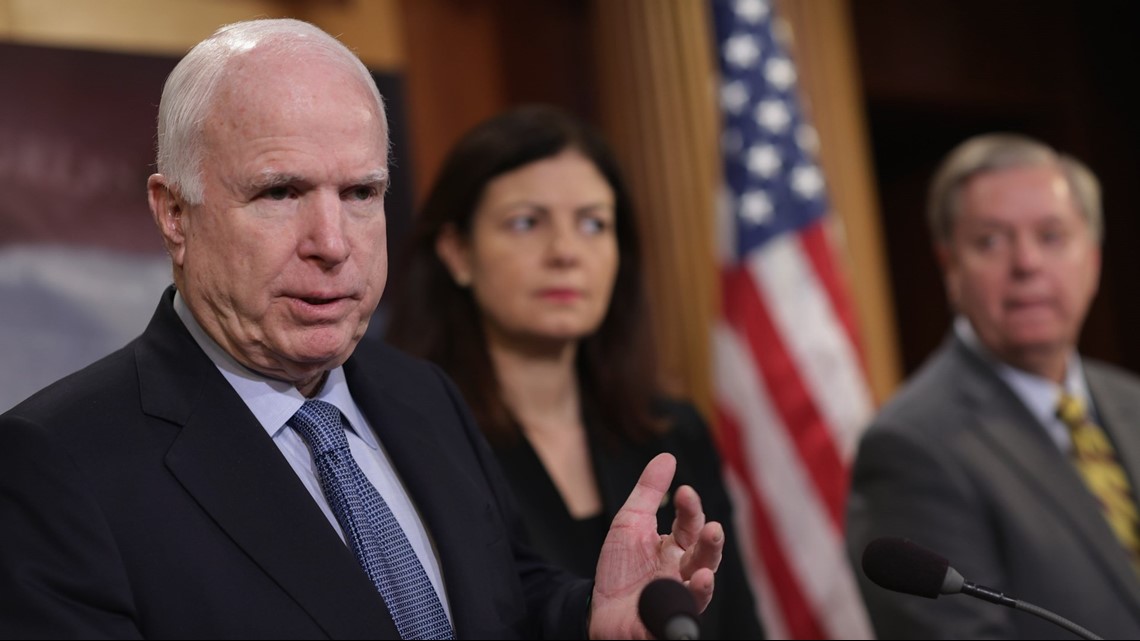 Fitzgerald said he and McCain have grown closer over the past few years and he admired the senator because he "doesn't always just vote his party."
Fitz ended his letter saying his prayers were with McCain has he "again finds himself in a battle."
Sen. McCain was diagnosed with an aggressive form of brain cancer this summer.
Fitzgerald wrote:
I pray he lives another 20 years. I know this: As soon as my boys are of age, I'll tell them stories about the quality of the man I've gotten to know. I'll tell them: Senator John McCain will be revered and respected for as long as the United States of America has a place in this world, and his legacy will outlive us all.
McCain said he was "deeply touched" by the NFL star's words.