GLENDALE, Ariz — Update: The team announced a funeral mass would be held at 10 a.m. on Oct. 8 at St. Francis Xavier Catholic Church in Phoenix.
The Arizona Cardinals announced Wednesday that owner William V. Bidwill has died at the age of 88.
Bill Bidwill has been the sole owner of the franchise since 1972. He was co-owner with his brother, Charles Bidwill Jr. for ten years prior to that.
Bill's father, Charles Bidwill, purchased the team, then known as the Chicago Cardinals, in 1933.
Bidwill moved the team from St. Louis to Phoenix, Arizona, prior to the 1988 season.
Bidwill's son, Michael serves as team president.
Bidwill's wife, Nancy, passed away in August of 2016. He is survived by his five children, Bill Jr., Michael, Nicole, Patrick and Tim, as well as 10 grandchildren and one great-grandchild.
"Our dad passed away today the same way he lived his life: peacefully, with grace, dignity and surrounded by family and loved ones," Cardinals President Michael Bidwill said in a statement. "We are overwhelmed by the support our family has received, not only now but throughout the latest chapter of his life. We are especially grateful to the nurses, doctors and other caregivers whose endless kindness and compassion in recent years have made our dad's life so meaningful.
PHOTOS: Arizona Cardinals owner William 'Bill' Bidwill through the years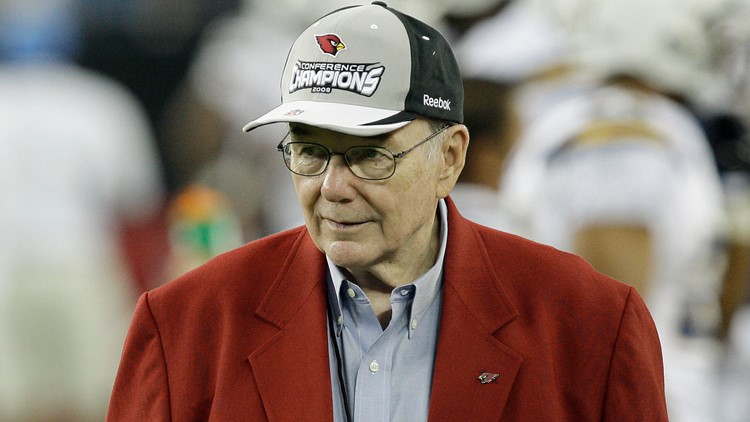 "Above all else, we will remember him as a man devoted to the three central pillars of his life – his immense faith, his love for his family and his life-long passion for the Cardinals and the sport of football."
Bidwill worked to bring Super Bowl XXX to Arizona in 1996, the first of three Super Bowls that have been played in the state.
Bill and Michael Bidwill worked to open State Farm Stadium in 2006.
Bidwill is the sixth NFL owner to pass away in the last 19 months.
NFL commissioner Roger Goodell put out a statement Wednesday saying he made "extraordinary contributions to the NFL."
Arizona Gov. Doug Ducey tweeted Wednesday saying Bidwill "never forgot he was part of our community."
Los Angeles Chargers owner Dean A. Spanos put out a statement, saying his family and the Bidwill family were close and wrote about how Bidwill offered to let the Chargers play and train in Arizona in 2003 when devastating wildfires struck the area.
Colts owner Jim Irsay tweeted his sympathies to the Bidwill family Wednesday.
Kansas City Chiefs Chairman Clark Hunt said Bidwill "built and cared for his franchise with the utmost passion and integrity."
Detroit Lions owner Martha Ford put out a statement saying Bidwill will be "remembered through a legacy marked by countless contributions."