Walking through a historic jail where hundreds of souls have walked and stayed isn't something many people have the willpower to do.
One of the oldest historical jails in Arizona is in the city of Globe -- the 1910 Gila County Jail & Sheriff's Office.
I had the chance to go to Globe to do a story on the jail's newest Halloween haunted event.
Right when I entered the jail, I felt a powerful sensation just surround me.
The Gila County Jail opened in the Arizona Territory in 1910, which was two years before Arizona became a state, according to the Haunted Registry.
There have been countless reports of haunts at the jail and the Gila County Courthouse, which is next door to the jail.
Molly Cornwell, the caretaker of the 1910 jail, went on a walk with me through the premises and was a witness to my two experiences.
She says there have been sightings, sounds, voices, footsteps of female and male spirits. There have even been full-bodied apparitions.
"I haven't encountered anything that harsh, but I have seen shadows and I have felt my hairs rise up on my back," said Molly.
Molly has been working at the jail for over a decade. She said she always speaks to the spirits in some kind of way and thanks them for allowing her there.
I decided to conduct my interview with Molly on the second floor of the jail, where she mentioned that many inmates had stayed and died.
While walking the halls of the jail cells I prepared to start my interview with Molly and George Nelson, who oversees the Haunted Jail at Globe event, at the end of a hall holding one of my cameras.
Then about 5-10 seconds later, I hear a voice almost 2 feet down the hall from me say "Yeah."
I know for a fact I heard someone down the hall on my right. Then, I hear a whisper say "yeah" right next to my ear.
I asked Molly and George if there was someone else in the building, and they both said no.
Both George and Molly couldn't believe it and I vividly remember George recording all this. I made sure the camera was recording.
I couldn't understand what was going on. I felt a sudden chill on my right side and I decided to keep on going with the interview.
Molly suggested that the "inmates" may have a crush on me because they usually only make their presence known during the evening.
As we continued our interview, I set my GoPro down while George was still at the end of the hallway recording.
Molly and I were talking and my GoPro started going crazy, flipping back and forth very fast. The GoPro was off.
I had to stop the interview.
Molly: "Is your camera supposed to be doing that?"
I didn't know what to think. Either the "inmates" loved me or they wanted me out!
Meanwhile, I decided to leave one of my cameras in the second story of the jail rolling with the audio on.
As we continued through our interview, Molly led me to one of their most haunted spots -- Kingsley's jail cell.
His name was Kingsley Olds. He remained in the third story of the jail, where the male inmates stayed.
Kingsley was accused of drowning his employer's two daughters in 1911, according to Molly.
He waited for his trial in this exact cell and was mysteriously shot and killed.
"We think someone sat on that window (a window next door) and killed Kinglsey," said Molly.
As we returned to get my camera back, nothing odd occurred.
Nothing paranormal was captured -- you only can hear sudden noises.
I was still in shock and had to share my experience on video.
Now, as I am about to put together my story, something just didn't seem right.
As I am going through my footage, everything is there, except to two clips are missing.
Of course, the clips that are missing are of me reacting to someone saying "Yeah" seconds after George says "Yes" and my GoPro going ballistic on its own next to a window.
Now, people may not believe me but after searching for a couple hours through my footage, I am certain something or "someone" didn't want this to be shown.
The founders of the East Valley Paranormal Society reached out to me after hearing about my experience and have shared some of their findings with me.
Specifically, an image of a what appears to be a woman (apparition) waiting for someone.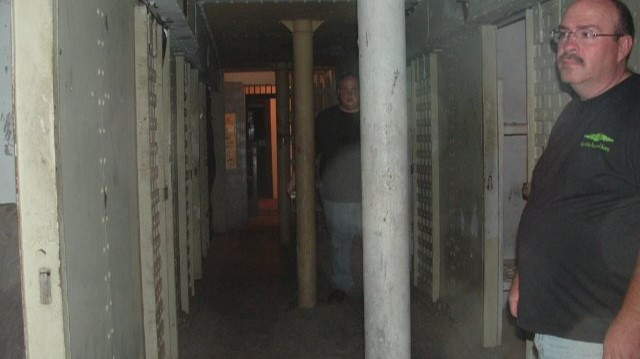 The woman is at the same window where my GoPro went ballistic.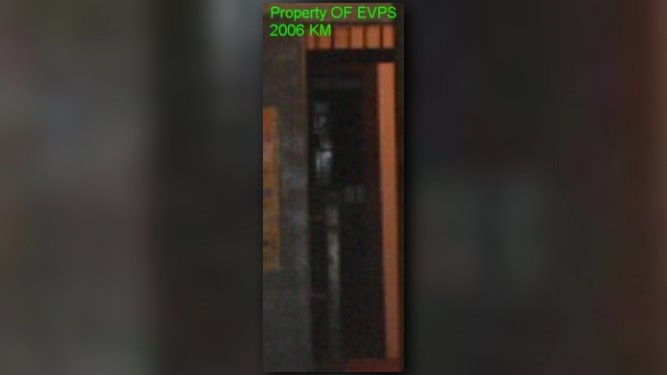 Watch and listen to video at your own risk.
I can say that whatever is in the jail is definitely active.