TEMPE, Ariz. — Nineteen-year-old Adrienne Salinas vanished on June 15, 2013. Her body was found in the desert months later. Police say her disappearance—and possibly her murder—happened somewhere between her apartment and a gas station in Tempe, a quarter-mile apart.
A 12 News I-Team investigation into the police records, including interrogation video, witness interviews and bizarre tips never before released to the public provides new insight into that night and the discovery of her body, found 30 miles away from her home.
Her murder remains unsolved, but for the first time, police detail their investigation with 12 News, reviewing investigative leads and evidence that may finally lead to answers.
Adrienne Salinas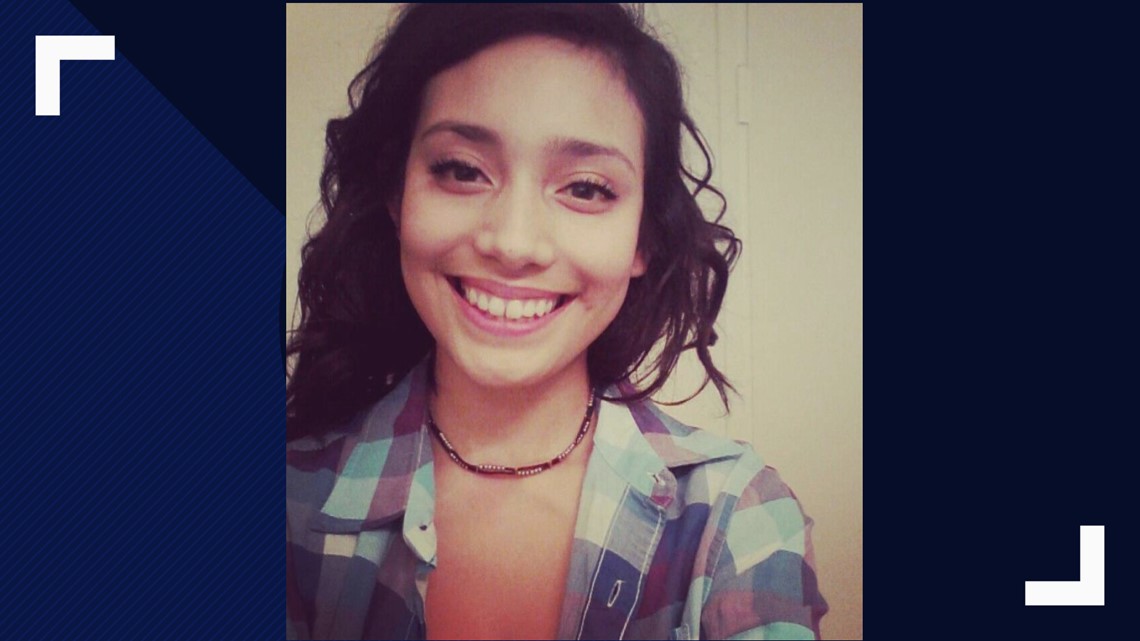 Everyone talks about the smile. She's beaming in every single photo, without exception.
Her friends described her as one of the nicest, sweetest people they'd ever met. In hundreds of pages of police interviews, people who knew her described her as soft-spoken, friendly.
She was living in Tempe and attending community college. She lived with two roommates, Shainey Duggan and Rebecca Flores.
She had been dating Francisco Arteaga, or "Fran."
Adrienne had a job, but she hadn't been able to work for a while because she had undergone lung surgery to treat valley fever, a fungal disease from the Arizona desert.
Scarring from this surgery would later help police identify Adrienne's remains.
Adrienne was out on her own for the first time, living in a Tempe apartment with her two friends. And it was there where her friends saw her for the last time.
The night she disappeared
Starting around 10 on the night of June 14, there was a party at Adrienne's apartment. Police reports state approximately 40 people attended and had been drinking.
Adrienne's roommates would later tell police that she had been frustrated with Fran Arteaga and believed he wasn't paying enough attention to her.
"He became interested in other females at the party, so Adrienne was upset about that," Tempe police Detective Alan Akey told 12 News.
Adrienne and Fran left the party together, but at one point, she left his car.
"She just got out of the car in the middle of the conversation. She just hopped out without saying anything," Arteaga later told investigators in a 2013 interview.
Her roommates told police Adrienne came back to the party but was still upset and didn't want to stay. In the early hours of the morning, she got into her car and drove away alone.
"Some of the partygoers see her and try to stop her because she had been drinking that night, try to stop her, but she's already in her car and drives away," Akey said.
In police interviews, some people at the party said Adrienne was upset and emotional. One person said she stormed off and peeled out in her car.
Around 3:45 a.m., police received a call they now believe was about Adrienne.
"We get a call for service from a Starbucks employee who says, 'Hey there's this car that is driving erratically on First Street and it just passed me. And it hits the curb at First and Ash, and the tires blew out and the driver took off,'" Detective Akey said.
"They were going on the curb and hit something and just had two flat tires," the caller told 911 dispatch that night.
That may have been the last chance for police to talk to Adrienne. Officers wouldn't find the car when they arrived, but they believe she was behind the wheel.
"The vehicle plate of that car matched Adrienne's car, so we knew that was likely Adrienne," Akey said.
With two blown tires, Adrienne kept driving but abandoned her car a few blocks from the apartment. Adrienne's roommates said she came back to the party a third time and said she was going back to Arteaga's.
She texted Arteaga at 4:43 a.m., "I'm coming over."
Ten minutes later, Adrienne calls for a cab.
She contacted a cab company to arrange to meet at the AMPM at Hardy and University drives. The cab driver showed up, but Adrienne never did.
By 5:07 a.m., her phone is either dead or turned off, just 14 minutes after the final call with the cab driver.
Adrienne is missing, but police and the public won't know that for nearly 36 hours.
The investigation begins
"We don't get a call until Sunday from her father, Rick, because it's Father's Day, saying, 'Hey, my daughter hasn't reached out to me,'" Detective Akey said.
"This is not like her. She would have called. She is not answering her texts. The phone, it still goes to her voicemail," Rick told a 911 operator.
Adrienne's car was wrecked. Her phone was shut off. No one knew where she was for a full day.
Rick Salinas and Arteaga went looking for Adrienne. They found her car with two blown tires on the morning of June 17.
A viewer asked about what Adrienne's cell phone tracking data could tell us about the night she went missing. The answer is: potentially a lot—if anybody knew where it was.
According to a Tempe police report, investigators found a Blackberry cell phone and a notebook in the driver's seat of Adrienne's car. Police said they photographed the phone before turning the car over to Adrienne's family.
A full day later, a Tempe detective noticed the car had never been impounded. The police report says when they towed the car and searched it for evidence, the phone and the notebook were no longer there.
Adrienne's mom had the notebook, but no one admitted to knowing where the phone was. So, the only information police have to verify where Adrienne was are her phone records.
Tempe police would not comment on the phone, saying that information is part of their ongoing investigation.
The investigation continues for months. Police search the neighborhood and find no trace.
Adrienne's body is found
On August 6, Adrienne's body was found in a wash in the Apache Junction area near the Superstition Mountains, 30 miles away from where she was last seen.
There had just been a large storm, and residents in the area described six feet of rushing water. The remains were found in a wash when the water receded.
"The way we found Adrienne, it was very difficult to determine the cause of death," police said at the time.
The medical examiner's report described the remains as mummified, mostly just bones, but a DNA test later confirmed she had been found.
Certain details were left out of the report. There was no mention of her head or hands. There is no cause or manner of death listed.
Police could not determine a crime scene.
"So that doesn't help. For an investigator, we don't have a true crime scene. A crime scene gives us a lot of evidence and information," Akey said.
Detective Akey went back to the beginning, the night of the party.
No suspects
Forty people were at the party that night, but not one of them says they saw what happened to Adrienne.
"So we've interviewed all the occupants or all the people who have been in the apartment. Maybe there was somebody that was attending the party that took an interest in an intoxicated female. You know how that dynamic works. There is a possibility that escalated and got out of control," Akey said.
Police interviewed Adrienne's roommates and Arteaga multiple times but never made any arrests.
"The percentages of some random occurrence happening are very low," Akey said.
Police also interviewed Arteaga's roommates, who said they saw him at home sometime between 2 a.m. and 5 a.m. on the morning of June 15, 2013, without Adrienne. The next morning, they found Arteaga asleep.
When he couldn't get ahold of Adrienne the next day, his roommates told police he was beside himself, crying, passing out flyers.
Detective Akey's reports say it appeared the roommates' story was genuine, not like they were trying to cover for Arteaga.
"See I would never use the word 'rule out.' We have interviewed him extensively and we've investigated. I know a lot of people would like to rule out, but is he a suspect? No," Akey said.
Arteaga declined to comment for this story.
Scottsdale Cab Guy
The night she disappeared, Adrienne called the Scottsdale Cab Guy, a local taxi company, to meet her at the AMPM at Hardy and University drives.
"She never shows up there. We never see her on video there. The driver says she never showed up," Akey said.
Two days after Adrienne was reported missing, Tempe police called the owner of the cab company, Tom Simon, Sr., who connected them with the man driving the cab that night, his son, Tom Simon, Jr.
The day police talked to both Tom Simon, Jr. and Sr., the younger Simon was driving his taxi to the Grand Canyon with passengers in the back. One of those passengers would later call police, remembering her cab driver talking on the phone, and telling police she felt that she may have been in danger, police reports show.
Stopping in Sedona, the passenger told police Tom Simon Jr. popped the trunk and pulled out a hacksaw, wondering how it got in there, according to the records reviewed by 12 News.
On June 20, 2013, Tempe police put Tom Simon Jr. under surveillance.
Police followed him for three hours until they lost him in a parking lot. On June 25, Detective Akey went to Tom Simon Jr.'s house to try and get him to take a polygraph test, according to reports and police recordings.
On June 27, police obtained a search warrant to search the cab and apartment and take samples of Tom Simon Jr.'s DNA. Police found no trace evidence when they searched the cab.
Two weeks after the DNA test, police received another tip related to Tom Simon Jr. A woman told police her cousin heard a woman screaming in Thomas Simon Jr.'s apartment.
"I would like to have a few more conversations with the cab driver," Detective Akey told 12 News. "There are still some questions that I would like answered."
No DNA has ever been recovered from Adrienne's remains, and Tom Simon Jr. was never named a suspect.
Tom Simon Jr. did not return requests for comment for this story.
His father, however, did agree to an on-the-record interview and spoke about his son.
"What have they asked that we haven't answered?" Tom Simon Sr. said 12 News over the phone. "They don't have a suspect, and we want them to have a suspect."
Detective Akey told 12 News that Tom Simon Sr. is another person he would like to further question about Adrienne's disappearance. Akey said that he had learned Tom Simon Sr. had previously served a six-year prison sentence on charges of trafficking in stolen property.
12 News also learned Tom Simon Sr. was arrested in 2018 when his then-girlfriend told police he had threatened to blackmail her. Simon Sr. pleaded guilty to disorderly conduct.
"When you do things that are wrong, you pay for them for the rest of your life," he said in a 12 News phone interview.
Neither Tom Simon Jr. nor Sr. were ever arrested, charged or called suspects of any kind in Adrienne Salinas' disappearance or murder.
Tempe police investigate Adrienne Salinas's murder
Police question any ties to an accused serial killer
The autopsy report makes no mention of Adrienne's head or hands, and no skeletal chart was included. What police found were mostly bones. Investigators won't say if her entire body was found, leaving many questioning if her head may have intentionally been removed.
After learning of Adrienne's condition, Keene Azariah from Phoenix approached Tempe police and suggested they look at his friend, Bryan Patrick Miller, as a possible suspect in Adrienne's case.
Bryan Patrick Miller was arrested in 2015 and accused of committing the 1992 murder of 22-year-old Angela Brasso, who had been decapitated. Her head was discovered in a canal 11 days later. Miller was also accused of the murder of 17-year-old Melanie Bernas, whose mutilated body was found in the same area in 1993.
Police matched DNA collected from the scenes to a sample that undercover detectives obtained from Miller about two decades later.
Keene Azariah knew Miller as "the Zombie Hunter." It was a character Miller would play at Comicons and steampunk meetups.
Azariah said he and Miller became close, and he said Miller struggled with women.
"I never pried with him because I knew his level and knew his limit so I just I hardly ever pried," Azariah said.
Azariah said he and Miller attended a party together a mile away from Adrienne's house the same weekend she disappeared.
"Just started to feel a little uncomfortable that he was there in Tempe the same day," Azariah said. He sent a tip to police telling them he thought they should check it out.
"If you consider that he's under investigation for murder and he's a mile away from our case, it's definitely on our radar," Det. Akey said. "He's under investigation for this case, yes. Another individual we would like to have a conversation with."
Azariah said Miller had worked near Weekes Wash, where Adrienne's body was found, before Adrienne went missing.
"He worked right down the path at the fairgrounds there, and if the shoe fits and the GPS fits, then he's there and we just got to take it where it leads," Azariah said.
There is no DNA evidence to link Miller to Adrienne Salinas.
12 News talked to Bryan Patrick Miller's lawyer. She had never even heard of the Salinas case and says Tempe PD has never asked to speak to her client.
Who killed Adrienne Salinas?
We have fading memories and a fading picture of a girl who used to live here. The neighborhood has changed a lot since Adrienne Salinas went missing. Maybe someday her murder will be solved, and maybe the stretch of road along Hardy Drive will finally be free of ghosts.
If you have any information you believe police should know or the reporters can look into, we're looking for tips.