If 2017 told us anything, it's that the Arizona housing market is full of some incredibly unique homes.
Remember the "world's tallest house" in Prescott?
Well, 2018 has been no different.
From the homes of sports superstars and ones that feature a little bit of Arizona history to others with gorgeous views and one that has a massive lazy river, the Arizona housing market in 2018 was full of some of the most beautiful homes we've ever seen.
"Arizona's most expensive home"
At 10814 E. Heritage Court in Scottsdale sits a 14,350-square-foot home that has a price tag like no other in Arizona.
Built in 2004 and renovated in 2018, the 9.5-bath, 9-bedroom mansion takes up two lots in the exclusive Silverleaf community.
"The attention to detail is remarkable, and the use of fine materials in unconventional ways sets this home apart," Silverleaf Realty writes.
The views are pretty remarkable too.
But it's going to cost you A LOT of zeroes. The price tag is $26,000,000 making it Arizona's most expensive home for sale in 2018, according to realtor.com.
"Paradise Valley's most sought after estate"
Its name translates to "beautiful paradise," and the name fits perfectly.
The 20,000-square-foot estate sits on the south side of Mummy Mountain. It features six bedrooms, 12.5 bathrooms and a garage that can hold up to 20 vehicles.
And as the listing says, that's not even its best attributes. That distinction belongs to the views.
"Showcasing Arizona's most exquisite landscape, the home captures 180-degree views of Camelback Mountain, Downtown Phoenix and the East Valley," Sotheby's International Realty writes. "This spectacular estate embodies a resort style environment, as well as a magnificent home."
While not the most expensive, it'll set you back a pretty penny. Bella Paradiso was listed at $22,888,000. But don't worry, there's plenty of space to entertain, like in the ballroom that can hold up to 200 guests.
"In the heart of Paradise Valley"
The 30,000-square-foot home will set you back a cool $20,000,000.
The home features eight bedrooms and 11 bathrooms. There's also a basketball court with electronic scoreboard and a grand theater in the main home.
"Breathtaking views of Camelback Mountain, the McDowell Mountains, and Four Peaks Range surround this amazing property," Engel & Volkers writes.
"Romantic urban villa"
It's described as a "magnificent home" that's "unparalleled in its construction quality and architectural precision."
The 17,000-square-foot, five-bedroom, 7.5 bathroom house at 8100 N 68th St in Paradise Valley was listed for $18,000,000.
"This palatial Mediterranean estate is a master class in what can be achieved with the worlds finest materials, a renowned team of artisans, and an unlimited budget," Sotheby's International Realty writes.
According to the listing, each 2-acre part of the home was "designed and built in over a ten-year period."
And the estate's design, the listing says, "guarantees beauty from every room."
"Absolutely beyond compare"
"Simple words," the listing says, "cannot describe an estate of this stature.
"The polished elegance and imposing beauty are what movies are made of, and it's easy to imagine many a movie being filmed in this magnificent showpiece," Launch Real Estate writes.
This 25,000-square-foot home has six bedrooms and 13 bathrooms and was listed for $16,950,000.
It comes with some pretty spectacular amenities like a home theater and two-story library.
There's also an elevator that can hold up to 25 people.
The elevator, according to the listing, serves as the "focal point so spectacular that it will take your breath away."
And in what might be the most Arizona thing ever, there's also an indoor shooting range.
"Outdoor oasis rivals any resort"
It's called the Bramasole Estate and, according to Launch Real Estate, Bramasole is an Italian word meaning "to yearn for the sun."
And catching the perfect sunrays is kind of the talking point of this home. Its backyard rivals a resort pool setting.
"The Bramasole Estate owners bought the property behind the home to have a one of a kind outdoor space that was inspired by the Grand Wailea Resort in Maui, Hawaii," Launch Real Estate writes.
And the main part of said outdoor space? You can float in the home's 150,000,000-gallon lazy river with a 30-foot water slide.
"The home offers so many different areas to experience, it could take you weeks to explore them all," Launch Real Estate says.
"A precursor to the Guggenheim Museum in New York City"
Nestled in the Arcadia neighborhood is a piece of Phoenix's architectural history.
Designed for Frank Lloyd Wright 's son David, the David and Gladys Wright House was listed for $12,950,000.
According to the listing, the home is "one of three spiral designs realized by Frank Lloyd Wright."
"The offer includes reproductions of the signature ''March Balloons'' carpet designed by Wright for the living room and a dining table and chairs," the listing says.
"Last house ever designed by Frank Lloyd Wright"
The Norman Lykes House is an architectural treasure and one of Phoenix's most iconic homes.
The circular home, named for who it was initially designed for, is the last house ever designed by renowned architect Frank Lloyd Wright.
It hit the market in 2018 for a cool $3.25 million.
"The Phoenix home is built into the side of the mountain, offering breathtaking views of the city. Wright designed the home specifically for the rocky, uneven site," the Frank Lloyd Wright Foundation writes of the home.
PHOTOS: Last home designed by Frank Lloyd Wright in Phoenix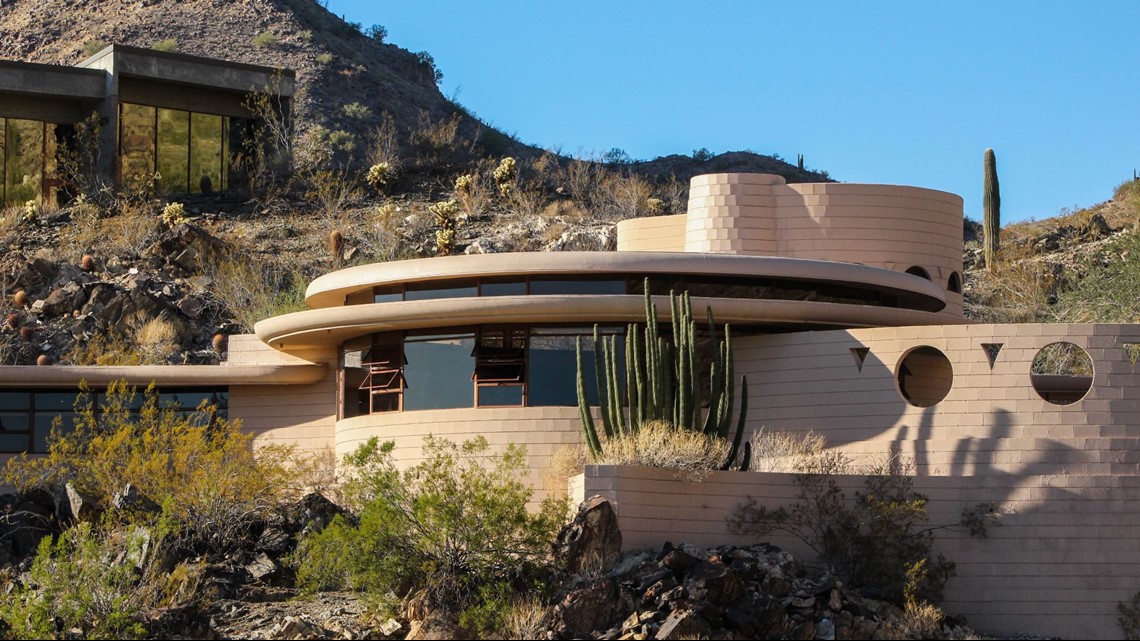 "Brought back to life"
A little big piece of Arizona history was listed for $6.2 million in 2018.
As a former hotel for guests and then miners working in the Little Daisy Mine, the Little Daisy in Jerome had 40 rooms and opened on Jan 1, 1919, according to the listing.
Now, it's a 12,000-square-foot private residence with eight bedrooms, seven bathrooms and "every modern amenity steeped in old world charm."
And it comes with "incredible views of the entire Verde Valley, Cleopatra Hill & Jerome" which provide the "perfect backdrop for an experience of a lifetime at The Little Daisy."
"Fitzgerald's posh Paradise Valley pad"
Larry Fitzgerald's posh Paradise Valley pad was quite the catch when it hit the market in 2018 for $5 million.
The double-gated "compound" is just under two acres and comes with five bedrooms in the 8,000-square-foot main house and two in a 1,100-square-foot guest house.
The backyard has two pools, a spa, slide and waterfalls all connected by a lazy river.
And of course there's a home theater and a garage big enough to hold a dozen cars.
PHOTOS: Look inside Larry Fitzgerald's posh Paradise Valley pad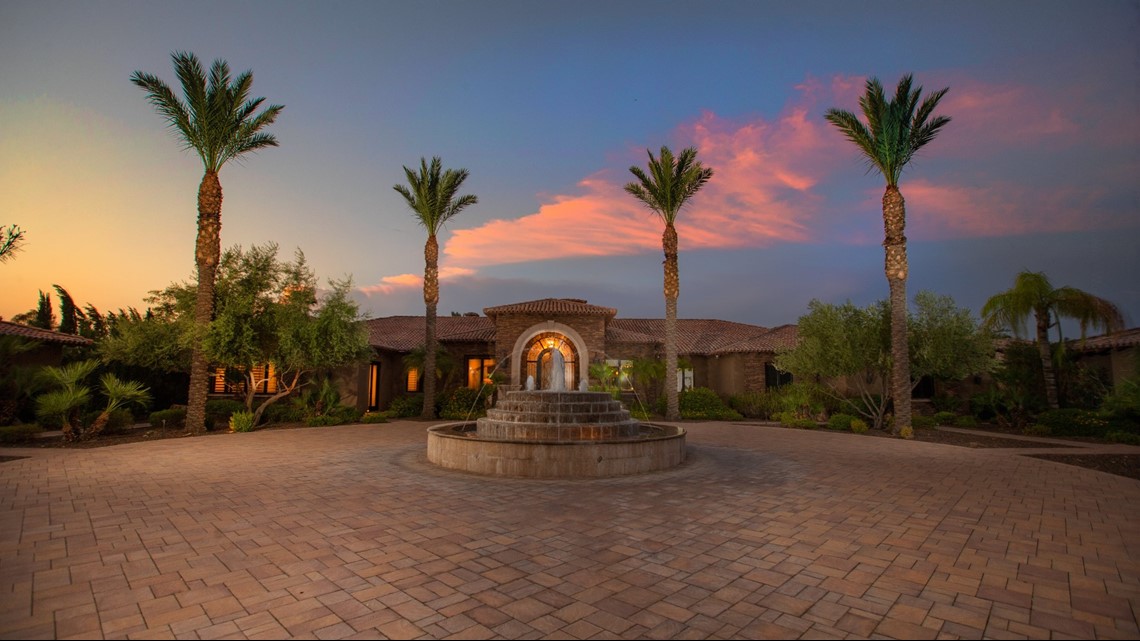 "Live like an Olympian"
The most decorated Olympian of all time listed his Paradise Valley home for just over $4 million in 2018.
According to the listing, Michael Phelp's former 6,000-square-foot home has 5 bedrooms, 7 baths and plenty of other amenities including a beautiful-looking pool.
He later sold it for $3.5 million back in November.