PHOENIX - The Phoenix Suns have had a busy offseason, a bit of an overhaul between coaching and the roster, which is almost an entirely new look with only a handful of returners.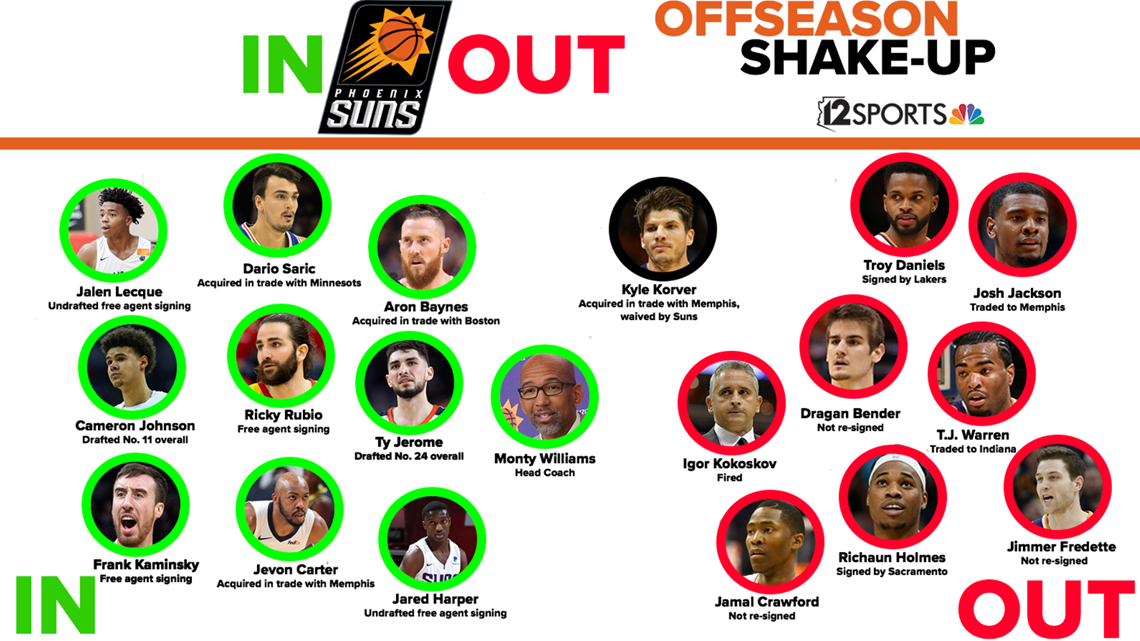 It was a busy offseason, but was it a success?
Our 12 Sports Staff gives their grades and analysis of the Suns offseason as a whole.
Bruce Cooper, Sports Anchor
It's been an NBA offseason unlike any other. Over $4-billion spent on free agents with a lot of big name talent moving to different teams throughout the league. It's created a buzz and frenzied excitement for fans in a number of NBA markets.
It's too bad Phoenix is not one of those markets. The Suns did not land a single big name or franchise changing player.
They improved their point guard position with the signing of Ricky Rubio. But Rubio doesn't push the needle the way D'angelo Russell would have. I thought the
Suns missed out on a golden opportunity to bring in a dynamic young talent like Russell. Instead they sat back and watched the Golden State Warriors (the winningest team in the league the last five years) add him to their roster.
The Suns improved their perimeter shooting and added some much needed help at power forward. But they didn't improve enough to be a player in the loaded west.
Chierstin Susel, Sports Reporter
Draft Day left fans feeling like a kid on a Christmas who opened all his/her presents and didn't quite get what they wanted. There was still a glimmer of hope that the expensive gift at the top of their list was still hiding behind the tree, aka free agency. There were in fact more presents to be opened, but they never got the thing they wanted the most. Better luck next year, kid.
Cameron Cox, Sports Anchor, Reporter
The Suns followed their offseason plan to perfection. They hired the top head coaching candidate In Monty Williams, Robert Sarver has reportedly backed off, they got a starting point guard in Ricky Rubio, drafted point guard Ty Jerome who can develop, drafted a great 3-point shooter in Cam Johnson, added veteran power forwards Dario Saric and Frank Kaminsky and they re-signed Kelly Oubre.
So why does this offseason feel so incomplete? Because they didn't land a BIG name free agent. Suns fans watched other teams MOVE mountains to get better now, while their team played it safe and conservative. I have no problem with what the Suns did. They will be a better team this season, but they could've been a great team. Instead – we're all still waiting for that to happen.
Matt Johnson, Senior Sports Producer
Much like that first car you got when you turned started to drive, the Suns offseason moves were a welcome sight and were needed to get the team around town. It's just not the shiny Corvette all the other cool kids got. The Suns seem to still be shopping in the clearance aisle while the playoff contending teams go for broke on the big dollar items.
Cam La Fontaine, Social/Web Producer
I don't know what people are mad about. Minus trading the 6th pick, I thought this was the best possible offseason the Suns could've had.
I never expected the Suns to nab a big name free agent, I never had any hope they would get D'Angelo Russell. Obviously fans are mad because they apparently "didn't want him" but they weren't getting him anyway I don't care who says what.
You've got to win more than 20, 30 games before you can attract a big name and the team still improved at EVERY position. I had four offseason goals for the Suns: 1) Hire a better coach, 2) draft Coby White or Darius Garland, 3) sign a veteran point guard (Ricky Rubio) and 4) do whatever it takes to re-sign Kelly Oubre Jr. I'll take 3 out of 4. They won't win 40 but they'll win 30 and that's a start.