PHOENIX — President Donald Trump made a trip to Arizona on Tuesday, where more than 58,000 people have contracted coronavirus and more than 1,300 have died of the virus.
But the focus of Trump's trip was not on the deadly disease: He visited Yuma to survey the border wall and mark the completion of the 200th mile of the border wall system.
Trump then headed to Phoenix, and he delivered remarks at a Turning Point Action event directed towards students hosted at Dream City Church.
Sen. Martha McSally, Reps. Debbie Lesko and Andy Biggs and Gov. Doug Ducey were among the politicians in attendance throughout Trump's visit to Arizona.
The president touted a recovering economy amid the COVID-19 pandemic and mocked his Democratic rival Joe Biden as he rallied enthusiastic supporters.
"You saw the jobs number, the biggest ever," he said. " We're going to have a very good third quarter."
WATCH TRUMP'S FULL SPEECH HERE:
Trump urged his supporters to make a strong showing come November as Arizona has proven to be a battleground state.
Despite hailing the economic accomplishments as states continue the reopening process, Trump was mum on the rising coronavirus cases across Arizona.
As the president spoke, tensions between supporters, police and protestors escalated.
Protestors did not stay in the designated free speech zone and eventually headed towards the street that the president's motorcade used to enter the church.
Police say two of their officers were assaulted by protestors and officers responded by calling the group part of an unlawful assembly.
Phoenix PD fired flash bangs, pepper balls and shot pepper spray at the crowd as the group broke up.
However, no arrests were made.
Police say they are still investigating the incident and that all the officers involved were wearing body cameras.
Here are the latest updates with Trump's visit to Arizona:
Air Force One has departed from Sky Harbor International Airport.
President Trump has left the podium and his motorcade is returning to Air Force One.
A protest outside the rally has been declared an "unlawful assembly" by Phoenix police and people have been ordered to leave.
President Trump has taken the podium at the rally.
Trump touted high employment numbers since he's taken office and chastised Democrats for pushing for the removal of Confederate monuments among many topics to rally supporters.
The president's motorcade is heading towards Dream City Church as other speakers take the podium ahead of his arrival.
Air Force One Landed at Sky Harbor Airport. He's landed about 15 minutes early ahead of the Students for Trump rally.
Photos from inside Dream City Church show a pretty large crowd waiting for the president to speak. Very few people were wearing masks as the church filled up.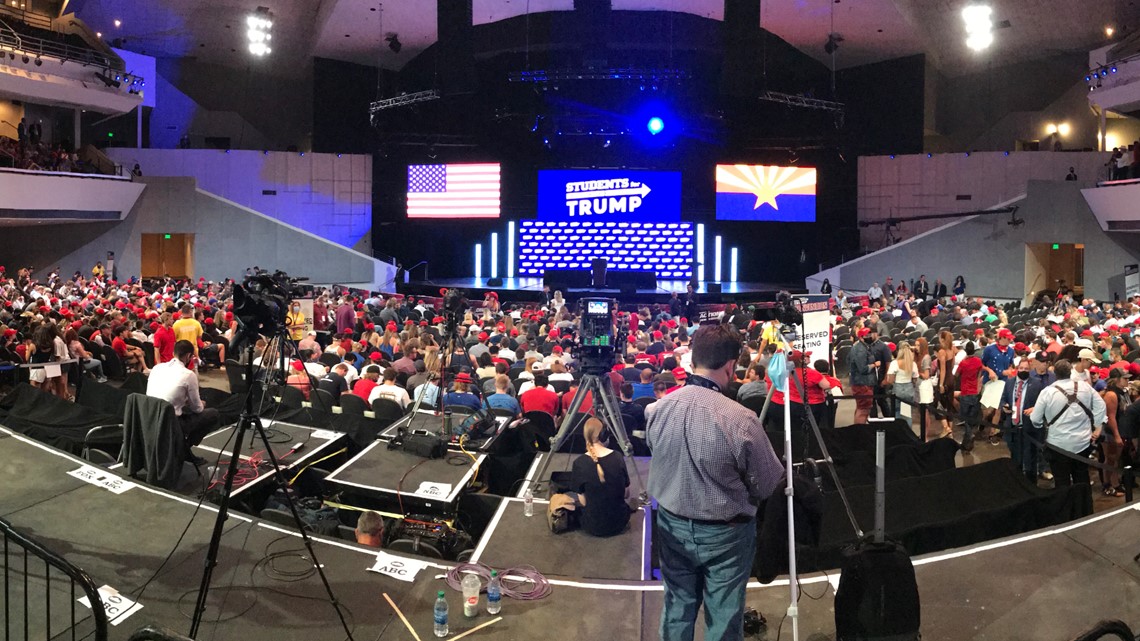 There were still some supporters waiting outside.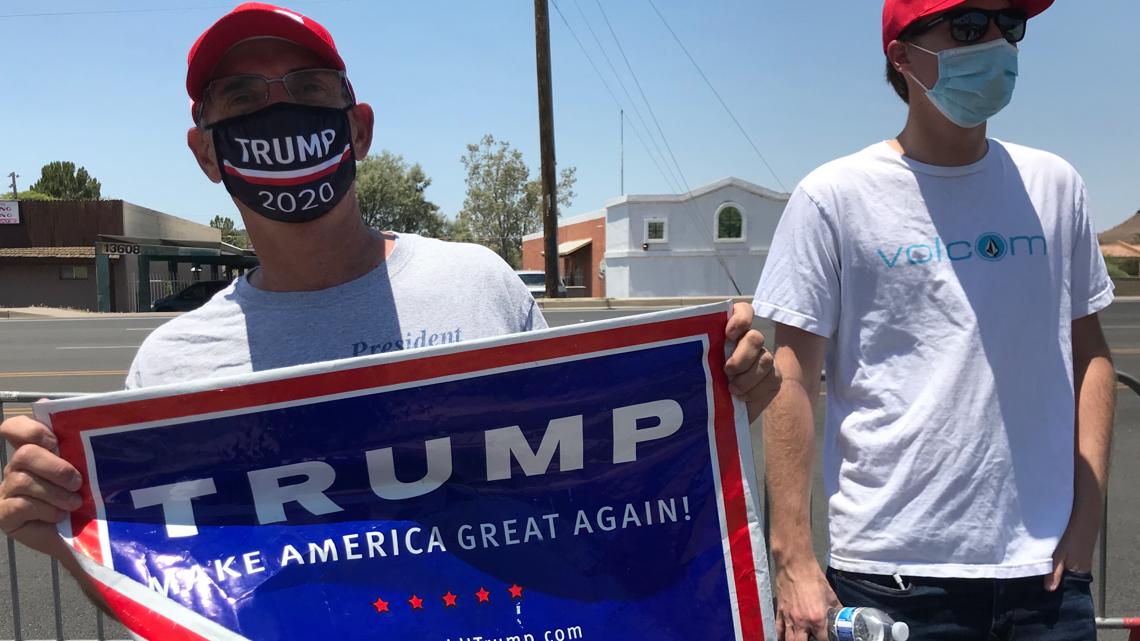 A small group of protesters gathers outside Dream City Church in the designated "Free Speech Zone."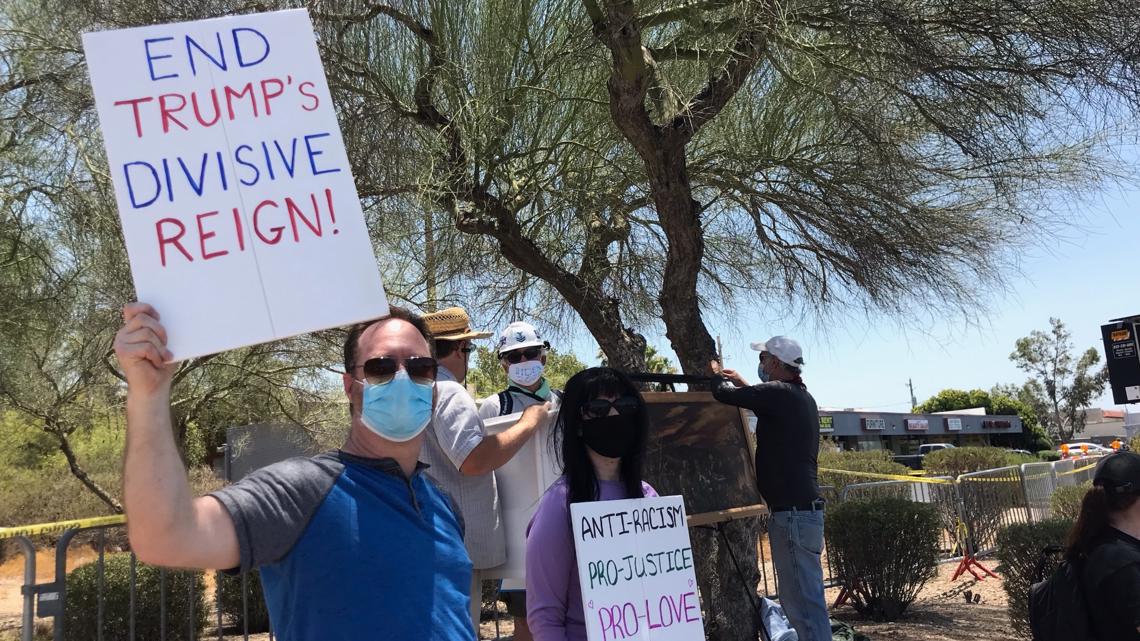 12 News' Alexa Block captures shot of Phoenix police lined up at the church.
Trump and other Arizona lawmakers participate in a roundtable.
President Donald Trump lands in Yuma. He is expected to participate in a roundtable briefing on border security and recognize the 200th mile of the new border wall.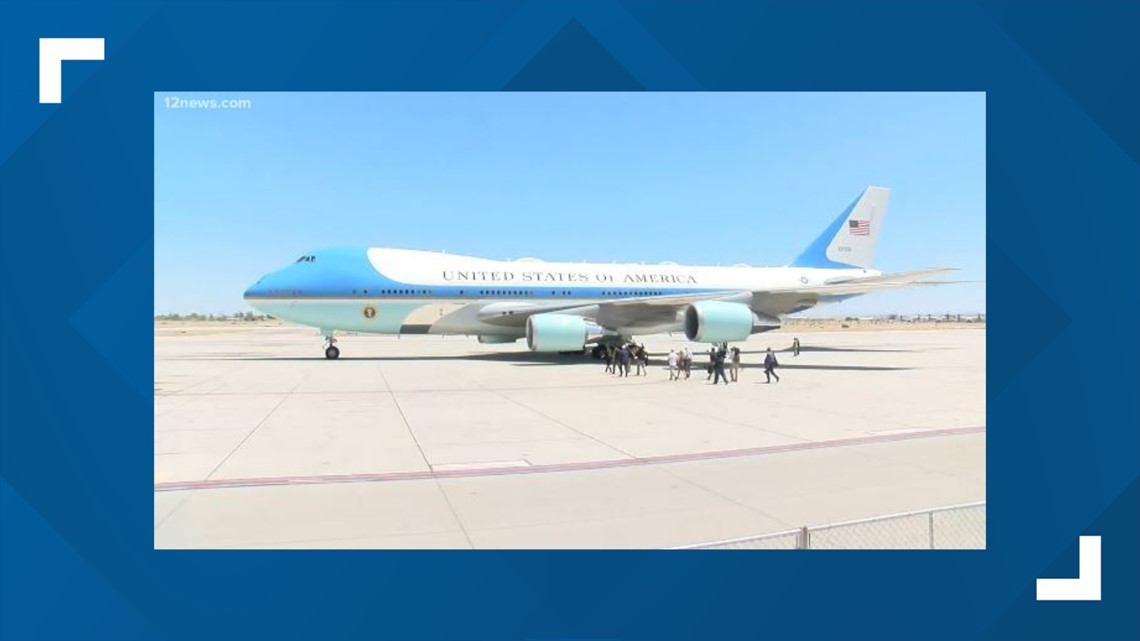 Phoenix police says two lanes of northbound Cave Creek Road near Sharon Drive will be restricted due to Trump's visit.
Doors open at Dream City Church.
President Donald Trump departs Washington, D.C. for Yuma, the White House says.
Starting at 4 a.m. (Arizona time):
Supporters line up at Dream City Church ahead of President Donald Trump's rally.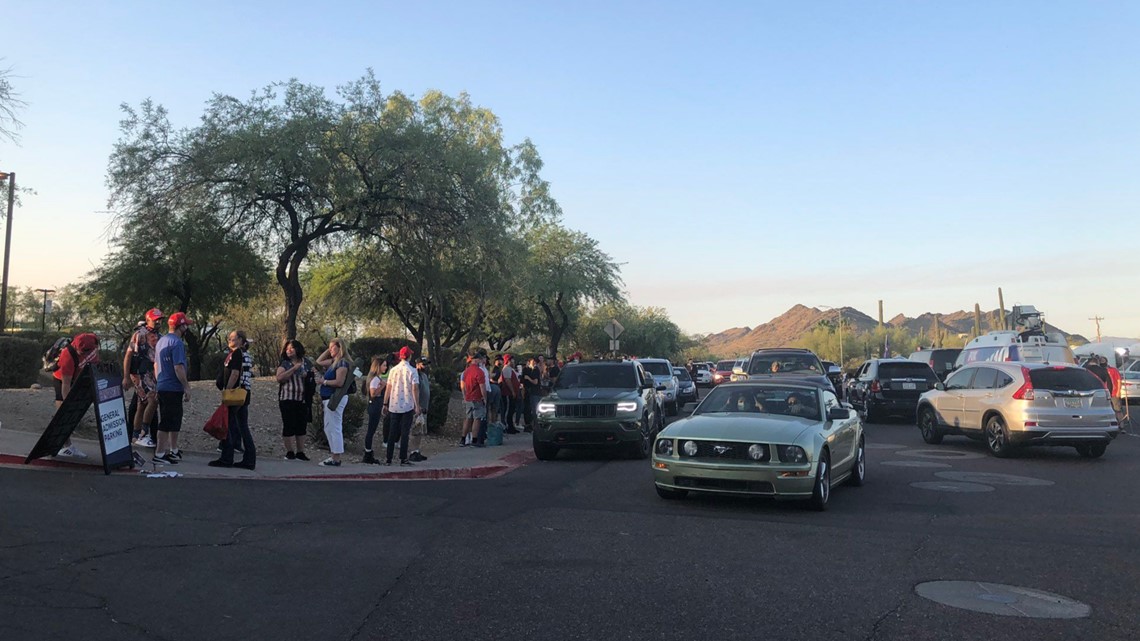 Here is a livestream from Sky 12 showing supporters lined up outside Dream City Church.
12 News will post updates related to the president's visit here. Stay tuned for the latest information.
MORE RELATED ARTICLES: