PHOENIX — Arizona Gov. Katie Hobbs won't call a special session of the Legislature to repeal the state's Civil War-era ban on abortion, now that a court has ruled that a new 15-week ban takes precedence, a Hobbs spokeswoman said Monday.
During her campaign, the Democratic governor had pledged to call the special session "on Day One" in office, which was Monday.
When Hobbs made the pledge, a lower court had allowed Arizona's near-total 1864 ban to take effect, after the U.S. Supreme Court struck down a woman's right to an abortion.
But late Friday, the Arizona Appeals Court cleared up the uncertainty. The three-judge panel ruled unanimously that Arizona doctors couldn't be prosecuted under the 19th-century law, enacted when Arizona was still a U.S. territory.
The decision "made the special session unnecessary," Hobbs spokeswoman Josselyn Berry said via text message.
Hobbs was sworn in Monday morning as Arizona's 24th governor, the first Democrat to occupy the office since 2009.
Ducey Leaves Hand-Written Letter
Outgoing Republican Gov. Doug Ducey, stepping down after the maximum two four-year terms, left Hobbs a hand-written letter.
"I know you will serve the people of Arizona well," Ducey wrote. "I want you to know I wish you only the best."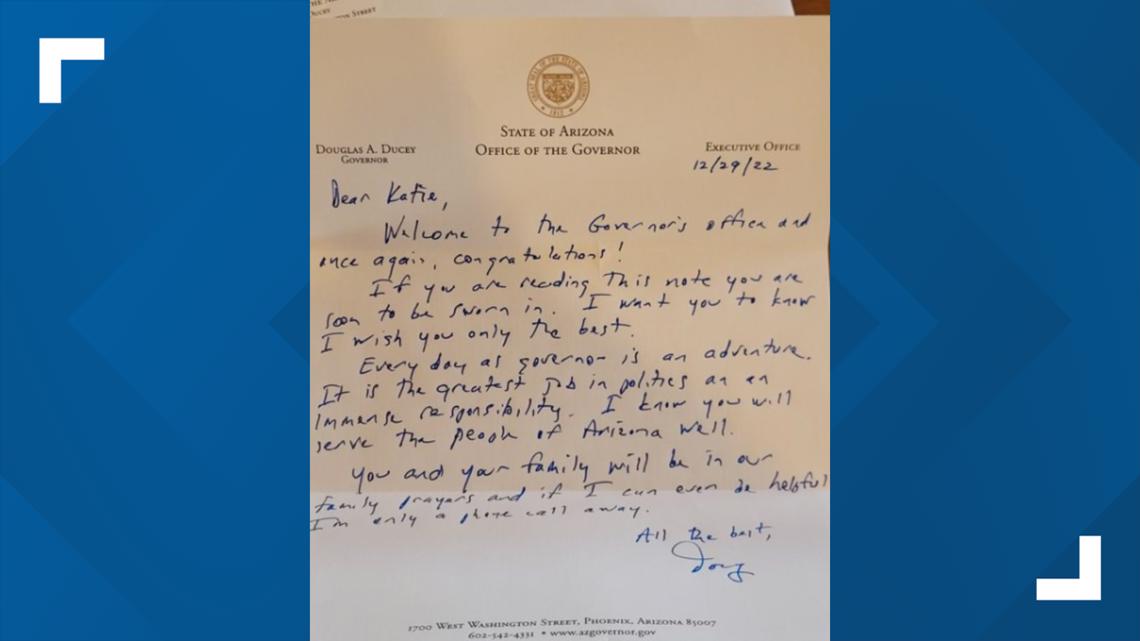 The gracious note comes after Ducey, as co-chair of the Republican Governors Association, spent at least $9 million on TV ads to defeat Hobbs.
Hobbs' Republican opponent, Trump acolyte and former TV newscaster Kari Lake, has refused to concede. A lower court judge has rejected all 10 of her claims challenging her 17,000-vote defeat.
What's next for Hobbs?
Hobbs, who is 53, is a former secretary of state and Senate minority leader.
She's expected to provide more specifics on her governing agenda in a speech Thursday at the formal inauguration of Arizona's executive officers at the Capitol.
On Monday, Hobbs will address the Republican-controlled House and Senate to kick off the new legislative session.
Four days later, on January 13, we'll find out how Hobbs wants to spend your tax dollars in her proposed executive budget.
Special session on spending limit?
Rumors have swirled about potential special sessions that could be called.
Last year ended with Ducey failing to call a special session on lifting the ceiling on public school spending, despite claims by many lawmakers that he had pledged earlier in the year, as part of a budget deal, to call the session.
One way or another, the spending limit has to be dealt with.
Within two months or so, Arizona's K-12 public schools won't be able to spend more than a billion dollars the Legislature gave them last year, because of an archaic cap on school spending.
If the limit isn't lifted, school districts warn that they will be thrown into financial chaos.
Berry, the Hobbs spokeswoman, said she had no update on whether the governor would call a special session to lift the spending limit. "Not as of right now," she said.
Impact of divided government
Politically, Hobbs might have the upper hand on Republicans by calling a special session to vote only on lifting the spending cap. It would put a focus on how lawmakers vote on that one issue.
It might also allow the Democratic governor and Republican Legislature to start the new year with a show of bipartisanship.
Goodwill could be hard to find at the Capitol this session.
This is the first time in 14 years that control of state government has been divided. Republicans enjoyed virtual single-party rule the entire time.
Hobbs has two things going for her: Republicans have slim majorities, which might allow her to peel off a couple of needed votes, and the governor has the all-powerful veto pen. Hobbs can reject anything the Legislature passes.
Latest Arizona news
Catch up on the latest news and stories on our 12News YouTube playlist here.