Retired fighter jock Martha McSally is ditching the "salty" talk as she heads to a big-money Republican fundraiser Thursday night for her U.S. Senate campaign.
The setting for the fundraiser is the Scottsdale Airpark hangar owned by Arizona Diamondbacks owner Ken Kendrick and wife Randy Kendrick, a consummate political insider.
The host committee includes Arizona Public Service chief executive Don Brandt, a key fundraiser for Gov. Doug Ducey and Sen. John McCain; Tucson auto dealer Jim Click, one of Arizona's top Republican donors; and attorney Paul Gilbert, former Arizona campaign co-chair for Mitt Romney's presidential campaign and a close friend of Romney's.
The Diamondbacks will be well represented by CEO Derrick Hall; Hall of Famer Randy Johnson; and former outfielder Luis Gonzalez, a senior adviser to Hall.
President Donald Trump won't be there, but he could create some awkward moments for the Tucson congresswoman.
Randy Kendrick funded a "never Trump" super PAC in 2016, after she and her husband's favored GOP candidate for president, Florida Sen. Marco Rubio, dropped out.
McSally has been angling for Trump's support in her U.S. Senate primary against former state legislator Kelli Ward and former Maricopa County Sheriff Joe Arpaio.
Randy Kendrick and McSally might bond over a shared aversion to Obamacare. Kendrick is a major Koch Brothers network donor who is credited with funding the first dark-money campaign to take down the Affordable Care Act.
McSally's "grow a pair of ovaries" comment in her campaign announcement video was the tame version of her "let's get this f---ing thing done" order to fellow House Republicans last May, before they voted to kill Obamacare.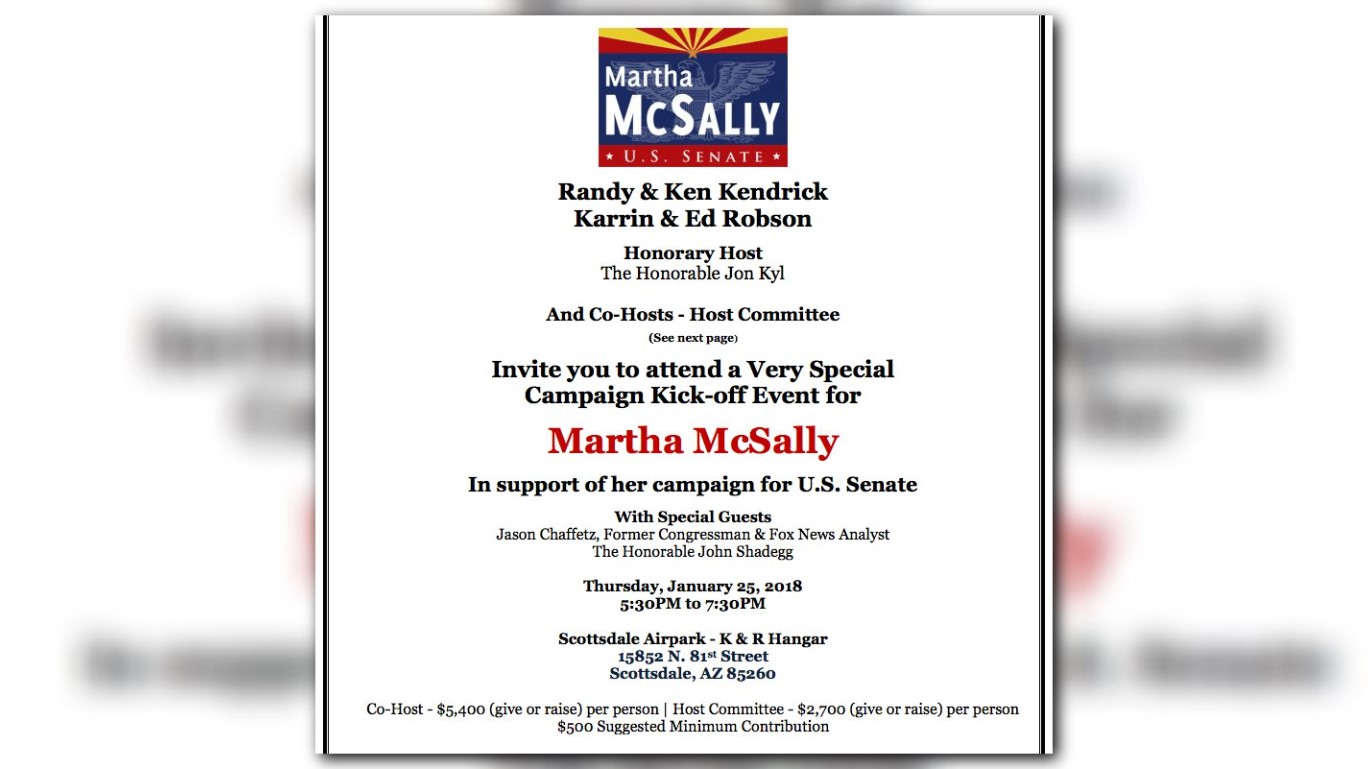 Kendrick notes in her emailed invitation to the fundraiser, which was obtained by 12 News, that she is a daughter and stepdaughter of fighter pilots:
"My own Dad was killed in a T-33 jet fighter in 1956. And, I just buried my stepfather at Arlington this past fall. He commanded the Night Owl Squadron, all night missions over the north in the Vietnam War. The bravery and skill of these men--- and now women!---feels extremely personal to me."
You won't hear the "ovaries" comment -- or "BS excuses," "d---ing around" or "getting this f---ing thing done" -- in McSally's first ad on broadcast TV, expected to air on Fox News and local stations next month.
McSally has watered down the "salty" language, as she calls it, that she's sprinkled liberally over the opening days of her campaign.
McSally has proved to be a strong fundraiser in her two terms representing a southern Arizona swing district. She had $1.5 million in cash on hand as of last October.
Ward said she raised $1 million through the first nine months of last year, with $250,000 in cash on hand. That was before her short-lived alliance with ousted Trump adviser Steve Bannon fell apart.
Bannon and radio host Laura Ingraham endorsed Ward at an October "campaign kickoff." It's unclear how much money that pulled in.
Arpaio, however, is in a financial league of his own. The 85-year-old disgraced lawman pulled in more than $10 million, largely from small donors across the country, in his failed bid for a seventh term as Maricopa County sheriff in 2016.
That haul could fund three or four campaigns for Congress.
President Trump's pardon spared Arpaio the possibility of jail time for a conviction of criminal contempt of court. Arpaio is now fighting to have the conviction erased.