PINAL COUNTY, Ariz — A ballot recount in Pinal County found 507 ballots in the state's attorney general race previously uncounted in the county's original canvass.
"There has been a lot of misinformation shared about these results," Pinal County Attorney Kent Volkmer said.
Here are three things you need to know:
What caused the vote total difference?
She believes the error wasn't caught earlier because the canvass started before all election data could be properly assessed.
"I believe the canvass was done prematurely," Roll said. "No opportunity was taken to look at [ballot] numbers carefully."
Other ballot discrepancies included:
29 early ballots found in the recount that wasn't tabulated in the original canvass
24 ballots counted as provisional ballots inadvertently counted as early ballots in the recount
63 ballots with unclear marks not subject to adjudication
"We screwed up ... We made mistakes," Volkmer said.
The total difference in votes found in the recount did not change the outcomes of any state or local election.
Why didn't news of the issues drop sooner?
Former Republican attorney general candidate Abe Hamadeh questioned the county on Twitter, asking why the county didn't reveal these problems during his trial to overturn the results of the election.
The reason, it turns out, was due to an Arizona court order.
Pinal County entities were ordered on Dec. 5 to not discuss the recount with anyone until it was completed, election officials said.
"Effective Dec. 5, Apache, Cochise, Coconino, Gila, Grahm, Greenlee, La Paz, Maricopa, Mohave, Navajo, Pima, Pinal, Santa Cruz, Yavapai and Yuma counties shall not release to the public the results of the recount, including daily vote totals, until the court has certified the results ... All participants of the recount keep confidential any information they may acquire that would disclose the vote of any elector and destroy any notes that would disclose the same," Volkmer said, reading the court order verbatim.
See a timeline of election-related events created by Pinal County here: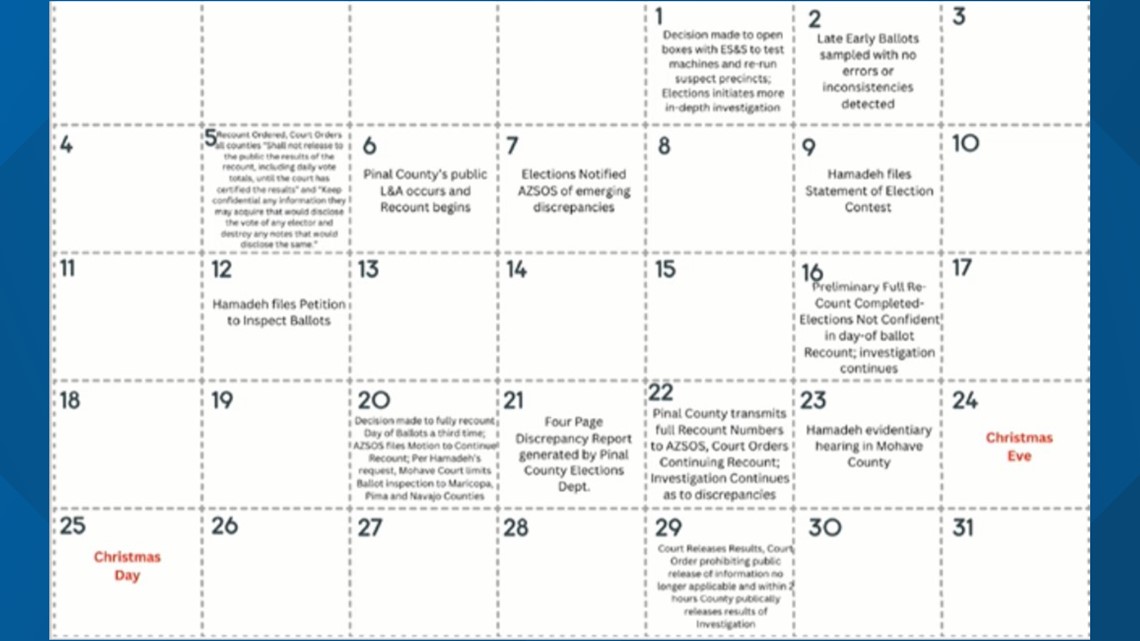 Another lawsuit on the way
The county's explanation comes as Hamadeh files a legal motion for a new trial in response to what he called "shocking revelations."
"Kris Mayes will either resign or be removed from office," Hamadeh said.
His previous lawsuit was struck down by a judge due to a lack of evidence.
Arizona politics
Get the latest Arizona political news on our 12News YouTube playlist here.