PORTLAND, Oregon — On the corner of Southeast 83rd Avenue and Tolman Street, George Collins spent Monday replacing the boards on his front deck. Recently, he landscaped his backyard and painted the interior of his house. He hopes all his work will pay off when he puts his house on the market in the coming weeks.
"I'm at my wits' end," Collins said. "That's kind of why I'm selling. I just don't want to deal with it anymore."
Collins pointed to the old RV camper illegally parked across the street from his house. He said it's been there for more than a year. For the last nine months, Collins said he's been asking the city of Portland to remove the trailer, but to no avail. In the meantime, he said the problems surrounding it have continued.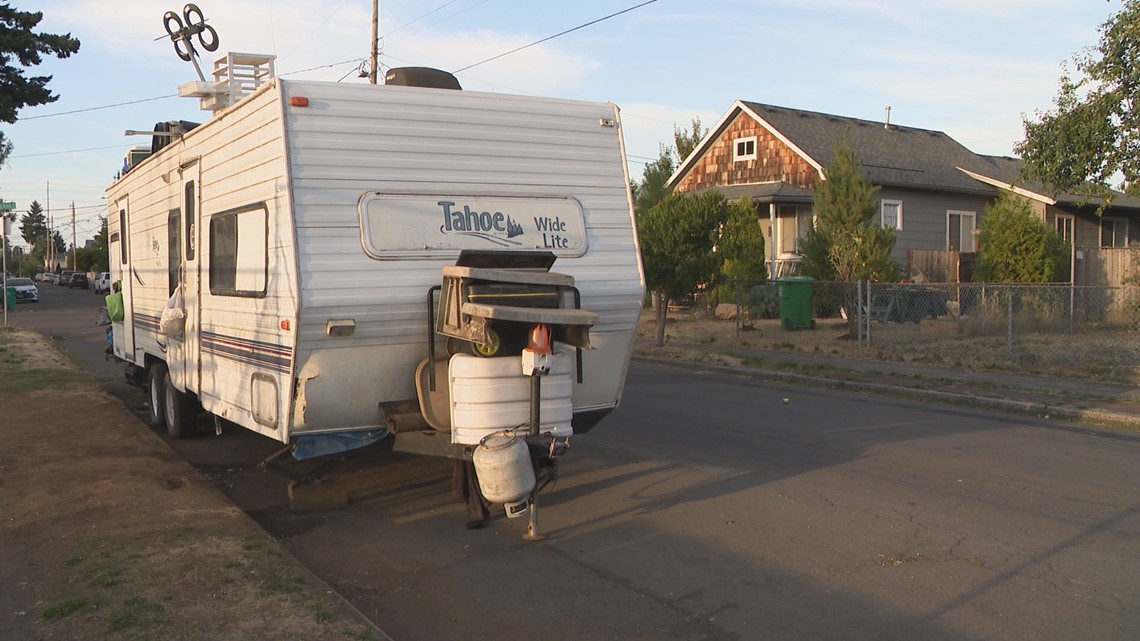 "(The owner) bangs on his RV at random times of the day and it wakes me up all the time so I'm losing sleep over it," Collins said. "He disposes of his human excrement down the drain. When this was all real bad, there were rats I would see all the time. I've killed three or four in the last four to five months."
The man living in the RV told KGW he was a veteran.
"As soon as I get my pension, I'm out of here," the trailer owner said. "I'm not part of this, OK? So don't pigeonhole me with all these drug addicts ... I don't do that."
The issues Collins is dealing with are city-wide problems, though his part of Southeast Portland has seen quite a bit of them. Last month, neighbors on Southeast 83rd Avenue and Franklin Street complained after a line of trailers took up residence along the narrow, dead-end street. Neighbors said they witnessed a garbage truck and a school bus try to get through, only to turn around because of the trailers. Those trailers are gone now.
A little over a week ago, Collins said a crew with the city's Impact Reduction Program posted an illegal campsite notice near the trailer on his street. He said the crew also helped clean up some of the mess surrounding the trailer, which he said they had done before, adding that a city employee told him they would return in a few weeks to assess the situation. Collins said what he really wants is for the Portland Bureau of Transportation (PBOT) to tow the trailer away.
"The city sees it and it's just not doing anything about it," Collins said.
KGW reached out to PBOT. A spokesperson confirmed they have received reports about the RV near Collins' home and offered this statement:
"With thousands of reports each year about people living in a vehicle the public right of way, we are not able to respond to each person who reports a concern. Nearly every day, we collaborate with our partners at other agencies, including the Portland Police Bureau, Portland Fire & Rescue and the Impact Reduction Program among others to determine which situations raise the highest risk to the public and the biggest impact to public safety and livability. We prioritize those areas."
For now, Collins keeps working on his house and paying his taxes. He hopes soon, he'll be going into a different county's coffers.
"It shouldn't be this hard," he said.