MESA, Ariz. — History has always been a subject 13-year-old Lauren Lofgran has been interested.
The seventh-grader at Stapley Junior High in Mesa recently did a social studies project focusing on the pilots of World War II and wrote about the emotions they were feeling during the Normandy invasion.
"I'm just in awe of how much how hard they worked and how scary it must have been," said Lofgran.
The teen trying to understand the immense pressure everyone must have felt that day with everything on the line.
"You knew this was it. If you didn't complete the operation successfully, that was it," she said.
Lofgran wrote from the perspectives of those pilots, including her great-grandfather Capt. Charles Ryan.
Capt. Ryan was a pilot in the U.S. Air Force and flew in the 446th Bomb Group.
Not only was her great-grandfather in the sky on June 6, 1944, but he was the one who led the thousands of aircraft over enemy land.
"He was like the lead bomber on D-Day," said Lofgran.
While she never met her great-grandfather, she said finding out his history and what he accomplished built a bond between them she will never forget.
"It's like a way of honoring them," said Lofgran. "Anyone that's been in the military, I am so happy for what they've done for our country like that just means a lot."
Her family has kept memorabilia from Ryan's time in the military. However, one piece of history that honored that fateful day which turned the tides of the war in favor of the Allies could only be found overseas.
It's a stamp marking the 60th anniversary that was commemorated by the Queen of England. It features the B-24 Liberator aircraft her great-grandfather piloted on D-Day.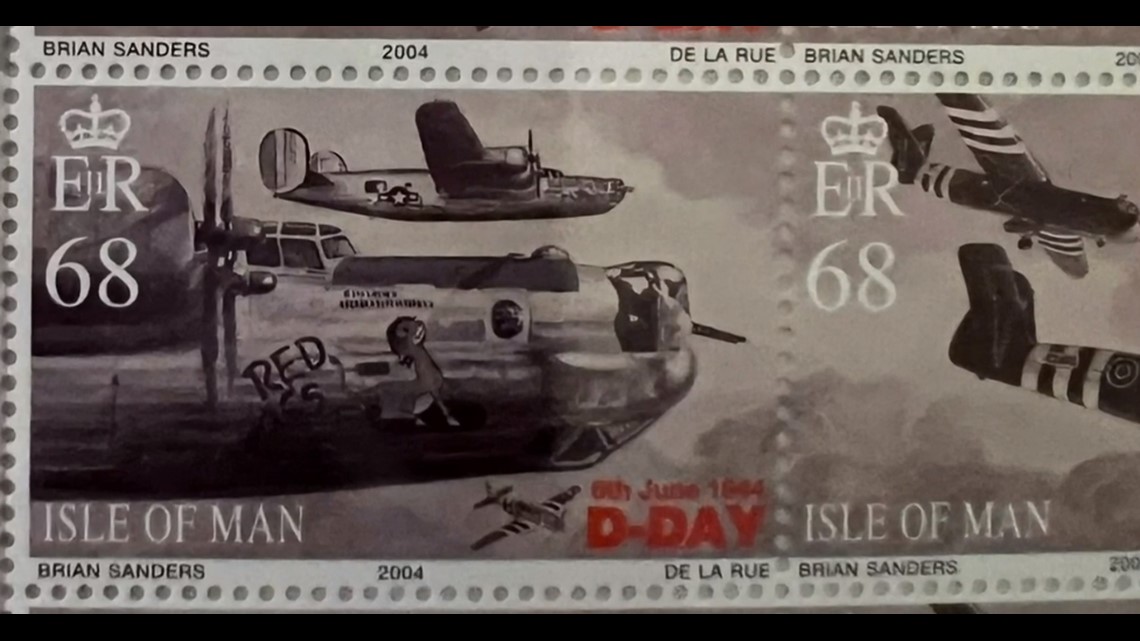 She heard about the stamp from her cousin who was also researching their relative. When Lofgran and her family took a trip to London in 2019, she came across what she described as an antique shop store.
While the Harry Potter figurines in the window initially caught her attention, it was the possibility of what else could be inside that was the true draw of the shop.
She and her mother asked one of the workers about the stamp. Describing it to them with as much detail as they could, both thought it would be a one-in-a-million chance that they had it.
It took the worker about 15 minutes of searching but the shop had the stamp the family was in search of.
"I was shocked I didn't think they would have it and I was just so happy," she said.
They were finally able to hold the stamp, a legacy of Capt. Ryan's bravery, in their own hands, knowing just how much it meant to their family.
Lofrgran said she called her grandmother, Capt. Ryan's daughter, to tell her what they found.
"I couldn't believe it," Dani Hall said. "When they went in and found that, I really burst into tears."
Hall said her father, like many who served during that time, never spoke much about his time during the war.
"My father's reaction was, it's just my job," said Hall.
So for her granddaughter to dig deeper into his life and find out so much about him, made her a very proud.
"It does a grandmother good when their grandchildren take an interest in their family history," Hall said.
The Lofgran family bought several of the commemorative stamps to bring back to their other relatives, so they too can remember the bravery of Capt. Ryan and the countless others who sacrificed everything for their country.
Up to Speed
Catch up on the latest news and stories on the 12News YouTube channel. Subscribe today.