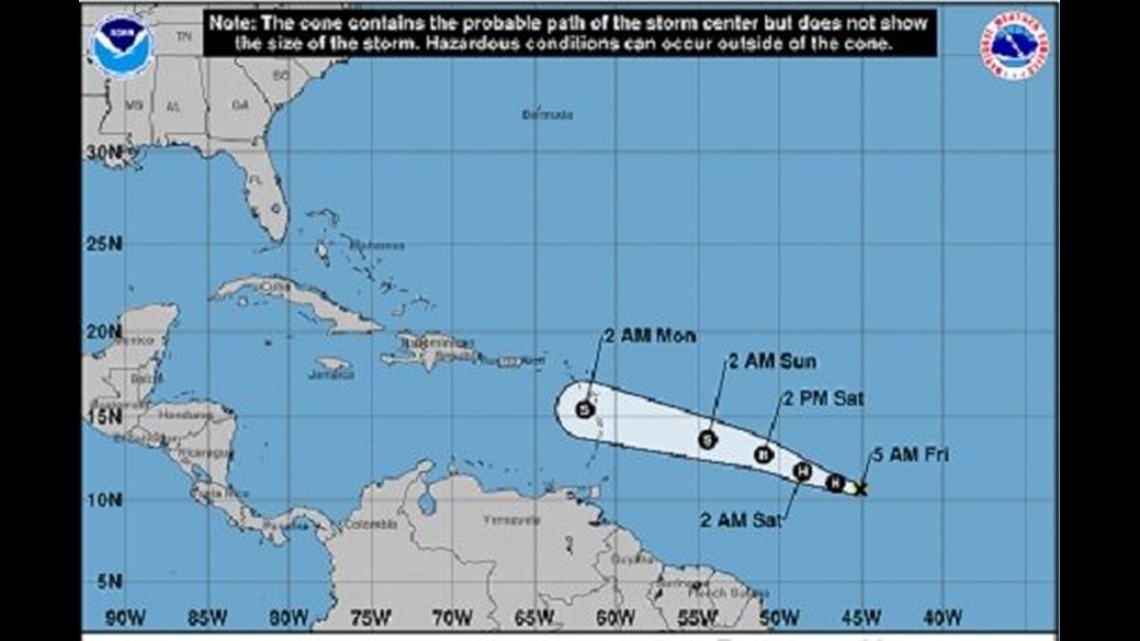 Beryl, a tiny, compact storm system in the Atlantic, became the season's first hurricane Friday. Meanwhile, a tropical depression formed in the afternoon off the U.S. East Coast.
Beryl is expected to still be a hurricane when it reaches the Lesser Antilles late Sunday or Monday, the National Hurricane Center said.
"Rainfall from Beryl will be the primary concern from the northern Leeward Islands to the Virgin Islands and Puerto Rico," said AccuWeather meteorologist Jake Sojda.
Enough rain may fall to cause localized flash flooding and mudslides, especially along steep hillsides and in mountainous terrain.
As of 5 p.m. ET Friday, Beryl had winds of 80 mph and was moving to the west at 15 mph. It was located about 965 miles east-southeast of the Lesser Antilles.
A hurricane watch has been issued for the island of Barbados and a tropical storm watch has been posted for Martinique, Guadeloupe, St. Martin and St. Barthelemy.
Hurricane-force winds from the hurricane extend only 10 miles from the center, with tropical storm force winds stretching only up to 35 miles.
The system may not degenerate until it reaches the vicinity of Hispaniola and the central Caribbean Sea.
Many worry Beryl will cause power outages across Puerto Rico given the fragility of the U.S. territory's electrical grid after Maria destroyed up to 75 percent of its distribution lines last year. Gabriel Lojero, a forecaster for the National Weather Service in San Juan, also warned that the storm is expected to dump up to 4 inches of rain and could unleash landslides.
"People have to remain alert," Lojero told The Associated Press. "The forecast could change for the better or worse."
"Maria caused a lot of changes in vegetation," he said. "The island is vulnerable."
Officials said they will open 424 shelters across Puerto Rico as a preventive measure and urged people to monitor the storm's progress.
A separate storm, Tropical Depression Three, formed off the Carolina coast Friday afternoon. It's expected to strengthen into a tropical storm and possibly a hurricane, but should stay well offshore with no impact to the U.S. East Coast.
As of 5 p.m. ET, the depression had winds of 30 mph and was located about 230 miles east-southeast of Cape Hatteras, North Carolina.
Following Tropical Storm Alberto, which developed during Memorial Day weekend, there were no tropical storms over the Atlantic basin during June for the first time since 2014, AccuWeather reported.