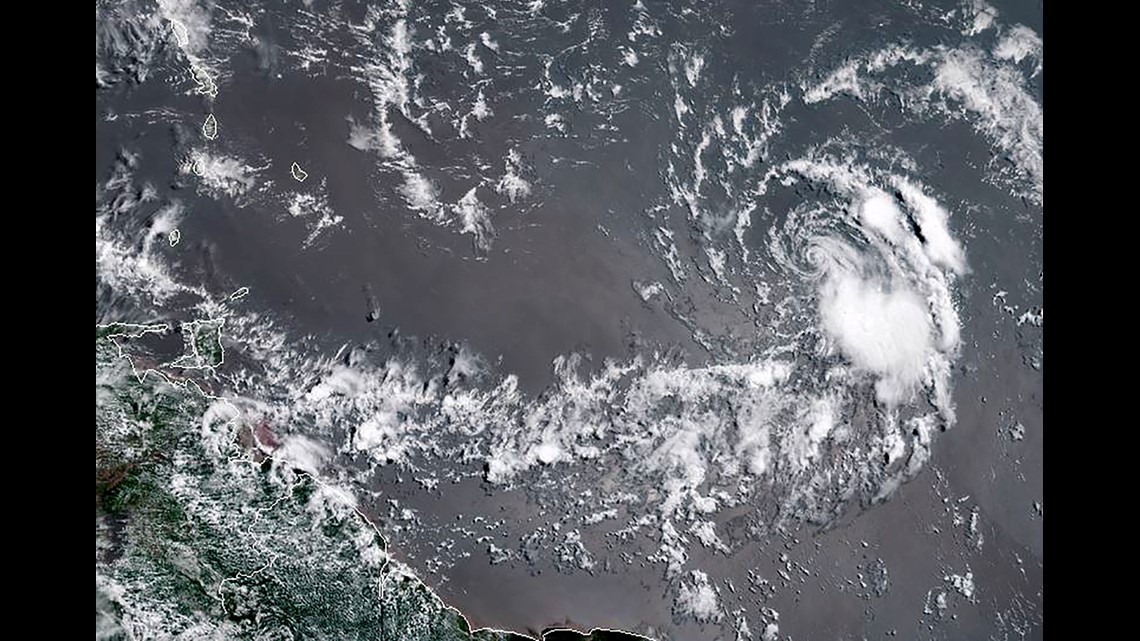 Hurricane Beryl weakened and was downgraded to a tropical storm on Saturday as it headed toward the Lesser Antilles.
Beryl, a tiny, compact storm system in the Atlantic that became the season's first hurricane on Friday, lost strength on Saturday, with maximum sustained winds of 50 mph, the National Hurricane Center reported.
The storm was about 605 miles southeast of the Lesser Antilles and was moving at 17 mph, forecasters reported at 5 p.m. Saturday.
"Beryl has continued to weaken today, but there is still a chance of some islands in the Lesser Antilles receiving direct impacts from wind and rainfall, where tropical storm warnings and watches remain in effect," forecasters reported.
"Gusty winds and locally heavy rainfall will also be possible across the remainder of the Leeward Islands, the Virgin Islands, and Puerto Rico through early next week," forecasters said.
A tropical storm warning remained in effect for Dominica and Guadeloupe, while a tropical storm watch was issued for Barbados, St. Lucia, Martinique, St. Martin, and St. Barthelemy, Saba and St. Eustatius and St. Maarten.
Meanwhile, a separate storm, Tropical Depression Three, that formed off the Carolina coast on Friday afternoon also was slowing down.
Forecasters said the storm was stationary and that little motion is expected during the next two or three days. The storm was located about 160 miles off Cape Hatteras, North Carolina, at 5 p.m. ET Saturday.
Maximum sustained winds remained at near 35 mph with some higher gusts, but the storm is expected to remain well off the North Carolina coast.
The tropical depression is forecast to become a tropical storm either Saturday night or Sunday.
Still, "swells generated by the depression are expected to increase and affect portions of the coasts of North Carolina and the mid-Atlantic states this weekend," forecasters said. "These swells could causelife-threatening surf and rip current conditions."