Tropical Storm Beryl is expected to bring heavy rainfall and gusty winds to Puerto Rico and other Caribbean islands – places still recovering from last year's deadly hurricanes – early in the coming week, National Hurricane Center forecasters said Sunday.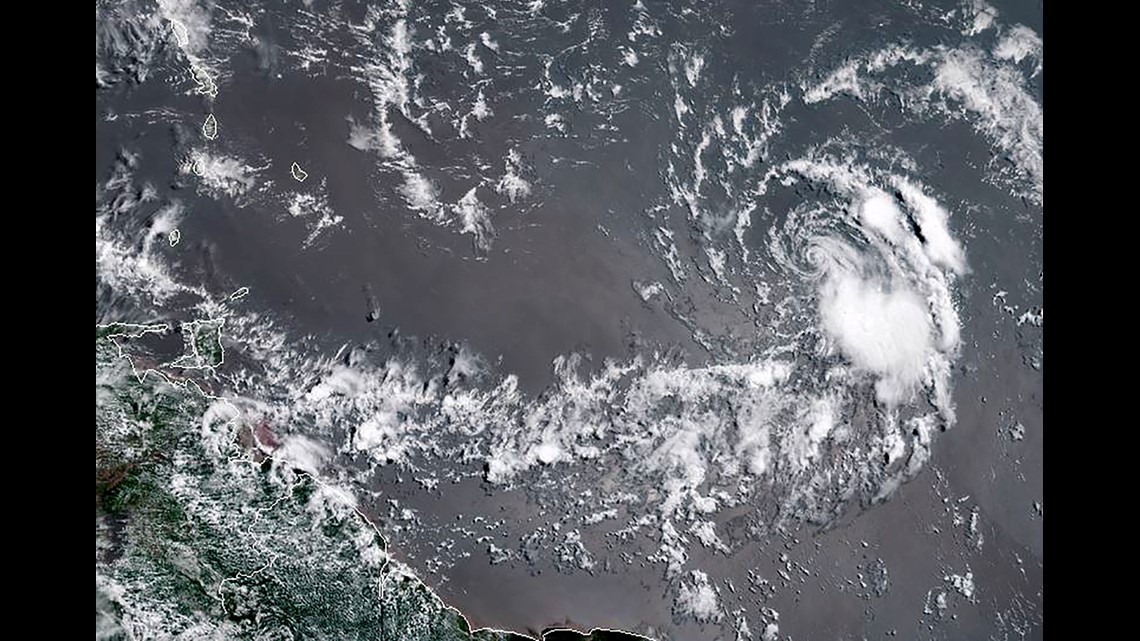 Although Beryl has lost strength and is expected to gradually weaken, forecasters said it will produce strong winds and heavy rainfall across the Leeward Islands, the Virgin Islands, Puerto Rico and Hispaniola through Tuesday.
"Tropical storm warnings and watches are in effect for portions of the Lesser Antilles, where Beryl is forecast to bring impacts from wind and rainfall to some of the islands beginning late today or tonight," the National Hurricane Center said in a statement.
Beryl is likely to result in rain accumulations of 2 to 3 inches in the U.S. Virgin Islands and Puerto Rico, and amounts in some areas could reach 5 inches.
More than nine months after Hurricane Maria, about 1,500 people in Puerto Rico are without power on the island; about 60,000 have only tarps for roofs.
Gov. Ricardo Rossello said an emergency declaration remained in effect in advance of the tropical storm. Rossello, who said the island could experience power outages, urged people without sturdy roofs to move in with relatives or a government shelter.
Dominican Prime Minister Roosevelt Skerrit told residents to store water because the government would shut down the water system as a precaution.
Meteorologist Marshall Alexander told The Associated Press that officials were worried about those living with tarps on their roofs after Maria slammed into Dominica as a Category 5 storm last year, killing dozens of people.
"We are in a vulnerable state," he said. "The system can still cause a lot of damage, regardless of whether it's a tropical storm or a hurricane."
As of Sunday, Beryl was producing maximum sustained winds of 45 mph with higher gusts.
After the storm passes through the Caribbean early this week, "there appears to be an opportunity for the remnants of Beryl to regenerate into a tropical cyclone when the system moves through the Bahamas and into the southwestern Atlantic," the National Hurricane Center said.
A separate system, Tropical Storm Chris, lingered off the Atlantic Coast on Sunday and is expected to remain in place for several days, according to forecasters.
No coastal watches or warnings were in place for Chris as of Sunday.
Swells generated by the system were expected to increase and affect portions of the coasts of North Carolina and the Mid-Atlantic states into early next week, forecasters said, and rip current conditions may be possible.
Contributing: The Associated Press