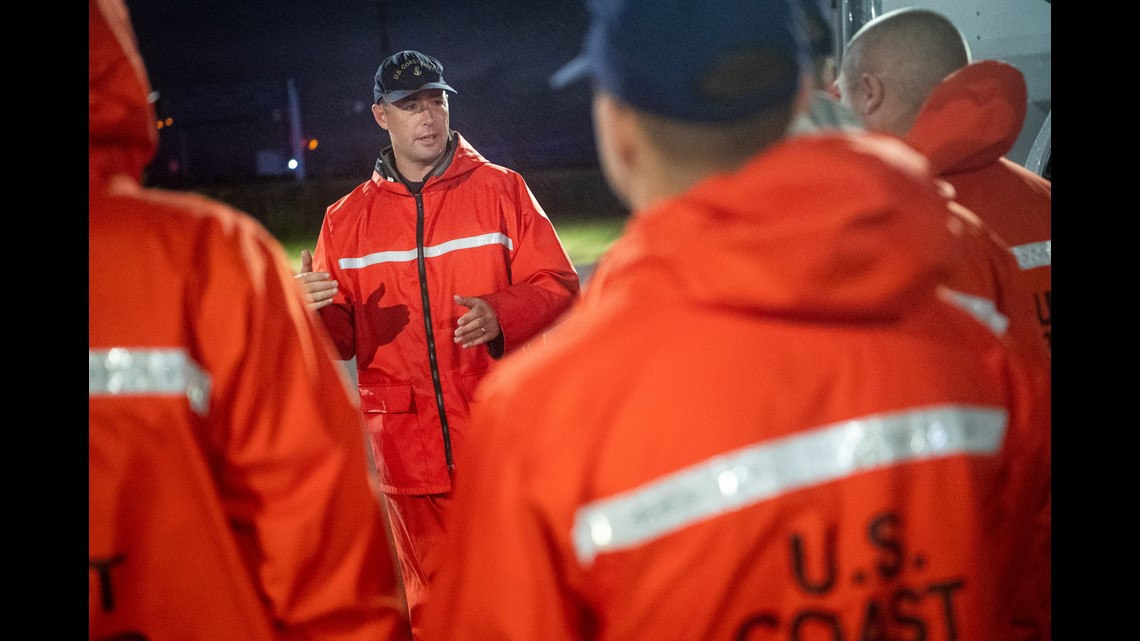 COLUMBUS COUNTY, N.C. – Chief Steve Kelly does the cabbage patch in the front seat of his lifted Ford pickup.
"Who let the dogs out?" he sings as he swings his arms in a circle. "Coast Guard, Coast Guard." The other members of his U.S. Coast Guard team from Kentucky laugh or roll their eyes in embarrassment.
Kelly just finished leading shallow-boat rescues of a couple and more than a dozen dogs stuck in rising floodwaters from Hurricane Florence. Josephine Horne and her husband, Jackie, were helped out of their flooding trailer into one of the boats. They stuffed what they could into large black trash bags and left their home behind, not knowing what they would return to.
Concern filled their faces after they were rescued from the river that used to be their street. A sense of relief took over after seeing Kelly's team unloading a boat filled with their white and brown beagles, which were also trapped in the rising waters.
"Thank God," Josephine Horne said, cupping her mouth and smiling. By the time family members came to pick up the couple, they were laughing with Coast Guard members.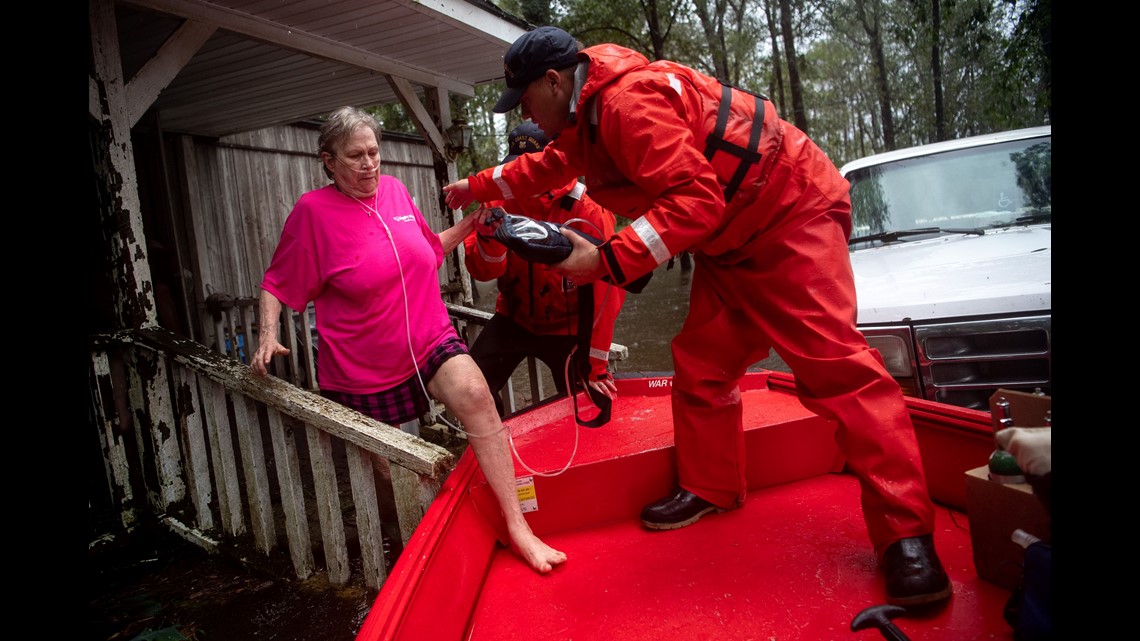 It's hard to stay upset if one spends more than a few minutes with Kelly. His bright smile and continuous jokes are returned with either laughs or embarrassed looks from his crew.
The tightknit group from Paducah is almost like a family and was called into North Carolina to help with Hurricane Florence. It's a familiar call. Like many in the U.S. Coast Guard, the crew helped with rescues during other hurricanes, such as Matthew, Katrina and Irma.
"When we meet these people, it's usually one of the worst days of their life," Kelly says. "Even though it's a tough situation, we try to make things a little easier, even if it's just taking their mind off of what's happening for a minute or two by talking about anything but their situation."
Like other military leaders, Kelly takes charge. Traveling down flooded roads with water up to the door of the truck, he balances talking on a conference call with his Coast Guard bosses, sternly navigating to the next mission and tasking members of his crew with finding a place for them to sleep. In between, he finds time to lighten the mood, at one point pushing his nose against a passenger window and making a funny face at one of his crewmen.
When they get a call about a motorist quickly sinking in floodwaters, the smiles vanish, and things get serious. Kelly firmly directs his crew. They all scan for the vehicle. It's a hectic rush to save a life.
"Woo!" Kelly says while on the phone. "They're safe. Another agency down the road found them."
Kelly led boat rescues in Hurricane Harvey in Texas last year, helping hundreds of people to safety. Those rescued often are moved from traumatized to smiling. Sports and children or grandkids are usually favorite topics after making sure the person doesn't need medical attention. Kids are known as "little Coasties" when aboard the Guard's 16-foot red punt boats.
During Harvey, Kelly created bonds with those he helped. He looks back on the photos and can remember small details and stories about his adventures with Houstonians. He even gave one Texas family his hotel room after their home was flooded and instead bunked with another Guardsman.
The positivity is almost contagious and doesn't infect just those the group saves.
"He's crazy. He's like a damn Energizer bunny," says Jason Murphy, a petty officer with Kelly's group. "But I'll tell you, it really does keep our spirits up. This job is tough, and it can definitely get to you."
Each member of the group plays his part: Murphy says he's known as the serious one, the "grump." Gavin Kershaw is their driver and always calm – even in the craziest situations. Blake Gwinn, a maritime enforcement specialist, loves adrenaline and has no problem in the face of any risky situations. And Kelly is their chief, acting both as a serious commander and father of sorts.
The group starts its day shortly before 6 a.m. By 8 p.m., the team was still trekking through flooded areas.
"The military is a serious place," Kelly says. "In times like this, where you're working really long days that can be extremely stressful, I think this is when you help the people around you feel a little less stressed.
"Plus," Kelly adds with a side smile, "I'm damn funny."