ST. PAUL, Minn. - Seventeen people, including four in Minnesota, are charged in a large-scale, international sex trafficking operation, where victims were treated like "modern day sex slaves," according to the U.S. Attorney.
The indictment, which was unsealed late Tuesday, revealed a huge operation that brought hundreds of female sex slaves from Thailand, with the promise of a better life, but then forced them into prostitution across several states.
U.S. Attorney Andrew Luger said Wednesday the operation was "highly sophisticated."
"They promised women in Thailand a chance at the American dream, but instead exploited them, coerced them and forced them to live a nightmare," he said.
Those charged include 12 Thailand natives and five people from the United States. Arrests were made in Minnesota, California, Illinois, Georgia and Hawaii. Luger said one suspect was previously arrested in Belgium and four remain at large.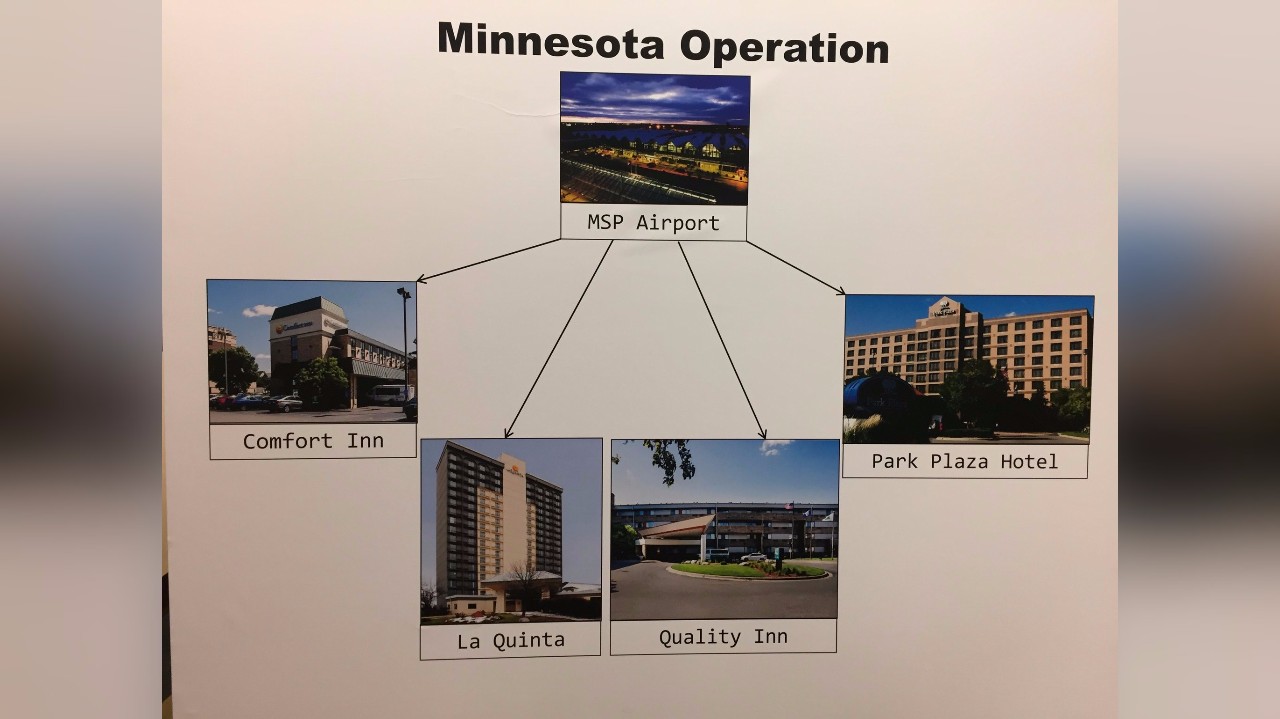 According to the indictment, the victims, all from Bangkok, were often from impoverished backgrounds and speak little English.
They were stripped of their freedom and used as sex slaves until they could pay off their "bondage debt," an amount ranging from $40,000 to $60,000 which was to be paid by the victims to the organization. Once that debt was paid off, the women were promised the chance to become U.S. citizens.
"The recruiters who met with them in Thailand were helpful, friendly and made the future in the United States sound bright," Luger said, "but it was all a lie."
The women were held at prostitution houses (located in Minneapolis, Chicago, Washington, D.C., Atlanta, Los Angeles, Las Vegas, Phoenix, Houston, Dallas and Austin, Texas) and only allowed to leave with a "runner," who worked with the organization. Runners were often times, in part, paid in sex, according to the indictment.
"The women were forced to have sex with strangers for many hours every day, even if the men were abusive," Luger said.
The victims endured physical and psychological abuse at the hands of the organization leaders. If they tried to escape, their families back home were threatened, Luger said.
The indictment states the sex trafficking scheme has been operating since at least 2009.
Homeland Security Special Agent in Charge Alex Khu said they are committed to finding and rescuing all victims involved in this case. At a press conference on Wednesday, Khu encouraged any other victims still out there to call 612-843-8801.
-- Sumalee Intarathong (aka: Joy), 55, of Liege, Belgium -- who is known as the boss/main trafficker
-- Chabaprai Boonluea, 42, Winder, Ga., house boss
-- Watcharin Luamseejun, 46, house boss
-- Pantilla Rodpholka, 31, Mount Prospect, Ill., house boss
-- Noppawan Lerslurchachai, 35, Lomita, Calif., facilitator
-- Khanong Intharathong, 44, Dunwoody, Ga., facilitator
-- Andrew Flanigan, 51, Winder, Ga., facilitator
-- Patcharaporn Saengkham, 41, Los Angeles, Calif., facilitator
-- Supapon Sonprasit, 31, St. Paul, Minn., facilitator
-- Thi Vu, 48, Atlanta, Ga., runner
-- Todd Vassey, 54, Lahanina, Hawaii, runner
-- John Zbracki, 59, Lakeville, Minn., runner
2382644