STRAWBERRY, Ariz. — Evacuations have been ordered for residents in Strawberry, Hunt Ranch, and Pine due to the Backbone Fire that began on June 16. The fire reportedly started due to lightning.
The wildfire has burned more than 32,757 acres and is 0% contained as of Monday morning, fire officials said.
The following communities are under the "GO" order and have been asked to evacuate:
Strawberry
Hunt Ranch
Pine
The fire is burning just above Fossil Creek and the Verde River convergence area, officials said. The fire is considered very active and is burning dry brush and grass.
Around 332 fire personnel are assigned to the fire. Air resources are being used to fight this wildfire due to the extreme terrain and limited access.
Current efforts are working toward keeping the fire to the east of the Verde River, according to fire officials.
Residents of Camp Verde are close enough to see heavy smoke as winds push to the south.
There have not been reports of any structures lost as of Sunday evening.
The Fossil Creek recreation area, which includes Waterfall Trail, Irving, Tonto Bench, Fossil Creek Bridge, Homestead, Sally May, Purple Mountain and Mazatzal, is closed.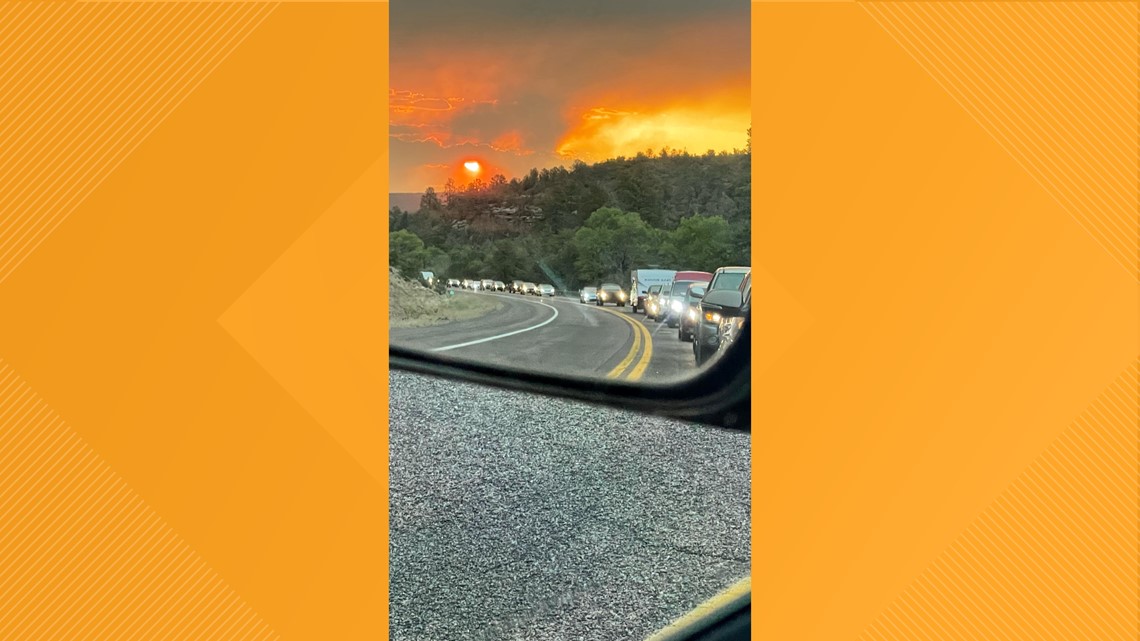 Hundreds of people evacuating those areas were pushed into Payson on Friday night. Several evacuees told 12 News that lodging was mostly booked up.
"I just grabbed stuff," said Sharyn Allen. "A few things."
She and her pups evacuated on short notice from their home in Strawberry. A few hours later, she was in a parking lot in Payson Friday night, waiting for a neighbor to bring her family's RV to drive down to the Valley.
"Hope I have a house left," she said.
The Red Cross has set up a shelter at Rim Country Middle School.
The Payson Event Center has been set up to take livestock and the Coconino Humane Society has been prepared to take horses. Dogs and cats will be cared for at the Humane Society of Central Arizona.
According to officials, there are about 60 people in the evacuation centers.
State Route 260 is closed between Camp Verde and State Route 89. Click here for updates on road closures.
Residents in evacuation areas are urged to have an emergency supplies kit to bring with them when leaving their homes.
The National Fire Protection Association (NFPA) recommends that residents near a disaster store emergency supplies in a plastic tub, small suitcase, trash can, backpack, or other containers.
Residents should make sure they have the necessities, such as three gallons of water per person and a three-day supply of ready-to-eat food, the NFPA said. A first-aid kit, prescription medications, contact lenses, and non-prescription drugs should also be taken into account.
Copies of any important family documents, including insurance policies, identification, bank account records, and emergency contact numbers should also be taken and put into a waterproof, portable container in your kit, the NFPA said.
The association lists other items that would help in a disaster, including:
Sleeping bag or warm blanket for each person
Battery-powered or hand-cranked radio and an NOAA weather radio to receive up-to-date information
Dust mask or cotton T-shirt to filter the air
Matches in a waterproof container
Complete change of clothing including long pants, long sleeve shirts, and sturdy shoes stored in a waterproof container
Signal flare
The entire NFPA checklist of supplies can be found here.
Arizona Wildfire Season