ARIZONA, USA — Editor's note: The above video aired March 22, 2023.
Snowstorms froze the High Country while floods drenched the Valley.
Arizona is leaving behind a very wet winter in 2023, with numerous parts of the state reporting above-average rain and snow over the past few months, according to the National Weather Service (NWS).
The numbers are still dwarfed by Arizona's wettest year on record from July 1992 to June 1993. Both Phoenix and Flagstaff saw around 10 more inches of water precipitation accumulation than we've seen this year, according to NWS data.
But, historical weather data shows Arizona may soon see a repeat of that record-setting rain and snowfall thanks to a 63-year water cycle and climate change.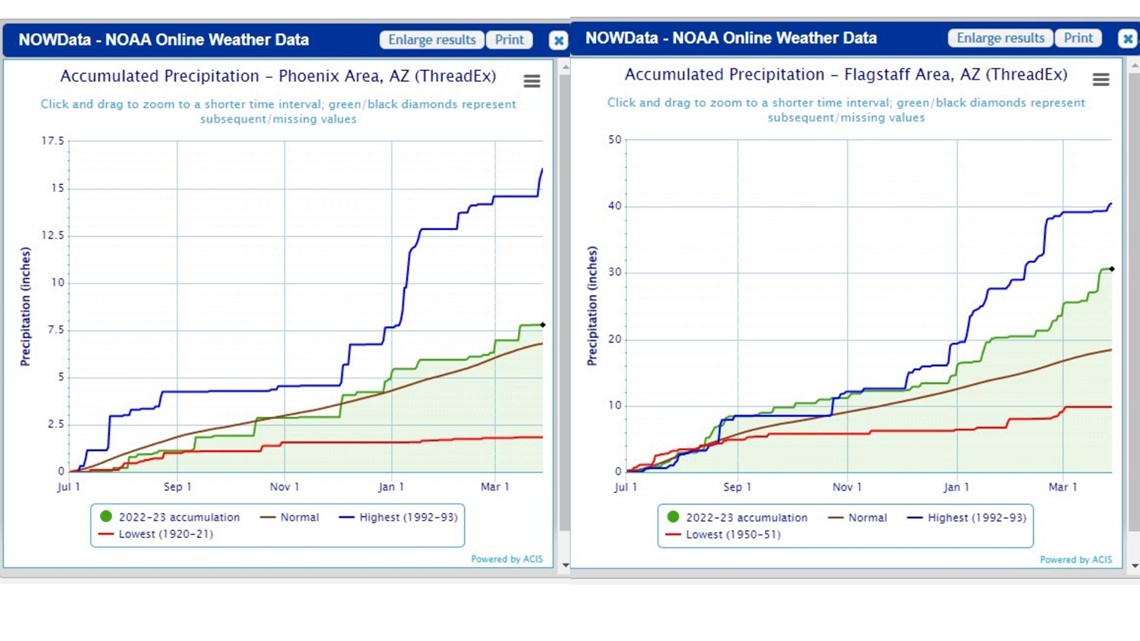 Arizona to soon see end of dry years, start of wet years, experts predict
Just months before Arizona was slammed by its wettest winter in years, a Salt River Project (SRP) meteorologist made the prophetic announcement that wet years were on their way.
His statement was reportedly backed up by 700 years of data.
"[Previous data] have the longest Arizona drought lasting 35 years", meteorologist Bo Svoma said at an SRP presentation last October. "We're in year 27, so I'll say within 10 years we'll be out of the drought."
The data Svoma is using shows water levels fluctuating over the past seven centuries, pointing to a ~63-year cycle of dry and wet years. 2022 lands on the low curve of that cycle, signaling coming spikes in precipitation in the near future.
"I don't think this year will be an outlier in the near future based on all the drought cycle data," Svoma said in an interview with 12News. "When we shift to a wetter regime, [floods] are going to be more frequent."
This year's very wet winter backs up Svoma's hypothesis. Moreover, climate change is expected to make future floods even worse.
'Our wettest years will be wetter'
Despite the wet winter, the U.S. Southwest is still in a megadrought.
The Colorado River's water levels are still at an all-time low, even after rain and snow gave areas a boost. It's still unclear how the potentially very early start to the lake's seasonal replenishment will affect overall water levels.
Climate change is expected to make usually dry years even drier in the years to come. However, it will also make our wet years wetter, according to ASU School of Geographical Sciences and Urban Planning Associate Director Matei Georgescu.
"The research shows a positive precipitation change in Arizona's future winters and negligible changes in spring, summer and fall," Georgescu said at the same October presentation. "Our wettest years will be wetter, but our dry years are going to be bone-dry."
Svoma agrees, and expects climate change to worsen hydrological extremes.
"Droughts are going to get deeper ... but there's also more water vapor in the air in a warmer world, because the oceans are hot and evaporating more, so when you do have circulations align to a wet period, the chances are greater that you'll have more precipitation," Svoma said.
"We're going to have to think about there being flood issues and drought issues in the future, probably worse than we've seen before."
Water Wars
Water levels are dwindling across the Southwest as the megadrought continues. Here's how Arizona and local communities are being affected.