BUCKEYE, Ariz. — The middle of Arizona is turning grey.
The brown desert landscape has been sprawling into a metropolitan expanse for decades, spreading outward in every direction from central Phoenix. The Valley welcomes a new resident every six minutes, and with them come new development.
All of the groundwater in the nearby Hassayampa sub-basin is spoken for, the report found. Any new home builders in the area who haven't already been approved will have to bring in their own source of water.
Developers looking to break ground in the area are now scrambling to conjure water in one of the driest places in the world.
As more people buy up portions of groundwater around the Valley, how much more grey growth can our groundwater reserves withstand?
'Groundwater is hitting bedrock,' new report says
"I do not understand, and do not in any way agree with, my predecessor choosing to keep this report from the public and from members of this legislature," Hobbs said during the State of the State. "However, my decision to release this report signals how I plan to tackle our water issues openly and directly."
The report found numerous alarming findings about the groundwater sub-basin's status over the next 100 years, including:
4.4 million acre-feet of "unmet water demand," or the amount of insufficient groundwater supply to meet projected pumping demand
Several areas where groundwater will hit bedrock
Water level declines ranging from 0 to 983 feet
ADWR released the following in response to Hobbs' speech:
"ADWR previously worked with stakeholders in the West Valley that are subject to the Assured Water Supply program to seek solutions to the shortfall projected in the Hassayampa model. As Governor Hobbs signaled today in her State of the State speech, it is time to include legislators, the business community and all constituencies to address the challenges attendant to the Assured Water Supply program in the Hassayampa Basin and for all the water management challenges facing Arizona."
"Since the ADWR report was just released and consists of nearly 300 report pages, plus various files, we are not able to provide any feedback at this time," a Buckeye representative said. "Once Buckeye has the opportunity to fully review the ADWR report, we will be able to respond and provide our input.
Records indicate that ADWR has at least partially known the report's findings since 2021, when the department told a West Valley retirement community there wasn't enough groundwater in the area for a planned expansion.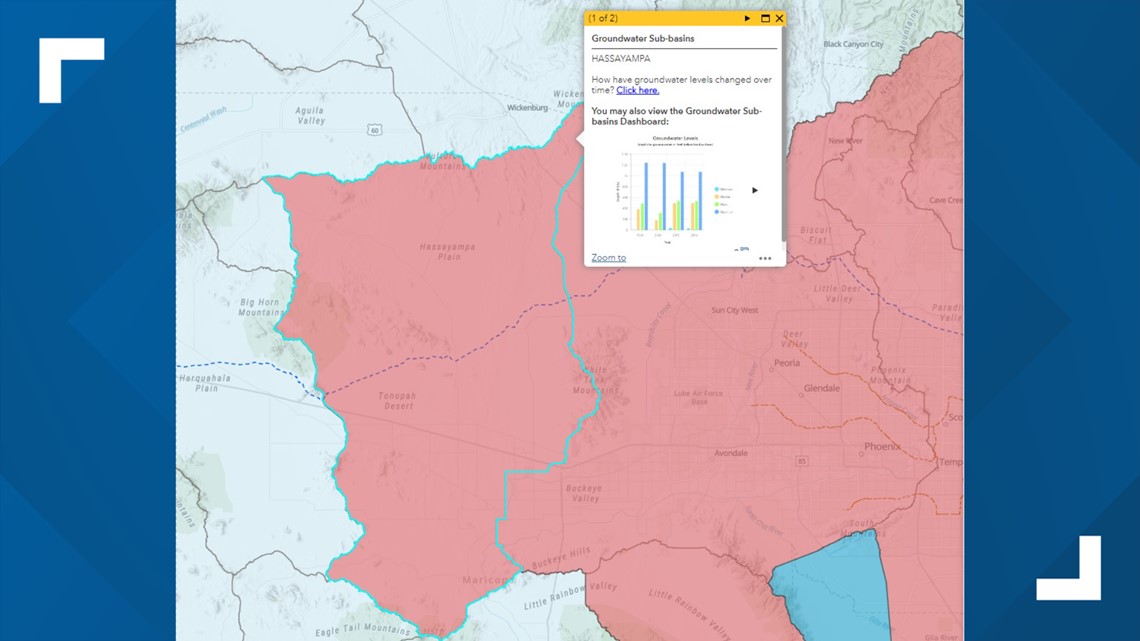 A Buckeye retirement community was accidentally the first to learn of the coming groundwater cutoff ... in 2021
Sun City Festival, a "premier 55+ Active Adult community," was planning two expansions in north Buckeye in early 2021. Before it broke ground, the community had to prove its new expansions would have enough groundwater to last 100 years.
State law requires home builders to provide this century-long proof through an Assured Water Supply (AWS) certificate. The requirement only applies to residential subdivisions being built where groundwater is protected, called Active Management Areas.
If residential developers can't prove they have a 100-year-long water supply in these areas, they can't start building.
The retirement community sent two request letters to ADWR hoping to get that proof. Five months later, the department dashed the community's expansion dreams due to all of the Hassayampa's groundwater already being owned by other entities.
"The Department is finalizing a numeric groundwater flow model and model report for the Hassayampa sub-basin. Although the model and model report have not yet been finalized, the Department has information indicating that the proposed subdivision's estimated groundwater demand for 100 years is likely not met," ADRW's response to Sun City Festival said.
12News reached out to Sun City Festival and its parent company, PulteGroup, multiple times for comment. They have not returned our request for comment as of the publication of this story.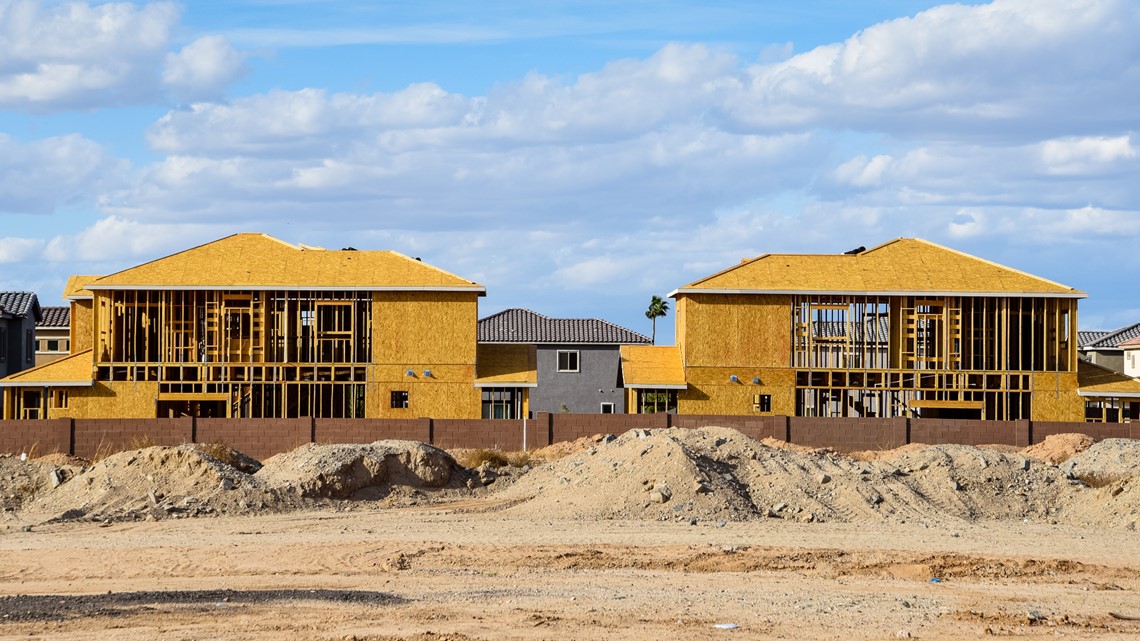 'This shouldn't be a surprise to people in the West Valley'
The AWS program was created to push home growth toward renewable sources of water, like rivers or reclaimed water, rather than unsustainably draining the state's groundwater reserves.
It was also made to stop a very real problem in Arizona's history: Scammers selling people land that didn't have a water source.
"There was a period in the 70s in Arizona where there were swindlers who would sell land to people from the Midwest ... those people would get here and realize their land didn't have any water," said Kyl Center for Water Policy Director Sarah Porter.
This exploitation was so prevalent in Arizona that legislators feared it would become the national narrative of the Phoenix and Tucson areas. The AWS program, and the larger Groundwater Management Act of 1980, was legislators' attempt to stop that story from being written.
"Part of the reason for all of these rules is to ensure that never happens again," Porter said. "Growing on a finite supply of water is not a wise strategy."
That unwise strategy has been gaining popularity over the past few decades as builders have moved further westward from the Valley. The megadrought-fueled dry up of other water sources, including the Colorado River and local rivers, has only made groundwater more appealing to prospective builders.
Construction won't stop in the West Valley immediately. ADWR approved numerous AWS certificates for developments that may not be built for years.
But, now that groundwater in the area has been closed off to new construction, builders without the certificate must find a new water source for their developments.
That's harder than ever in Arizona's current climate, a fact Porter believes builders in the area have known.
"People who have been paying attention to this have been expecting an announcement. This shouldn't be a surprise to people in the West Valley," said Kyl Center for Water Policy Director Sarah Porter.
"All of the groundwater is spoken for. What really needs to happen is that people who want to develop need to bring in a new water supply."

New homes are cut off from the groundwater supply, but build-to-rent communities may thrive
The AWS program was meant to specifically deter home builders from using groundwater.
The certificate, however, isn't required for other types of development, including build-to-rent communities.
"The standard only applies to for-sale housing," said Spencer Kamps, vice president of legislative affairs at the Home Builders Association of Central Arizona.
"[Other] developments can still mine groundwater and there are no assurances that the well they use will pump for 100 years, nor are there assurances that the well they're using would impact adjacent wells."
The loophole allowing build-to-rent homes to continue pumping groundwater will be a problem that cities like Buckeye, Palo Verde and Tonopah have to grapple with in the near future, the same kind of problem that Casa Grande is facing now.
ADWR announced a similar cut-off for Pinal County in 2021. Since then, there have been more than 700 built-to-rent units approved in Casa Grande alone.
The spike in build-to-rent developments shows that ADWR's cutoff won't change builders' habits immediately and the pumping of groundwater will continue, at least in the short term.
"We can't rely on groundwater forever," said Doug Maceachern, ADWR's communications administrator. "The days of relying exclusively on groundwater extraction are coming to an end."
Water Wars
Water levels are dwindling across the Southwest as the megadrought continues. Here's how Arizona and local communities are being affected.