PHOENIX — For the second consecutive year, the number of Arizona kids exempt from getting vaccinated shots is on the rise.
According to the Arizona Department of Health Services, those claiming a religious or personal belief exemption is increasing by less than one percent. Those numbers add up, however, and could put thousands of children at risk if a statewide outbreak were to happen.
DHS said in the case of a statewide measles outbreak, up to 5,000 children could be impacted.
The rise in exemptions come as some celebrity anti-vaccine advocates have claimed potential health risks from getting the shots, but a local doctor says that's not the case.
"There have not been any studies that have shown that vaccinations cause any specific developmental delays, and that includes autism." Pediatrician Dr. Brad Golner said.
According to DHS, the wealthier metro-Phoenix areas contain some of the highest amounts of parents claiming exemptions from some vaccines. That's illustrated by this map.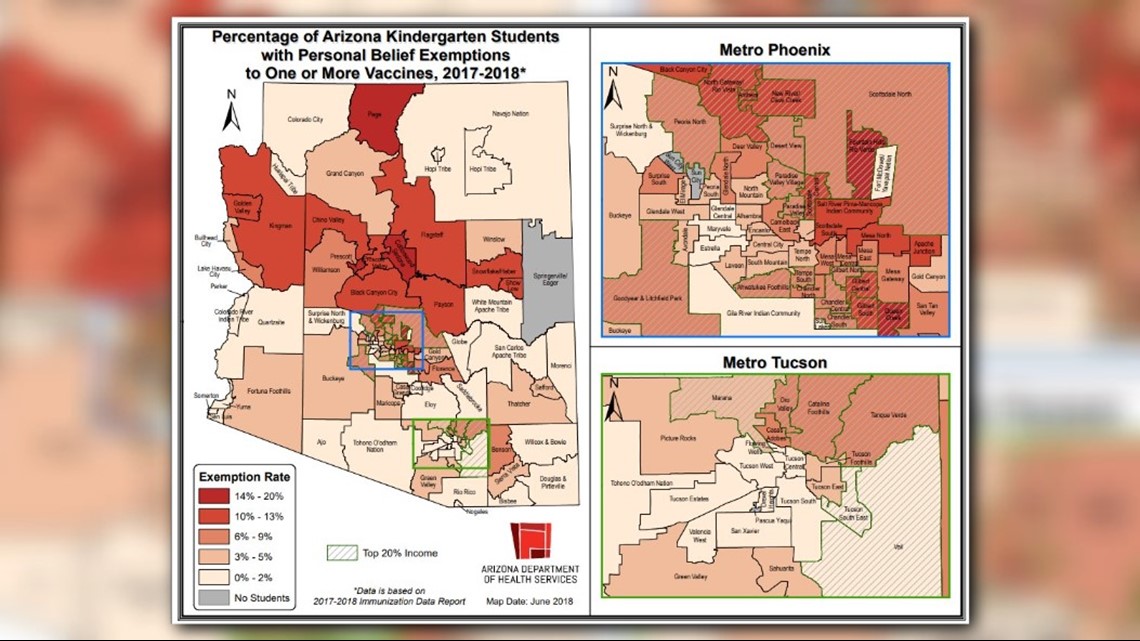 "There is a population of kids that are not vaccinated. The viruses and bacteria we are trying to immunize again are free to survive and thrive." Golner said.
The reason why mass vaccinations are important is because of a thought process known as "heard immunity." Meaning, if almost everyone is vaccinated, even if someone does catch the illness, it will quickly die out because of the lack of potential hosts.
It is very easy to get a vaccination exemption in the state of Arizona. Parents are only required to sign a form to exempt their child from receiving vaccinations because of some belief they may hold.
Golner said he has seen consequences of unvaccinated children.
"Unfortunately I have had some patients who have died from vaccine preventable types of deaths," he said. "I feel pretty helpless in that situation because you try to educate as much as we can but the final decision comes down to the parents."