PHOENIX — At this point, every industry is being impacted by the coronavirus, and law enforcement is no exception. Police departments are now coming up with emergency plans and changing the way they operate.
"These are unprecedented times," said Phoenix police Chief Jeri Williams in a YouTube video.
Chief Williams spoke out Tuesday amidst the coronavirus pandemic. She said the state's largest police department is making changes, starting when someone calls 911.
"We have our dispatchers asking specific COVID-19 related questions when a call comes into 911. This helps our officers know what they are walking into when responding to a call for service," Williams said.
When officers do respond, they are taking a closer look at each incident. According to a county spokesperson, there are currently no confirmed cases of the coronavirus in any Maricopa County jail, and officers are doing what they can to keep it that way.
"We are making every attempt to minimize transportation and exposure to the jails. However, if the situation is violent or dangerous, individuals will transport as necessary," Williams said.
According to a Phoenix PD spokesperson, right now, none of their officers are quarantined or have tested positive for COVID-19.
But that's not the case everywhere.
According to data reported by police departments to the National Police Foundation, at least 275 officers are unable to work due to the virus. That does not include the New York Police Department, where more than 100 officers have tested positive and more than 2,000 employees have called out sick.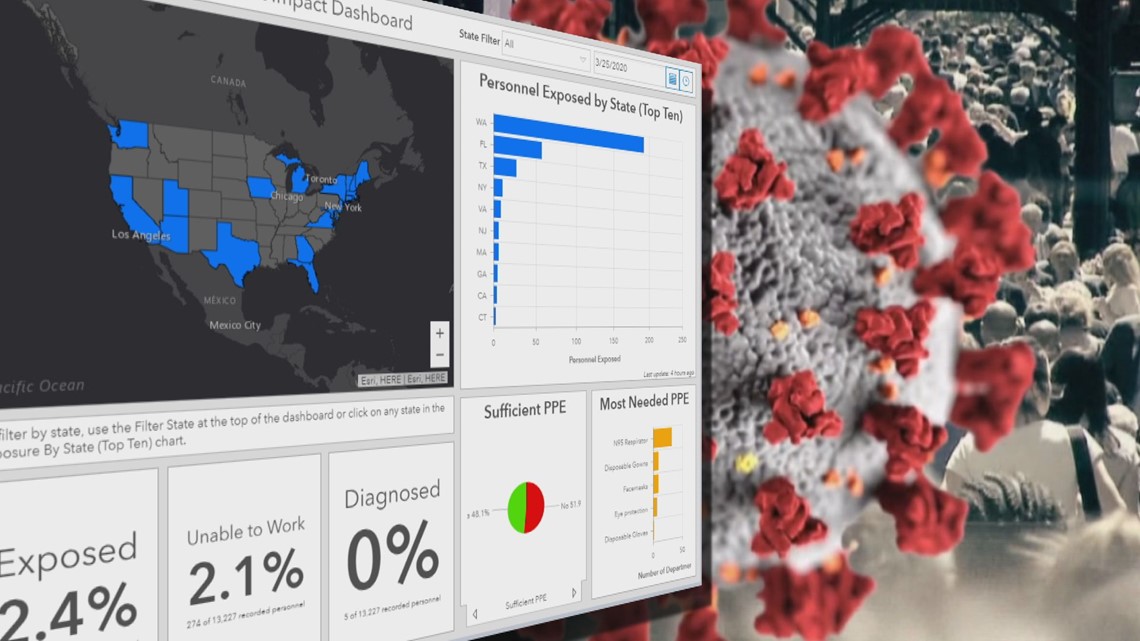 According to the data, two officers in Arizona have been exposed to the virus. It's unclear where.
"To help our officers be as safe as possible while meeting the needs of their personal lives, we are evaluating work schedules and making adjustments that balance those needs with the need to serve our community," Williams said.
A Mesa police spokesperson said right now they are not considering calling in retirees but have a plan in place in case their "workforce faces significant loss related to illness."
A Scottsdale police spokesperson said they have no officers quarantined and no officers have tested positive. However, they are encouraging the public to use its online reporting procedures as much as possible to avoid unnecessary physical contact.
Departments are trying to slow the spread and preparing for the worst as the National Police Foundation says the number of confirmed cases among officers is expected to climb.
"We are a resilient community and I am confident we will get through this crisis," Williams said.
In response to the outbreak, most police departments have closed their lobbies, so if you need services like public records, you should call ahead to make an appointment.