MAYER, Ariz. — The historic mining town of Mayer no longer produces copper, but the owners of riding stables in Mayer are working to preserve another precious resource: patriotism.
"Keeping the flag requires constant attention," said Wes Holmes.
Wes and Phyllis Holmes of Foothills Ranch riding stables installed the massive American flag at the front of their property about five years ago. The flag has become a landmark and a point of pride for locals.
"It was like a 'wow' moment," said Joanne Loos, describing the first time she saw the massive flag along the highway. "It never gets old."
'Every morning I can see it from my house'
The Holmes couple has inherited several semi-used flags from the owner of a Prescott area car dealership. High winds cause the end of the flag to fray and tear over time. Phyllis, a seamstress, repairs the flags. Every couple of months they must take down the flag to repair it further. After a flag has worn away too much the couple stores it away.
The giant, towering flag provides a splash of red, white and blue in the rural landscape.
"Every morning I can see it from my house from across the road. It means we're still free," said Dan Seel, a Vietnam veteran.
Flag ceremony scheduled for June 10
The couple is hosting the first annual flag retirement ceremony on Saturday, June 10 in conjunction with the American Legion, Post 6. They will retire several flags that have flown along the highway.
Members of the public are also invited to bring flags that are faded or damaged to be retired. The event will include a color guard, bagpipe music, and animals for kids.
The public can begin arriving at 10 a.m. The ceremony starts at 11 a.m.
"Because of all the turmoil going on right now. This makes it even more important," Wes said.
The event is a precursor to Flag Day, which is on Wednesday, June 14.
Retiring the flag involves placing it in a fire, saluting it, saying the Pledge of Allegiance and holding a moment of silence. The ashes are then buried.
Wes and Phyllis hope the ceremony reminds citizens, especially young people, of the importance of the flag's purpose.
"That flag represents everyone from Christianity to Atheists, to progressives, to Republicans. They all died in our wars," Wes said.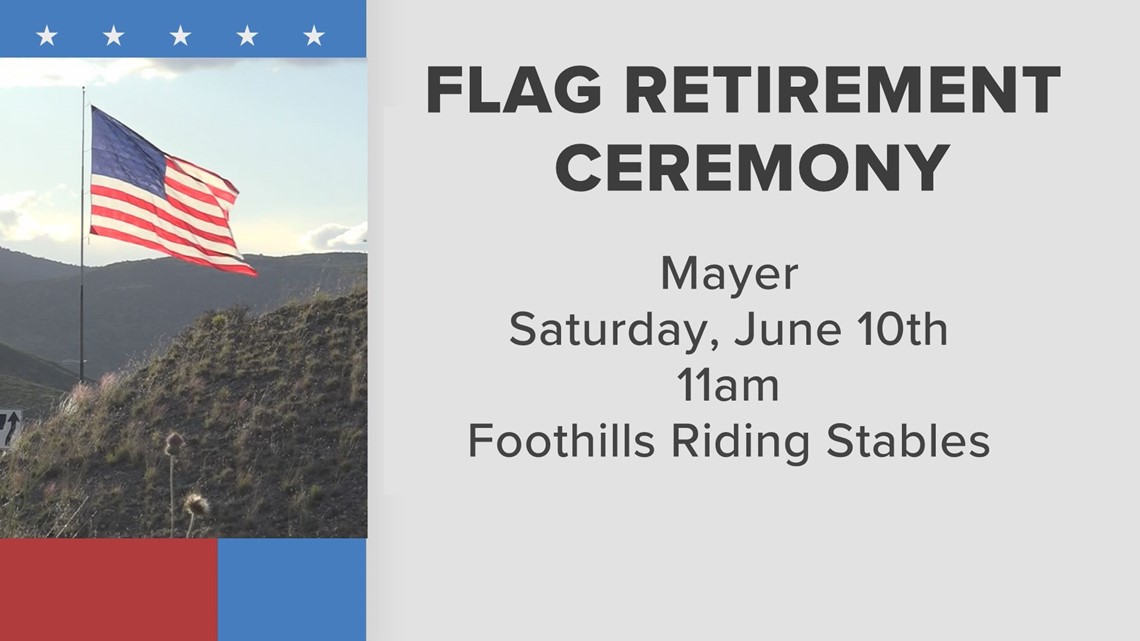 'That flag is like a wedding ring'
A recent survey by the University of Chicago Institute of Politics found "a dangerous level of estrangement many Americans feel from each other." It noted that "tolerance for others, deemed very important by 80% of Americans as recently as four years ago, has fallen to 58%."
"That flag is like a wedding ring. It keeps us married," said Wes Holmes, describing what the flag means to him. "It represents our relationship with each other as a nation."
"This is not a Democrat or Republican thing. The flag is for everyone," Phyllis Holmes said, while sewing a flag the couple repaired last week.
Travelers along Highway 69 frequently honk their horns and stop to take photos of the flag. Residents have contacted Wes and Phyllis, offering to donate money to keep the flag flying.
"It was very surprising to me to know how much it means to so many," Phyllis Holmes said.
Up to Speed
Catch up on the latest news and stories on the 12 News YouTube channel. Subscribe today