SURPRISE, Ariz. — An assault suspect is behind bars after an hours-long barricade situation in Surprise Tuesday.
Police said at around 8 a.m., Surprise police responded to the report of a disorderly man armed with a knife in a neighborhood near 181st Avenue and Maui Lane.
Police said the man was reportedly acting erratic, waving his knife and yelling at passing vehicles in the area.
When officers arrived, police said the suspect began throwing rocks at officers and ran inside his home. Additional law enforcement resources were sent to the scene, and a police negotiations team began speaking with the suspect.
At some point in the conversation, the suspect stopped responding to officers and failed to cooperate with law enforcement requests, officials said.
After several hours of negotiating, officers were able to take the man into custody without incident, police said.
Police said the suspect's identity has not yet been released, pending booking on criminal charges.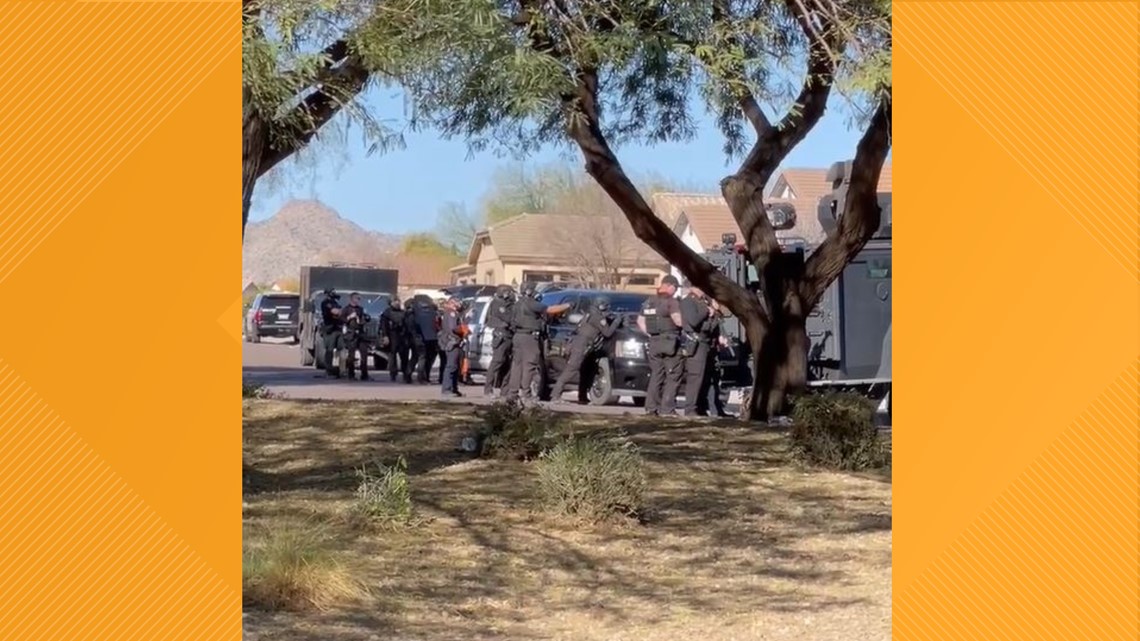 Up to Speed
Catch up on the latest news and stories on the 12 News YouTube channel. Subscribe today.
Silent Witness:
Arizona's Silent Witness program allows people to send in tips and share information about crimes happening within their local communities.
The program shares unsolved felony case information in multiple ways, including TV, radio and social media.
Anyone who has information on a crime or recognizes a suspect described by the program is asked to call 480-948-6377, go to the program's website online or download the Silent Witness app to provide a tip. The identity of anyone who submits a tip is kept anonymous.
Calls to Silent Witness are answered 24/7 by a live person and submitted tips are accepted at all times. Submitted tips are then sent to the detective(s) in charge of the specific case.
Individuals who submit tips that lead to an arrest or indictment in the case can get a reward of up to $1,000.