PHOENIX — Editor's note: The above video is from this morning's newscast.
A 31-year-old homeless man was found dead at a Scottsdale fitness center on Monday.
The Scottsdale Police Department said the man's body was recovered from the Eldorado Aquatic & Fitness Center.
The man was identified on Tuesday as 31-year-old Ryan Kelly. His cause of death will be determined by the Maricopa County Medical Examiner.
Police said an officer who was on patrol in the area of Miller Road and Oak Street heard what he believed were faint calls for help around 12:30 a.m.
Officers were eventually able to determine the calls were coming from inside the locked aquatic center at Eldorado Park.
The man had climbed over the fence then somehow crawled inside the large cylindrical steel support for the water slide and became stuck, police said.
"For whatever reason, [he] climbed up on the large slide that is here for this pool and climbed down inside of a support tube of the super structure for that large slide," Scottsdale Police Officer Kevin Watts said during an earlier press conference.
Officials said the sound was projecting "up and out," leading to authorities having to search for about an hour before narrowing down the area where the man was found. He was found around 1:30 a.m.
Police and fire officials said they had "limited verbal contact" with the man, but he soon became unresponsive and died.
"We did have initial contact with that subject while he was inside of that structure, but shortly after contact he stopped communicating," Watts said.
It then took several more hours to dismantle the structure and recover the body, police said.
Sky 12 captured officials searching a water slide at the center.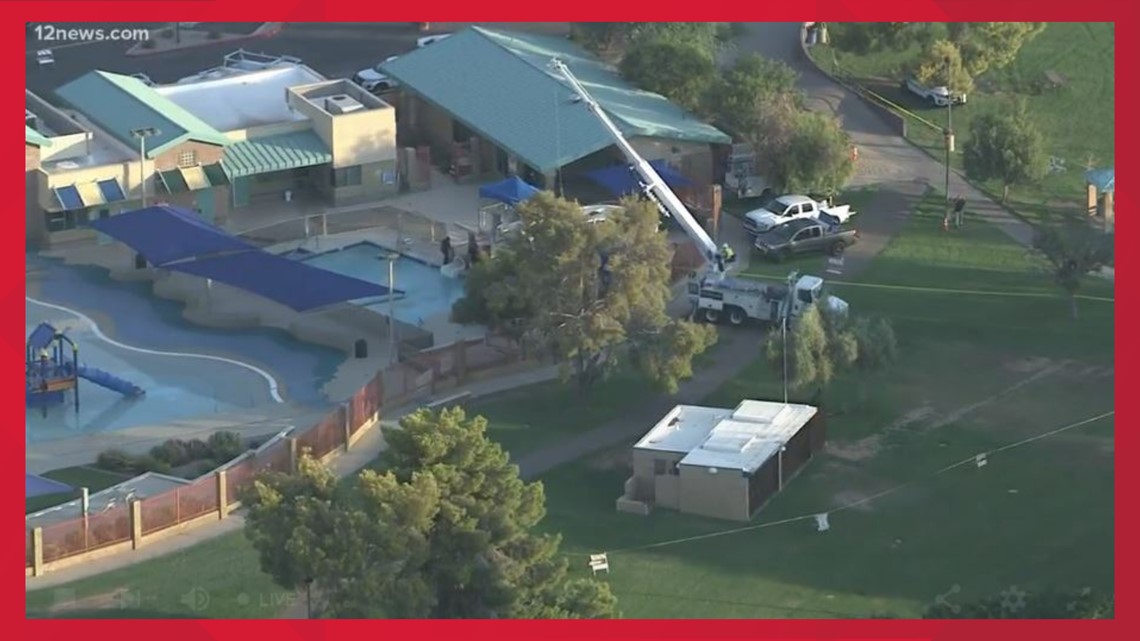 The investigation is ongoing. The pool was closed Monday and Tuesday but was expected to reopen Wednesday.
The center is located near Hayden and Thomas roads.
WATCH THIS MORNING'S PRESS CONFERENCE HERE: