CAVE CREEK, Ariz. - It's a sight that would probably break the heart of most Valley residents.
Several of the state's most iconic cacti were found vandalized on the Black Mountain hiking trail in Cave Creek.
Photos show a total of seven saguaro cacti were spray painted with green numbers in sequential order, one through seven. A boulder at the summit was also spray painted with the number eight.
The Maricopa County Sheriff's Department said the cacti are located in a desert area near Military and Schoolhouse roads.
Dawna Taylor, a spokeswoman for the Maricopa County Parks & Recreation Department, said the department believes the incident occurred sometime late Sunday. Taylor said the Cave Creek Regional Park received an email regarding the painted cactus from an individual on Monday.
PHOTOS: Saguaro cacti vandalized on popular Cave Creek trail
PHOTOS: Saguaro cacti vandalized on popular Cave Creek trail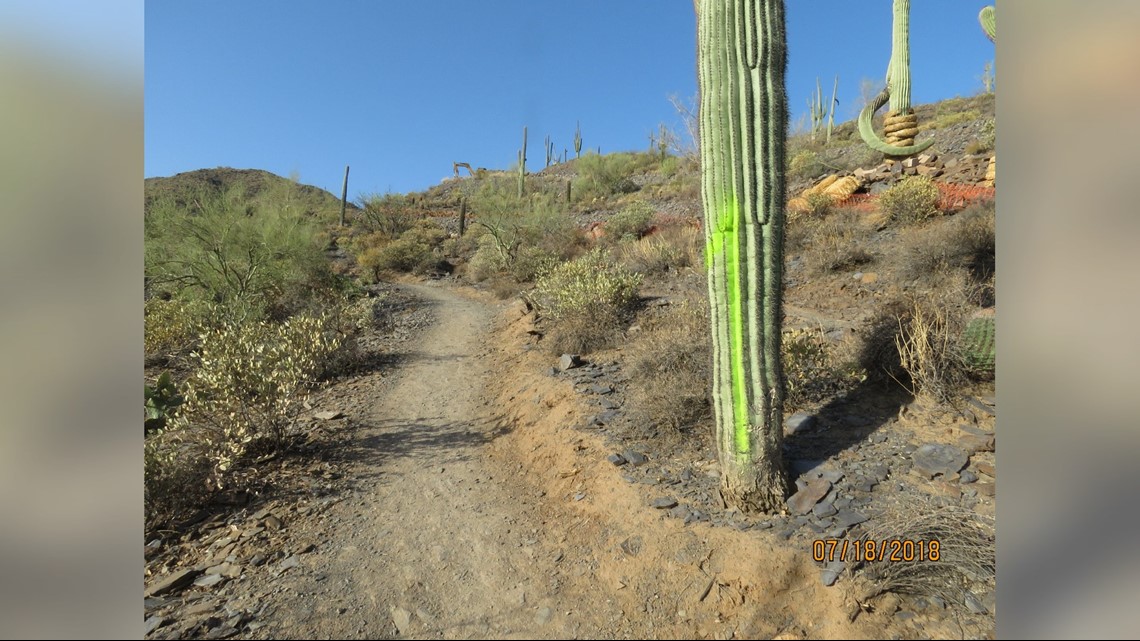 According to Taylor, three of the cacti reside on a section of the trail managed by the Town of Cave Creek, while the other four are on land managed by county's parks and recreation department.
Two products were tested on one of the painted saguaros in hopes of finding a way to safely clean the cacti without damaging them. But officials won't know exactly how the saguaro reacts for several weeks, Taylor said.
MCSO said it's looking into the incident, but there is no suspect information at this time.
The paint has been removed from the boulder at the summit, Taylor said.
Anyone with information about this incident is urged to contact MCSO at 602-876-1000.