PHOENIX - A K9 officer is dead and a carjacking suspect is in the hospital after a police pursuit turned into a barricade situation in west Phoenix Tuesday.
Police chased a suspect at high speeds on surface streets in Phoenix before he blew out a tire and went into a neighborhood near 29th Avenue and Bethany Home Road.
Around 3 p.m., medics transported the suspect to a nearby hospital. Phoenix Police Chief Jerri Williams said the suspect's injuries are not life-threatening and are from the pursuit.
Around 11 a.m. Tuesday, officers spotted a man driving a stolen car near 51st Avenue and Broadway Road and attempted to stop him. The driver fled the area, then carjacked a car near 43rd Avenue and Bethany Home. According to police, he was armed.
The suspect made his way through Phoenix and ended up stealing another car at gunpoint at the Biltmore Fashion Park near 24th Street and Camelback Road. The suspect exited the garage driving a Lexus SUV. Police began the pursuit.
A 12 News photojournalist saw police speaking to a woman who had been carjacked in the area, and a police vehicle appeared to have windows shot out.
PHOTOS: Police pursue Lexus SUV across Phoenix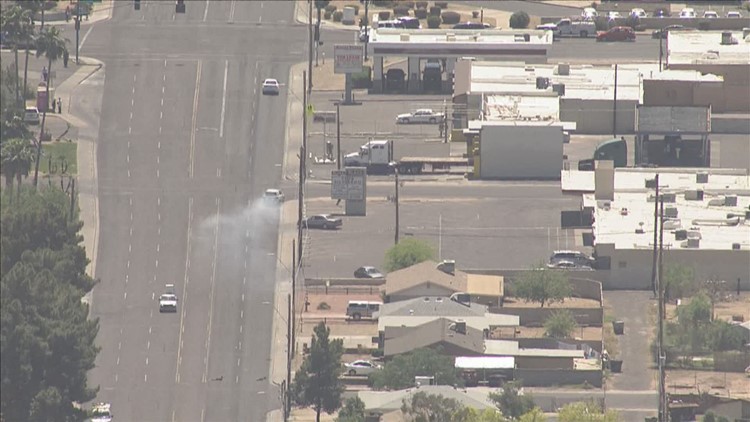 Shortly after noon, the driver made it to Central Avenue and drove on the light rail tracks to avoid police.
Around 12:30 p.m., police were able to strike one of the SUV's tires with a spike strip near 27th and Glendale avenues. The driver continued to drive and bailed out of the car at a house near 28th Avenue.
Police were able to catch and arrest a woman. It is not clear if she was the driver or a passenger. Police have not released any information on her.
Police are still searching for the suspect in the neighborhood of Bethany Home Road and 29th Avenue. They believe he is in one of the houses in the area.
According to police, the suspect has a history with law enforcement, including prior incidents of felony flight. He also has an active warrant for auto theft and prior arrests.